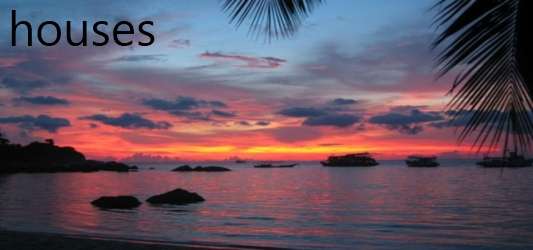 A collection of houses I've lived in since leaving Mom and Dads
Click on the photos for full pics and details
Lawn Court My bachelor pad when I was a 20-something dotcom kid. Big 6 bedroom house with game room, pool, jacuzzi and room for a lot of cars. Located in Virginia, just outside of Washington DC.



On the move

For about 2 years I lived on the move, mostly in hostels and friends places, but I did spend 3 months living out of the back of my truck, and 2 months living on a sailing boat.



Teak House Sadly I've lost most my photos of this house. This was the first place I lived in Thailand, just after my world trip. The house was made completely out of Golden Teak wood. It was 80 years old, built in Bangkok back when Teak was not endangered, and then transported piece by piece to Koh Tao when the land it was on was re-zoned for a freeway. I shared it with a roommate and it was $300/mo which we split two-ways.



2 acres and a bungalow I bought 2 acres of ocean-view land when I got to Koh Tao. Years later I built a small bungalow on it with the intention of using it as a base to build a bigger house. I sold the land instead of tackling the duanting project of building a big house in Thailand.



Beach House The second house I lived in on Koh Tao. Right on the waters edge. The photo to the left was taken while standing at my front door.



Hillside House Fanette and I moved in together and we needed more space than the beach house could offer, so we found this magnificent place with a 180 degree ocean view.



The 30-minute house When we moved to Khao Lak for the first time, it was an 18-hour traveling ordeal and we had two angry cats in the car that wanted out. We looked at 2 houses and chose this one 30 minutes after pulling in to town. We lived here 6 months.



The Khao Lak Palace We went back to Koh Tao and lived in the Hillside House for 6 months, then moved back to Khao Lak but because we knew the area better, we'd picked out this giant place before we'd arrived.



The Lake House We moved mid-season to this great house with its own lake, located on the edge of the Khao Sok rainforest. It's both mine and Fanettes favorite house we've shared so far. We kinda moved here for the cats, and we think they like it too.