From this point on forth in my journals, I am using the text from email updates along with photos. Time does not permit me to do re-writes. The date indicated is the date the email was sent, so information immediately following that date happened just prior to it.
November 3rd
Here I sit in a multi-million dollar mansion on the slopes of Aspen. Far cry from the $20-a-night Banana Bungalow I stayed in just a few nights earlier. :)
I left San Diego about a week ago with plans to visit a good friend of mine who is house sitting in Apsen. To break up the trip here and to see another good friend of mine, I stopped in Vegas for a couple of days. Spent some time there catching up, going out to some of the locals bars, and installing a new stereo and subwoofer in the car before heading on to Aspen.
Got to Aspen after some magnificent canyon drives through Utah and Colorado. Absolutely amazing views and twists, and some amazing long flat stretches. Arriving at this house, it was just mind-blowing how nice it was. It is probably the nicest house I have ever been inside.
My friend spends most of his days doing errands keeping the house up for the owners (who he is not allowed to tell me who they are or even what they do) who spend about 4 or 5 weeks a year in the house, so I head in to the surrounding towns and explore. Then at night we usually head in to 'downtown' Aspen and head out to the bars.
I had no idea that Aspen was one of the best cities in America for Halloween, but after spending it here, I have no doubts that it wins a spot on that list. We went to 3 different bars, and in no bar was there a single person not in costume. The last bar that we went to had about 300+ people, and each person was in either a very elaborate or very creative costume. My friend and I were Duke Raoul and Dr Gonzo from the movie Fear and Loathing in Las Vegas. While in most cities, it might not be that recognizable of a costume, here in Aspen 40 miles from where the real person that the character of Duke was based on, everyone recognized and loved the costumes. Add to that, the movie is about 2 friends that run from bar to bar having fun and acting silly, we pretty much fit the bill.
I'll be leaving Aspen in the next couple of days, after I find out what Gregorios plans are, who I plan to meet up with in Vegas. However, about a couple dozen people that I have met have told me that they came to Aspen for a weekend and have ended up staying for years. :) I may actually fall victim to that if I stay here any longer. After Vegas my passport should be ready, and I can think of heading south.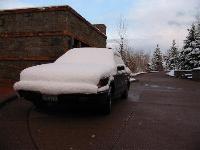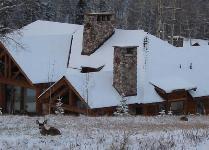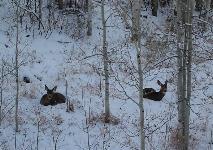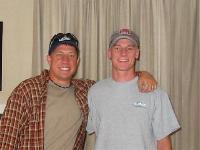 November 10th
Subject: I got real high and never made it to Durango.
Trip Mileage: 10,550
Current Location: Santa Fe, New Mexicio
Song/Album defining this leg of the trip: Carefree Highway - Gordon Lightfoot

I set out the other day for Durango (southwestern Colorado), and never made it. I tried making it over 2 passes, both of which were over 10,000 feet high, and caught in a blizzard over each pass I was forced to turn back and never was able to make it to Durango.
I reluctantly left Aspen the other day - a place I didnt want to leave with such a great vibe and good people. I decided to head to Denver/Boulder area to visit my cousin and then do a tour of CO/UT/AZ while I waited for Gregorio to take care of some things before heading to Las Vegas.
Denver actually impressed me as a pretty hip little town, and it was good to catch up with my cousin before heading on to Colorado Springs. I checked out CS for a bit and headed out about 1pm.
I should have known that trying to cross the Rockies in November might be a bad idea. I was forced to do a U-turn on a highway going up a mountain when my tough little car refused to go any higher up the steep grade in the snow. Aside from being stuck perpendicular across the road for a few seconds, it wasnt that dramatic. I tried making a second pass at a point about an hour south, but turned around earlier in the drive when roads got too bad. It was about that time, in a tiny diner in a one-horse Colorado town that I decided snow was not my scene and I headed to New Mexico.
The scenery here is just magnificent, and even the acrhetecture is amazing - everything is in southwestern style, bordering on looking like adobe houses and buildings. I even saw wild horses while driving today. Either that or they escaped from somewhere?? :)
I'll chill here for a couple of days depending on what kind of folk I meet here at the hostel and how much we can find to do in this off-season. After that, I think I'll head to the Grand Canyon and back westward.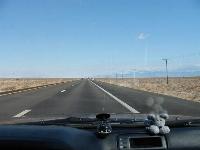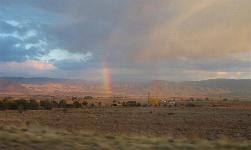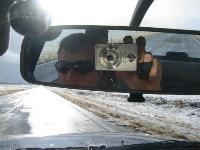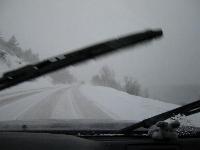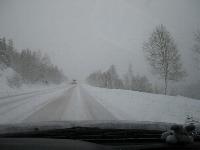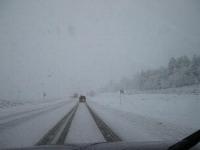 November 15th
Trip Mileage: 11,046
Current Location: Durango, Colorado
Song/Album defining this leg of the trip: Perfect Way - Scritti Politti

Well, Santa Fe turned out to be a pretty cool place. I ended up meeting some great people, including 2 quasi-locals who stayed in the hostel occasionaly as an alternative to a long drive home from work, and 2 travellers, Kate and Grahm from England.
The 5 of us spent a couple days checking out Pueblo indian ruins and exploring the sights and resturants of Santa Fe's historical district.
I had invited Grahm and Kate to share a ride with me, as they were going by Greyhound. Grahm decided to head north to Denver, but Kate took me up on the offer as we were headed to pretty much the same places, which means for the time I have a co-pilot! :)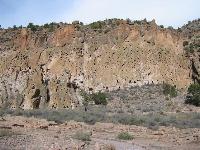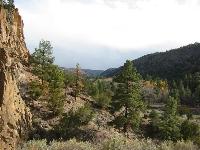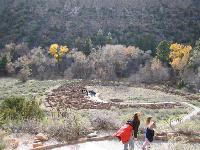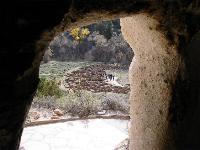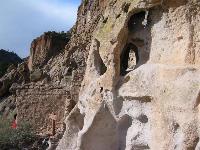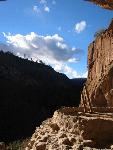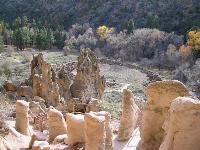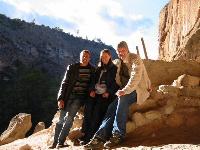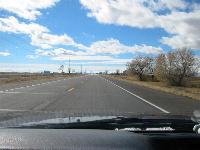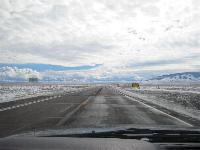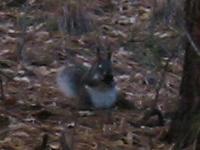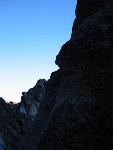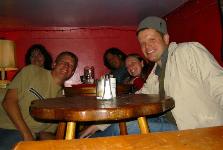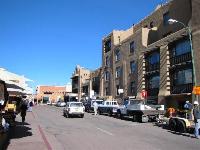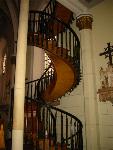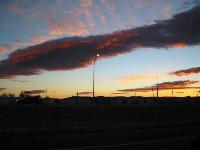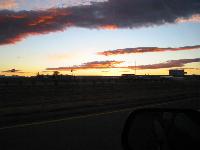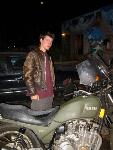 ((Met this guy Kip in SantaFe. He is riding his motorcycle all over the states, finding work in odd bars as a jazz violinist for a night or 2 in each town. www.kipjones.net))

One of the people we met in the hostel had loads of stories about aliens, which made us really want to drive to Roswell, sight of the 1947 UFO crash, despite it being far out of the way. We decided to head there, but then changed our minds when someone else told us there really was nothing to see there. We were still undecided the morning we were about to leave, and shocked the heck out of some Aussies in the hostel lobby when we made our decision based soley on the flip of a coin.

Heads - we went to Roswell.

There really wasnt much there except the UFO museum, which being a free museum was really low budget, yet you couldnt help being compelled to read and study every single thing in there. You also couldnt help leaving knowing that we're not alone.

We asked two locals where good nightspots were. One said "Buds", the other said "Anywhere but Buds". Buds it was. It turned out to be a real honest tootin country bar, and I felt out of place without a cowboy hat on- which I'm looking for in thrift stores right now.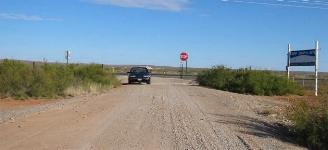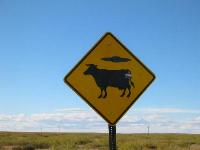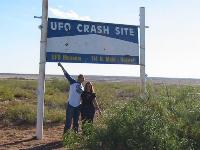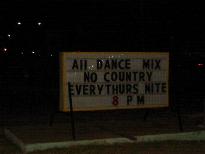 From Roswell, we headed to Durango so that we could hit Mesa Verde National Park, the sight of some of the oldest Cliff Dwellings in the US. Its also a good launching pad for the Grand Canyon, which we plan to hit.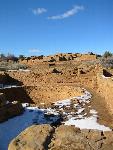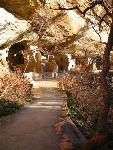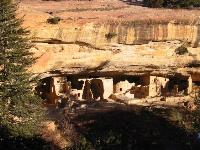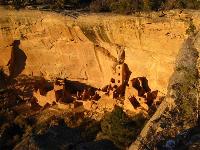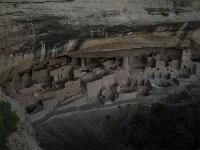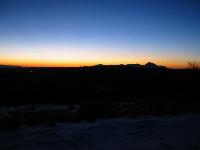 Durango is also a pretty cool little town. Its a college town, so its lively, but its also a country town, so its got a lot of mixed character. Gotta get me a cowboy hat....
November 20th
Subject: Camping at the bottom of the Earth
Trip Mileage: 12,320
Current Location: Flagstaff, Arizona, Gateway to the Grand Canyon
Song/Album defining this leg of the trip: How soon is now - The Smiths

First things first - lets get down to brass tacks here - I got myself one of them thar cowboy hats and have been wearing it religiously. I even managed to wear it in to a college bar here in Flagstaff and was greeted by a round of stares and snickers and giggles by the "hip" crowd. For those that know me well, you know that I'll gladly sport a strange haircut or tragically out-of-style shirt to get this sort of reaction, so I was in my element.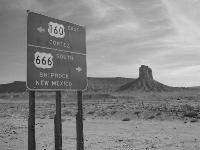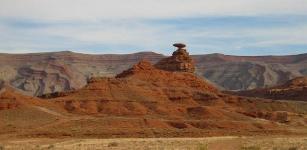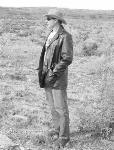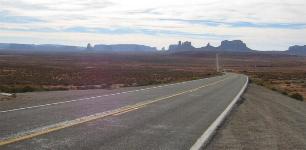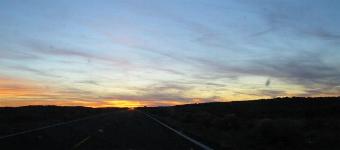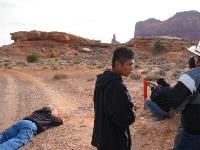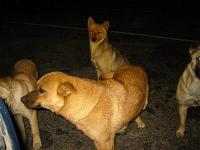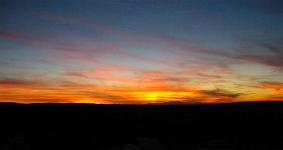 But back to Durango where we left off. From Durango, we headed out to Mesa Verde (http://www.nps.gov/meve/), which was amazing. There are adobe-like cliff dwelling houses built in to the side of these cliffs. You can drive around the park admiring them, and take guided tours and go inside them, which we did. Truly amazing.

The next day, after a breif stop at the novelty-monument of 4-corners to put one limb in each state, we headed to monument valley. You have probably seen pictures of this place, even if you dont know it by name. It spans a small part of UT and AZ, and is some of the most defining landscape of those 2 states. I took a ton of pics, but havent downloaded them yet, so heres a link to some information on it. http://www.americansouthwest.net/utah/monument_valley/

After going through monument valley, we had wanted to try to stay on an indian reservation, and drove through the Hopi reservation looking for a place. The only place was a somewhat modern looking motel with a resturant attached. It didnt have much of that 'authentic' feel to it - at least not what we were looking for, so we headed on to the Hostel in Flagstaff.

We had decided to go to the Grand Canyon the next day, and although we met a bunch of people in the Hostel, they had all been there already, so we headed out the next day by ourselves. We had read in one of the guide books, that there is actually a ranch at the bottom of the Grand Canyon that you can stay at. However, reservations are taken 23 months in advance, or you can put your name on the waiting list, and show up at 6:30 am to see if you get a spot. Luckily, we got a spot, which I was happy about, because as you may know, getting up before the sun comes up is not generally my thing.

Anyway, we were excited, yet a bit intimidated by the idea of hiking all the way in, and all the way back out again. The climbs are well marked, yet described as steep and challenging. And that they were. It took us the better part of a day to reach the bottom of the Canyon, which is 4,400 feet below the rim, and a 10 mile hike. I must say though, that when you see the Grand Canyon for the first time, its so amazingly huge, it defys description, but hiking down to the bottom is even more amazing. You get to see the canyon from so many different perspectives, including from the bottom looking out.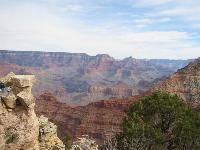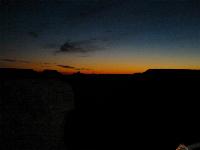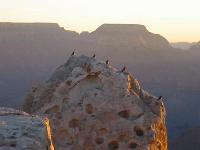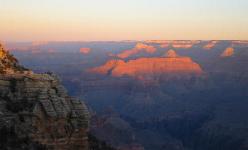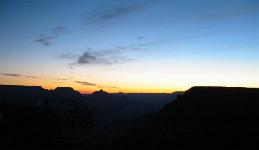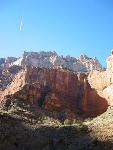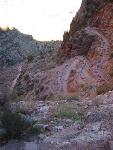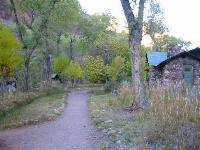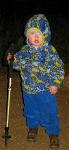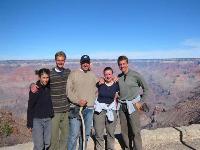 What might be even more amazing is the ranch that is down there, which was built in 1922, with all supplies carried in by mule. They used a lot of trees and rocks from the area down there to build it as well. I dont think I expected it to be so lush with trees, but with a river going through the center, I guess its to be expected. http://www.kaibab.org/gc/tr972/gx972501.htm
We arrived down at the bottom of the canyon just as it was getting dark, just in time for the dinner they serve. A little sore and a little tired, but good to go. We met a few other hikers, and struck up a conversation which lasted in to the night over a couple beers. Yes, they even sell beer there.
The next morning, we all got up at 5am, not by choice. The accomodations are bunks in cabins separated by gender. Someone in each of our cabins seemed to get up at 5am, and insisted on being loud. I am thinking of writing a letter to the parks system that each cabin should be separated by "I want to get up at 5am"... "I want to get up at 6am"... "I dont want to get up at all...." That'd be my cabin.
Anyway, 5 of us who decided to hike together got an early start and actually made it out in good time well before dark. At one point about halfway up, I stopped and looked up at the massive cliffs above us and asked the group "If this exact spot was street level, and we drove up to it, and looked up, and someone said 'hey - lets climb to the top' wouldnt that sound absurd and impossible?" They agreed but asked me to stop making comments like that.
At one point we passed a solo climber, and I wondered what it would be like to be travelling alone. Then it actually dawned on me, that although I'm with 5 people I now consider friends, technically I am travelling alone. How crazy.
In any case, 2 of the people we had met headed east, so that left Kate, Jay and I and we headed back to Flagstaff to the Hostel. Jay is seriously considering heading to Central America with me, which would be cool. If he cant make it, I'm now 99% sure I'd be taking the Green Tortoise bus south which leaves Dec 10th. http://www.greentortoise.com/winter.migrations.html#smig
I realized looking back on my journals, that I sometimes leave out some of the most amazing moments of my trip. They're what I might call everyday moments that just dont jump out at me because they seem to last all day. For instance, driving through the Colorado mountains you kind of creep up on them and in a sense they're just part of the drive, but every now and then I really stop to think about how incredible it is. I imagine if I was still back in DC, and was transported to this exact spot just for 2 minutes, then transported back, how much more filled with amazement I'd be for just those 2 minutes. So, now and again, I try that mental trick with myself to really make me appreciate how amazing the scenery really is.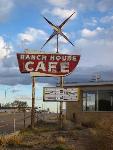 Another thing I'm almost beginning to take for granted are the sunets and the stars. Every sunset I've seen out here in the Southwest has been spectacular. I've caught a few of them on camera, but try not to try that too often. A lot of scenes seem to lose everything when you try to put it in a frame of 3 inches by 5 inches. http://www.go-utah.com/monument_valley The night skies are also some of the clearest I've seen besides South America.
Lastly, the small, uneventful towns that I pass along the way, are some of the neater scenes I've found. For instance, the small town of Vaughn, NM, which is about one stiff breeze away from being a ghost town. About 80% fo the buildings are abandoned and havent changed much from the 50's or 60's when they were built and subsequently abandoned. They have extravagant, now-broken neon signs with lots of painted stars and arrows. A bit of a Route66 feel to them. Theres been a few of those towns, and I just love going through them, and if they have a diner, I'm all too happy to stop and grab a bite.
I've clearly displayed my ability to ramble. Time to go.
December 12th
Total Trip Mileage: About 13,900 (not including Planes and Busses)
Final Blue-Bomber (Regalo) Mileage by Rick: 5,600
Current Location: Las Vegas
Song/Album defining this leg of the trip: War on War by Wilco

Wow - what a crazy few days its been. I havent written for a really long time, and that was mainly due to my going back east to spend some time with my friends and family for thanksgiving. I wanted to surprise my parents, so I didnt announce those plans here. I'll write more on that whole trip east later, but for now, I have about 39 minutes before I need to catch the Green Tortoise bus to Mexico, which is actually kind of the same tight schedule my past few days have been.
4 days ago I was sitting in a resturant in Key West at noon, at which point, I started driving towards Ft Lauderdale to catch a flight to Norfolk, arrived, then drove to Virginia Beach at about 10pm, then drove from there at 9am to DC, spent 9 hours driving around visiting about 13 different people who I promised to visit, then drove to Philly arriving at 1am, awaking at 5am to catch my flight to Vegas, landing at 10:30am, driving straight to Flagstaff to give on the car (much more on this later also) arriving at 6pm, getting a bunch of stuff I still needed for the trip, then hopping on a Greyhound at 1am for the 18-hour trip to San Francisco. By the time I arrived last night at 9pm, I was plumb-tuckered out. To top it off, I had to get a ton of stuff done today, so I still had to wake up early. I got it all done, and ran in to a friend literally on the street, by the most amazing co-incidence. And it was just as I had finished up my tasks for the day, so I've been helping her do some errands, and now using her computer before she takes me to the bus station in (now) 37 minutes.
And that my friends is where I am at. I would love to write more about the past 2-3 weeks, but really have to run.
Random other pics...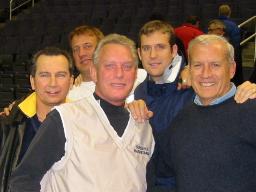 Friends in DC
Dad and Julie in Philly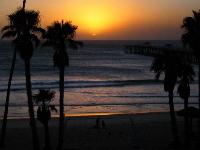 Sunset in San Clemente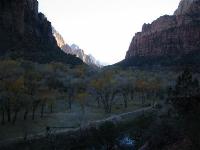 Zion Nat Park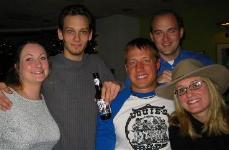 Work gang from DC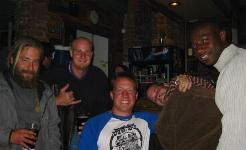 Friends in Flagstaff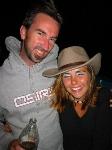 Friends in San Diego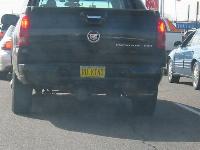 Ironic licence plate on a guy who nearly ran me off the road purposely.