I'm a bit behind in these journals, so if things are a little hazy, I'll apologize in advance. Theres a few reasons for that, and they'll be covered in this journal.
Sept 17th or so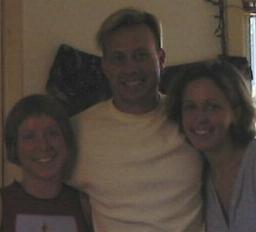 I got to Napa today to visit a friend of mine, Jon, who I had worked with in Virginia. We'd kept in touch long after the company we were working for had gone bust. He mentioned he was moving out to CA before we both left VA, but it didnt really sink in with all I had going on. When I got his email, I was planning on heading to Santa Cruz in a matter of hours, but changed course. Jon actually lived just a couple miles from my Goddess Patrol friends and I introduced all of them while I stayed and visited. I stayed for a couple of days and just spent the time catching up, discussing how much we both liked CA, riding around in Jons new convertible and hitting the bars.
Sept 19th or so
I got to Santa Cruz and the first thing I did when I arrived was to go stick my feet in the ocean. Sort of like a symbolic move to mark the crossing of the continent from one side to the other. Anyway, I had 2 calls to make. I was supposed to call Gregorio as he was now staying there getting his RV fixed at a shop near his parents house, and call my dads best friend who I've known throughout the years.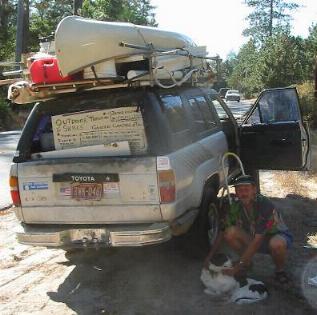 I got in touch with Gregorio and he gave me the quick tour of Santa Cruz. I really liked Santa Cruz. It had a very laid back feel to it, and the people we met there were all pretty cool. Driving around with Gregorio, I saw a guy on the side of the road with a silver 88 4runner. Obviously a cool person, I decided to stop and say hi. Talked to him for a few minutes. His name was Jond, and he gave all sorts of outdoor training classes. He made it a point to tell me his name was pronounced "like stoned but with a y". He was a bit off-center, but interesting to talk to.
The next night, I met up with my dads friend Steve, who because he works for the state has an incredible deal where he is given a plot of land in a state park to live on while he works for them. I got to stay with him for a night and it was an absolutely magnificent place he had right in the middle of this park.
Sept 21st or so
I got to LA about 7pm after having driven down the famous Pacific Coast Highway.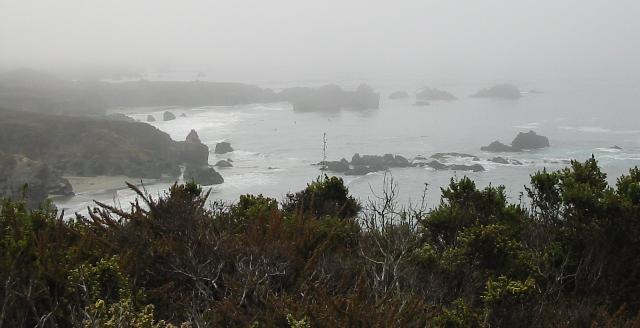 Normally, this is one of the most magnificent drives one can take. It is a one-lane-each-way highway that hugs the coastline, so driving south to your left you see cliffs and to your right you see surf crashing against the rocks below. I say "normally" because on the day that I made the drive there was so much fog, you could only see snippets of ocean, cliffs, or anything else for that matter, including roadway. So, you've got these super-twisty roads, with no passing lane, and no visibilty. What could make this more complete?? Yes, a bike race. What a great day for a race. Visibility is about 20 yards at best, so by the time you've seen the bike on this shoulderless road, you've nearly hit them. You can then go 15 MPH, or pass on what is probably a blind curve, but its hard to tell as theres too much fog. I got off the PCH in San Luis Obispo and took HWY5.
My friend Dave lives in West Hollywood, which upon my arrival was quite cool, I thought. I mean, I'm driving in to Hollywood. Somewhere I've never been, but heard a lot about. When I arrived, we were a few minutes late for leaving for an album release party for Beck downtown. So off we went. The album release party was pretty cool, but it was smaller than I imagined. It was at an art gallery. There was a Beck impersonator there, but we heard Beck actually showed up much later after we left. We left to head out and hit the town. We went to a couple bars and cruised the Sunset Strip. Not much different than the kind of crusing we did when I lived in PA and was in highschool, but the cars were a lot more expensive, as were the clothes on the people walking.
Dave was nice enough to take time out of his very busy schedule and take time off to show me around the city. We went to all the famous spots during the day time like Hollywood Blvd, Rodeo Dr, The Hollywood sign, Downtown LA, and countless others, and then at night, we'd go out and hit various bars and clubs. One of my favorite days was when we had gone to Venice beach to hang out for the day. We wandered around looking at all the street performers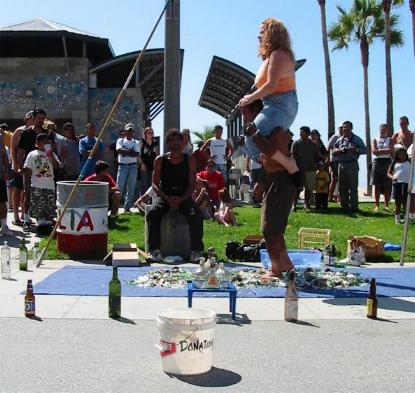 , then headed in to a bar to get a pitcher of margaritas. It turned out to be not only a Football bar, but a Packer bar at that. Imagine that, of all the teams, it was the only team I'd ever had any interest in (for those that dont know - I dont follow sports one ioda, but being as my whole family is Packer-backers, well I guess that makes me a cheesehead by birth). We downed our Margaritas and headed outside to hang out on the grassy areas. We met a couple of cool people and sat down. There were two little girls nearby who were playing with each other, and happened to be running near us. I started horsing around with them, and the one girl wanted to play with my sunglasses. She put them on and I decided to take a picture of one of them. When I showed her that the picture appeared on the screen after you took it, she was tickled silly. She asked if she could play with it for a while. I said sure. I had no idea until I downloaded the pics much later how many they had actually taken. These below are about half of what they took. There were many more pictures of eyeballs close up, and grass and sky, etc.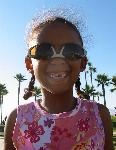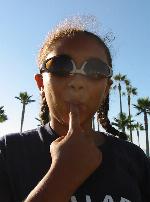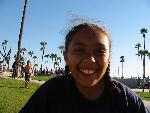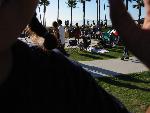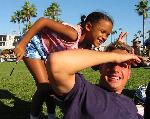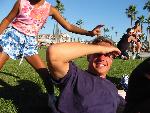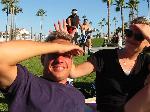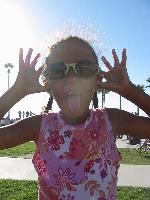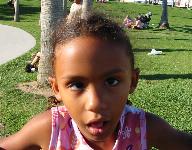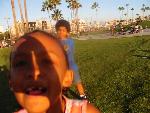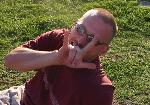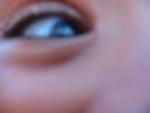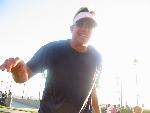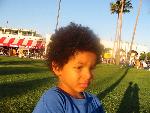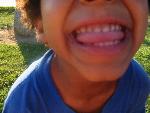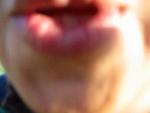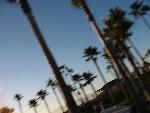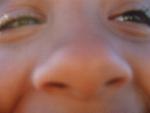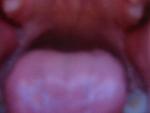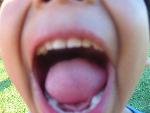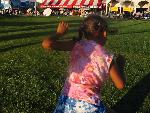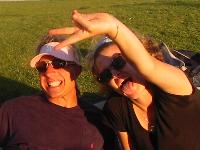 About sunset, one of the people we had met had said we should go check out the drum circle, which had started a couple hours earlier, but was about to get going in full swing. So we walked out to the beach, to find about 300 people dancing, and about 30 people drumming. As the sun began to set, the tempo of the drums became faster and faster. As the sun hit the horizon, the drums were going at an amazing pace, until they finally creshendoe'd as the sun dropped out of view. It was a spiritual experience. Unfortunately, it only happens on Saturday, or I'd be back every night of the week to watch it.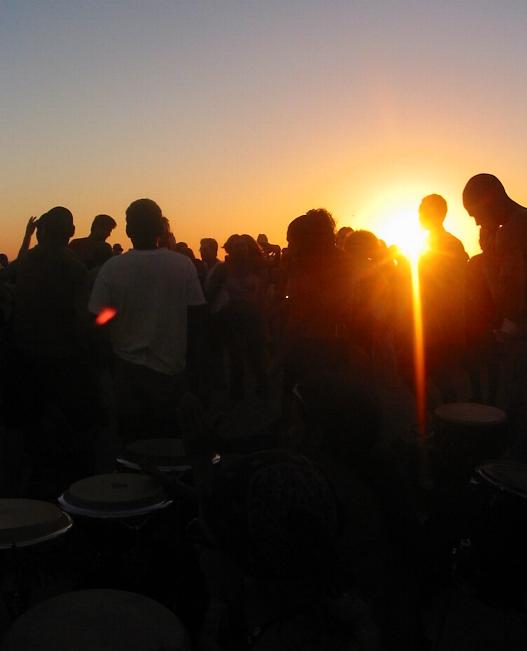 [[[click to enlarge]]]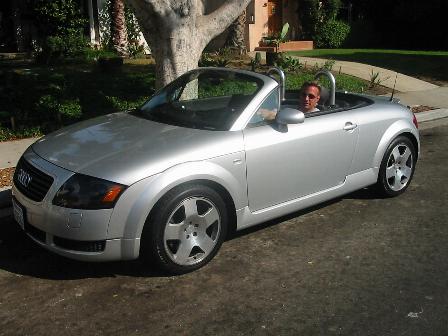 The next day, we passed a place that rented exotic sports cars. Ferraris and Porsches and stuff like that. Being the car buff that I am, and the fact they had a Ferrari 360 Modena, which is one of my all time favorite cars, I convinced Dave that if it was only $700 a day or so (which he estimated it was) we should rent one and split it. He agreed. Turns out the Modena is $2000 a day. A bit rich for my blood. Dave's too. So we asked, "What else you got?" We kept going down and down and down until we got to an Audi TT convertible which was $150 a day. Fun car, good price.... we got it. Made for some good sight-seeing and cruising.
Before I got to LA, I had talked to Dave about appearing on the show that he works on while I was there. He said that you go in for casting and then they'll use you in the next week or so if they like you. Dave works on what I term a "cheesy dating show". There are a few shows that fit this description, where the purpose of the show is to get strangers out on dates, or something resembling a date, and see what kind of craziness happens. No one is really expected to find a match of any sort, its just purely for entertainment and fun. In fact, if they can get people to get in to fights or embarassing situations, all the better. :) Anyway, I went in for my casting interview on Wednesday the 24th.
That Friday, a funny thing happened to me. I got a call from a guy representing a different network and he said that he needed someone to film a show out in Europe for a month, and he had pulled my application from the ones at Daves show, and wanted to know if I was interested. The premise of the show was like "The Bachelor". One guy goes to Europe with 20 women and at the end of 5 weeks has to pick one. I was sure I was being set up. See, I'm a huge practical joker, so I just assumed that this was one of my friends getting me back. But who? I mean, this would be a crazy opportunity, it couldnt be real. I looked up this guys name and number on the internet and found out it was legit. Holy shit. Am I going to Europe? I had joked with everyone that I'd become famous after being in LA for a week, and now could it actually be coming true??? Holy shit. I could barely sleep that weekend knowing that I'd be setting up the meeting on Monday. Monday came and I called the guy and set up my interview for Wednesday. I could hardly wait that long. Everything was going so perfect right now with this trip!!
October 1st
I woke up Tuesday, and got a craving for the cereal I had in the food box in my truck. I threw on my sandals and headed out to grab it. As soon as I saw a car parked in the spot my truck was in, I knew what had happened. It was stolen. I just began to sink thinking about everything that was in there. My bike, my video camera, tons of camping gear, my address book, photos, electronics, even my danm cereal, dammit!! I'm hungry. I went back inside as a strange calmness fell over me. I called the police to get the towing companys number to find if it had been towed, knowing it hadn't. Sure enough, it hadn't. So I called the police back to file a report. I knew there was no chance in it being found, and if there was, all of my stuff would be gone. I didnt hold much hope of that. I think Dave may have been more in shock than I was. After the police left, I turned to him and just said "Lets go get a cholesterol-packed Fat Burger and forget about it, not much I can do now". And that was the truth of it. The truck and my stuff were gone. I could let it get to me and be bitter, or I could realize that I have the most incredible 2 year journey ahead of me, and that this is now a crazy story that will help define what is to be an unpredicatble adventure. End of issue - lets figure out a new game plan.
That night, I went online to check email and send out an update about my trip and my truck. I got an email from a girl named Drea who I'd met at Burningman. I talked to Drea for about 30 minutes or so one day and she told me she was a surfer. When I met her I told her I used to surf as a child and that I wanted to try again on this trip. She said she had 5 surfboards and that she lived just above San Diego and that I could come visit and borrow a board any time. We exchanged email addresses and I planned to visit on my way down the coast. I had told her it was going to be sometime early October. But back to her email, she sent me a 'forward' which was an inspirational email about dealing with adversity. I thought it was amazing that she had sent me that without knowing what had happened. I called her to let her know about the co-incidence, and what happened next amazed me even more. She said that a couple years ago when her truck broke down, her uncle had given her a car for free. Not in so many words, he told her that it was for her to use, and not to sell and profit from. She felt that when it was time to get rid of it, she needed to find someone who needed a car and give it to. For the past 3 months she had been looking to give it away, but needed to find someone who needed a car. She said I could have it. I about died. I told her I didnt know when I was going to be able to get there, as I now had interviews, shows, and needed to help out a friend in Vegas, which she said was fine, as she needed the car for another week or so anyway.
Wednesday, Dave let me take him to work and borrow his car for the interview. It went real well and sounded promising. The crew for this show was already in Europe, awaiting the cast. They were supposed to have someone picked by 3 weeks ago, and were very late and still trying to find the male star of the show. They had rejected over 250 people. They now had 10 people to choose from and I was one of them. I figured that they had rejected probably every quintissential LA-model type that had come along because they were looking for something different. In no way, shape, or form did I think I resembled the GQ type you see on shows like the bachelor, but I figured they must have rejected dozens who fit that bill by now, and were looking for something different. I could probably count on one hand the number of times someone has told me I look GQish, no cancel that, I could count that on one finger, maybe less, but 'different' - yes. I've been told "Dude, you're different", by more people than I care to remember. Not always in the flattering sense, but more in the sense that someone would say a car painted with a purple cow-pattern is differnt. Anywho.... I was positive I had the part even before they called.
They havent called yet, but theres always next season, right?
Anyway, after the interview, Daves girlfriend and I went out for hotdogs at Pinks. Rick, you're writing about eating hotdogs? No, I'm writing about eating a Pinks hotdogs. See, Pinks is an LA icon. It was a hotdog cart in the 30's and is now a hotdog stand. Theres only one, there is no chain, and never will be. Owned by the same family for 70 years, the line is always about an hour long, and many times you can find celebrities in line. Yep, tasty.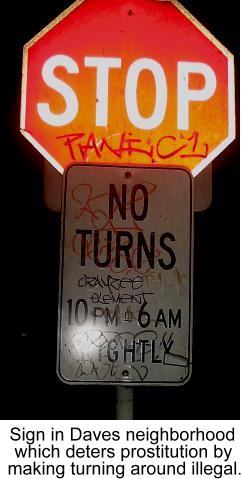 In any case, I spent the next couple of days hanging at Daves place. Daves got a real cool apartment, but it is in a basement, and I think that fact coupled with the lack of transportation, coupled with the fact it was in the neighborhood where my truck was stolen was making me feel a bit trapped and got me real itchy to get out.
I was able to get a rental car through my insurance company. I had planned on seeing my friend Eddy before I left, I went out to visit him in Playa Del Rey for a few days. Ed and I got to hang out a couple of times, but during the day, I'd just generally head down to the beach to go running, and take in the sun and the weather, and enjoy being away from the city. I went around and looked at a couple used cars, despite the fact that Drea was giving me one for free. I dont really know why. Everyone deals with hardships differently. Some people binge eat, others drink or turn to drugs. I buy cars. Perhaps it'd be cheaper to take up drinking, but I had this uncontrollable urge to get another 4x4. The 4x4 part justified not taking the free car. As it was, I looked at a few, and decided to not buy any of them. There was a reason the freebie car was thrown in to my adventure, and I was better off not messing with fate just because I wanted a 4x4.
Finally, my shooting day came up for the dating show. It was very fun, yet tiring and embarrassing. You run around from 1pm to 11pm with a camera crew following your every move. This show I went on had several people who all go out on one big date and in the end, you try to get picked by the other people, over the same-gender people who are also on the show. I won and was picked. :) Which thank god for, as the rest of the show was so embarassing, that had I lost at the end, that would have been the ultimate kicker.
After the show, I left the next day for Vegas. To be honest, LA had been giving me a bad vibe for the past few days, and if it wasnt for my obligation to do the show (which I might have bailed on had Dave not worked for the show), I would have left sooner. I really enjoyed catching up with my friends, but LA was kinda getting to me. Probably because I felt like I was staying because I had to and not because I wanted to. Its a cold place where everybody's in the biz, and many people dont want to talk to you if you cant help their career.
October 5th
So Jerry calls me up sometime around October 1 and tells me that he's got to go to a trade show in Vegas, and would like to know if I'd come along and help. Its a lingere show. Sure, I can help. Seeing as he was visiting his girlfriend in LA, we decided to leave from there. LA traffic sucks, but LA traffic on a Friday afternoon is even worse. As bad as it was, we made it out of town in reasonable time, and it seemed to go by even quicker with the company. I'd grown accustomed to driving solo, and it was a welcome change. We got to Vegas and checked in to the hotel and and went out drinking. We had a plan in mind, and that was to find a model who would model some of Jerrys liquid latex at the trade show booth. I think we asked a couple people, but couldnt find anyone willing or availble.
The rest of the time in Vegas was filled with working the trade show, which meant walking around, talking to buyers about the latex product, manning the booth, meeting people, and finding out where that nights parties were. There was one room that had particularly crazy parties, and as Jerry knew the people throwing it, we went. I felt a little out of place in my button-up shirt and jeans when other people were wearing bondage items and being tied to whipping posts. Yea, it was one crazy gig. Some topless girl decided to dance on the table at one point, not thinking that being a glass table, that was a bad idea. Amazingly, she didnt have a single cut on her as they were throwing her and her shirt out the door after crashing through the table. I met a guy(??) there who looked as though he was dressed in drag. He started talking to someone I was talking to, who then walked away, and I found myself involved in a heavy conversation about the differences between transvestites and transexuals. See, the former is someone who dresses the other gender, the latter being someone who IS the other gender but was born wrong so they have surgery to correct it. I asked him how he thought he knew he was born the wrong gender and not gay, and he couldnt really answer other than saying he just knew, and I was called away by someone else at about that point. I told him I'd come back to finish the convo, but never got to.
The Vegas trip was fun. It lasted all of 3 days, and wasn't as crazy as my last trip there - thank god. One of the more amazing things that happened on this trip was that I met a guy who had read this very website, and read the section where I talked about my Vegas trip. He even quoted a few lines back to me. That pretty much freaked me out. Jerry got one of his biggest sales ever at the show, which pretty much made the whole trip worth while.
While in Vegas, we went to a mall and I picked up a new voice recorder. See, I like to jot down things for this journal, but its easier if I have a little voice recorder to put them in to. When my truck was stolen in LA, my voice recorder, along with my thoughts contained within, were stolen. Thats why some of the dates are uncertain, and some of the memories foggy.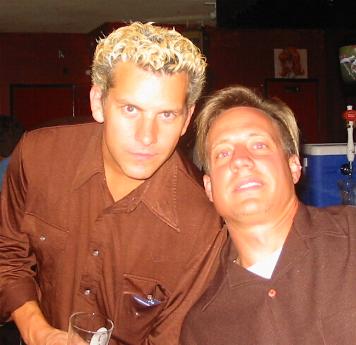 Back in LA, I vowed only to stay a day and then head south. Jerry and I ended up going out to a bar with his girlfriend where we happened to meet up with some friends of his, one of whom was a guy named Steve. After a couple hours, Jerry was tired and wanted to head home, and Steves friends did the same. Our two groups hadnt been talking much to each other, so I had no idea that Steve wasnt leaving with his freinds, and Steve didnt know I wasnt leaving with Jerry and his girlfriend - we had just both planned to stay and meet random stangers in the bar to continue our night with. But oddly enough, it left Steve and I there by ourselves to discuss this strange co-incidence. Suffice to say, I found the guy to be a lot like me, which means he was cool as hell, and that meant I could hang with this cat for a while. We ended up deciding to head out and meet some of his friends that were out on a bachelor party at a strip club on sunset strip. As most people who know me know, I dont ever seek out strip clubs, nor do I get in to them that much, but I sometimes find myself in a situation where I'm with a group heading to one, and this is no exception. Steve had to go home and get cash for the night, and then we headed out. A few cool things about Steve. First, he drives a 66 Mustang convertible he's owned for 15 years and uses it as a daily driver. As someone who's owned a 69 Mustang convertible for 11 years and used it as a daily driver, I have to tell you it takes a unique kind of person to put up with that kind of headaches year after year after year. The other cool thing about steve is that he is the personal assistant to Stevie Wonder. Basically anything that Stevie needs sight for in the studio, is his job. But his job also takes him on the road several months each year, and requires him to have a pager, which if Stevie has a creative moment at 3am, its time to go to work.
On the way to the strip club, we got a call that the bachelor party was over, and the revelers were headed home. Jeez, it was only midnight. What gives! Well, we had already told Carlos, a co-worker and friend of Steves, to meet us there so we went anyway. Carlos really did look like a rock star, complete with dreadlocks and really really expensive rockstar-ish sunglasses which he wore inside. At night. A couple of the girls in there asked what I was doing with these two guys, who were obviously much hipper than the guy in plain clothes and and an 80's surfer haircut.
We left the club as it was closing, and headed to Mels, the 24 hour diner where everyone who is anyone goes to in LA when the clubs shut down. As we're ordering, a girl takes the booth next to us, and appears to be alone. Theres only 3 of us and an empty seat, which we offered to her. She obliged and sat down. As we started talking she seemed nice enough, until the moon shifted phases or her medication started to wear off, I'll never know which. Slowly but surely, she began to earn herself a spot on the Kooky-LaRue list. This is a distinction my friend Adam and I give to the loonies we seem to meet. At one point she started going on about how her teddy bear lost an eye one time and she took it to a teddy bear hospital in Boston for repair. A few other wacky stories, combined with a smile that looked like it couldnt be removed even with surgery started creeping us out, and we paid the bill and left.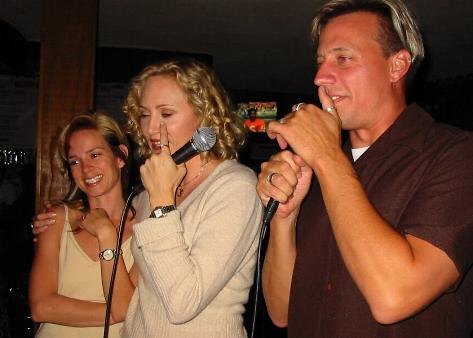 Even though I was ready to head on out of LA, I decided to stay one extra day as Steve had mentioned a couple big things going on that he could invite me to. As it turned out, they fell through which was fine as I wanted to hang with Jerry and his girlfriend Wendy before I left town. We all met up at a bar which, like about 50% of the bars I found in LA, was a karaoke bar. Wendy's friend Aura showed up, who just happened to look exaclty like Madonna. It was so uncanny, I didnt even mention it, as I'm sure she gets it several times a day. Heck, she got it several times while we were in the bar. Aura was very cool. She was a psychic healer, meaning that she could tell you if you had a tumor and where, in the event that doctors couldnt find it. On a couple of occasions, shes saved peoples lives by this. She also can read people as a psychic, which I've always been fascinated by. Raised by hippie parents, she developed these skills when she got a hold of some acid as a youngster.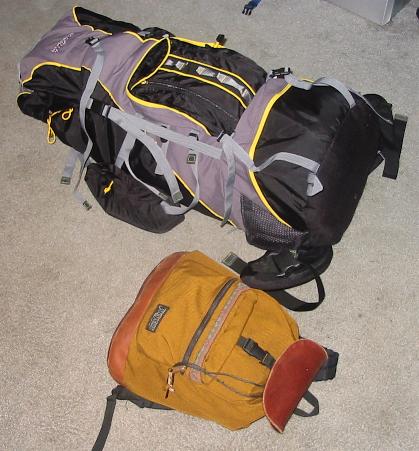 Everything I own.