June 10th
Current Location - Copacabana, Bolivia
Continent - South America
Local Currency - Boliviana - (7.6B = $1us)
Language - Spanish
Temperature - 60
Song defining this leg of the trip - Clocks - Coldplay

Traveling solo has its ups and downs. Generally, its mostly ups. In fact, I'd say that the majority of the time, its mounds of fun, but thats probably why when the fun is punctuated by moments of lonelyness it seems so severe, when its not really.
The other day while waiting to go out with Barry I decided to run and grab a bite to eat. I hadn't seen a McDonalds in a while, so I decided to stop in for a quick burger. Eating alone shouldnt really be a bothering thing, but for some reason, having been surrounded by great people for so long, eating alone seemed such an unusual thing to do. Whats worse is that being caucasion, everyone seems to look at you, so you cant be inconspicious about it.
I spent my last day in Lima hanging out with Tom and Barry and Toms parents who had come to visit. I went over to the house they were staying in to check out the truck they've toured Latin America in and hang for the afternoon. Later on that night, we went to dinner and talked about traveling and life and things like that. At one point a thought occured to me and I laughed out loud. Everyone asked me what it was that made me laugh, as nothing funny was said. It was really just the fact that I finally felt as though I wasnt so odd for having my traveling thoughts, as here were other people having them too. Most travelers I meet are in their 20s... they travel, then settle. Heres a couple guys my age so hooked on traveling and adventure with future travel plans just as grand as mine, if not more so. It w! as great to finally feel that I'm not alone in my crazy mindset.
The next day I took a plane to Arequipa, where I had planned to spend the night and then go on to Puno to explore lake Titicaca. In South America, intra-country air travel is cheap. Its once your flight crosses borders that it gets expensive. So my plan is to take planes within countries, and busses over the borders until I get to Brazil.
I ended up passing through Arequipa and making it nearly to Puno that night, but becuase of a change in bus schedules had to stop in a small town called Juliaca. I got in to Juliaca at midnight. As we drove through town, I saw a lady with a broom sweeping the street gutter. At midnight. Odd. Then the next 3 or 4 streets we passed had multiple women doing the same thing, with handmade brooms. Odd.
I got to Puno early in the morning and checked in to a hotel and took a walk around. Puno is the town where most travelers will base themselves out of to tour around Lake Titicaca, the highest navigable lake in the world at 12,500 feet. There isnt much to do in Puno itself. The town has a quaint vibe to it, and lots of markets and neat little stands at intersections where police officers will stand inside directing traffic in lieu of traffic lights.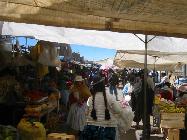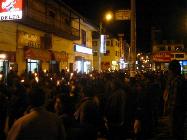 The next day, I decided to head out and check out the floating islands of Uros. Hundreds of years ago, when the lands of the people of Uros were under attack, they decided to move out to the middle of the lake, by building floating islands out of reeds. These reeds are about 6 feet long and about as thick as your finger. They float, and when tied in to bundles or mats, can be made in to houses, boats, or even islands. These floating islands have a population of about 2000 people, and have their own schools, post offices, hospitals, etc. Unfortunately, tourists are only allowed to go to special secitons of the island which might as well just be called the floating gift shops. I had heard this before going, but decided to check it out all the same.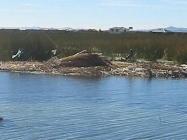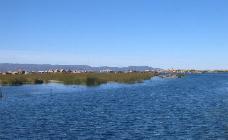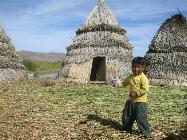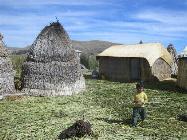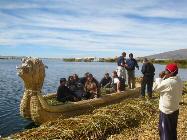 Traveling around Latin America, you notice a lot of anti-Bush sentiments spray painted around. Puno seemed to have more than normal. Which is probably why when I went to go get on the boat to Uros, and someone came running up to me and asked in an accusing tone "What country are you from?", I non-cholantly replied "Canada" and kept walking. Well, this guy then wanted to walk me to the office where tickets are purchased for Uros. He told the guy working the counter, "Heres a tourist from Canada who would like to go to Uros". So I had to sign in. Name, Hotel, Passport #, and country. Right, Canada. This guy then takes me to the boat and introduces me as a tourist from Canada. Great. For the next 3 hours I was bombarded with questions about my life in Canada, 95% of which I did not know the a! nswer to, so I made them up. Last time I try that exercise.

While I was in Costa Rica, I had traveled with a girl who I told about my plans to drive down here, which were changed when the truck was stolen. She told me about a girl named Sonja doing that exact trip, in her truck. I emailed Sonja to see how traveling in the truck in Latin America was working out, and we decided to meet up if our paths crossed. Turns out our paths would cross in Puno, but it would give me an extra day to spend in Puno while I waited as she drove from Cuzco.

As I was coming to Lake Titicaca, my friend in Italy, Irene, emailed me that she has a special relationship with one of the cities around the lake named Caracoto. Caracoto is a blip on the map as you drive from Juliaca to Puno. However, Caracoto is the town which has a comedor (a place for children to eat and study and play) dedicated in the name of her friend Giordano Liva. Giordano was a childhood friend of hers and everyone from her town, who studied in Peru. He died of a brain tumor at the age of 22, and with the money raised in his name, his parents wanted to build a place to help the children of Peru, as they felt was one of his wishes. Not Irene, nor any of her friends have ever seen photos of the comedor, although they all know about it. Being less than an hour from Puno, I decided to run out and take pictures ! to send to them.

I felt slightly nervous about doing this. Caracoto isnt even mentioned in the guidebooks. Its so small, it doesnt even appear on the maps in the books. So getting a bus there and back isnt exaclt easy. You have to catch the Juliaca bus, and get off as you pass through and then when returning, flag a bus to stop to get back to Puno. Getting off in Caracoto, I really wondered if I was doing the smart thing. Dropped off in this tiny town in the middle of nowhere, looking for a building which I have no idea where it is or what it looks like. There was a small Pepsi stand on the corner and I asked the girl if she knew about the comedor. She did, and so did the man at the stand. His name was Hector, and he was eager to help me get to the guy who would be able to show me the comedor when I explained why! I wanted to take pictures. Hector took me to the church where he introduced me to the caretaker named Victor. Victor was very excited that someone had come to take pictures of the comedor, especially knowing that they were going to be sent to friends of Giordano. Victor walked me over to the blue building and took me inside and gave me a tour. The comedor has 40 kids which use it, although none were there that day as there is a teachers strike currently in Peru. The building was a beautiful building in a quaint little town which had the nicest of people. I couldnt think of a better place to build a comedor.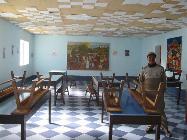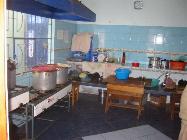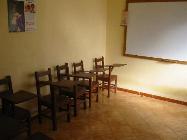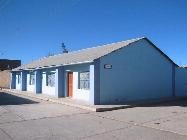 Afterwards, Victor gave me a tour of his church and grounds. He was very excited to have a visitor. When I asked him if Caracoto got many tourists, he said no, and that he had lived there his whole life and to his recollection I was the first tourist ever. Woo Hoo. Victor showed me his chruch which had an imported-from-Spain statue of Christ, one of only 2 in the world. My Spanish wasnt good enough to make out why it was so special, but he said that there are copies all over the world, and that this is one of the originals and that people from all over Peru come to see it.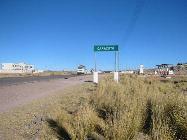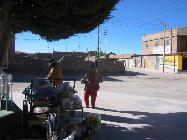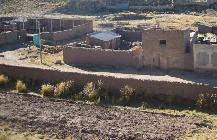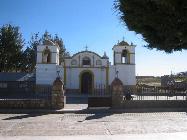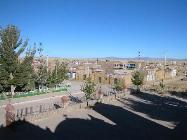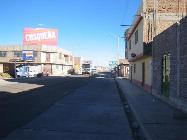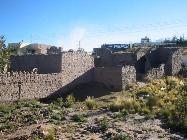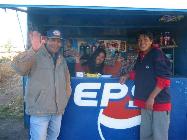 While waiting for a bus to head back to Puno, I chatted with the people at the Pepsi stand for a bit. They asked what I did for work among other things. Trying to explain computer security to people who have never used a computer is near impossible. The idea that someone would want to steal information off a computer is so incredibly foriegn to them. I fix computers - thats easier.

I was so glad I made the trip out to Caracoto. It was one of the funnest things I had done in such a long while. Probably because it was so out of the ordinary, and because it had such a great purpose and worked out so well.

Returning to Puno, there were marches through the street at night. There are marches day and night for the teachers strike that is going on. Some turn to protests, and a couple weeks ago during one of the protests, a student was killed. That has just escalated the tensions in the town, although all the marches I saw seemed to be rather peaceful.

I went to go grab dinner at a local resturant shortly after. The dinner - a huge bowl of home-made chicken noodle soup, followed by a huge plate of rice with beef-vegatables, a glass of juice, then pudding for desert, followed by a baked roll and tea. The price - 2 soles (60cents US).

That night I met up with Sonja in Puno. We grabbed a drink and talked about the ups and downs of long term traveling. Again, it was nice to meet someone who can relate to all the things in my head. We agreed to meet up in the morning to do a tour of Amantani Island, which is one of the non-floating islands in Lake Titicaca. Neither of us are too fond of organized tours, but an organized tour is the only way to get to or see Amantani.

That morning, I got to meet Sonjas traveling companion, Anubis. Anubis is her dog, who has been on this road trip since the beginning in New York about a year and a half ago. Really great and friendly dog. The 3 of us headed over to catch our boat to Amantani. The boat makes a stop in Uros, the floating gift shops, then heads out for the 3 hour trip to Amantani. Neither of us knew it was such a long trip, or we might have passed on it. However, once we got there we were pretty glad we went. The tour was 35 soles ($10) which included transport, 3 meals and lodging which we just assumed was in a hotel on the island. There are no hotels on Amantani, nor are there any resturants. In fact, they only have electricity twice a year on special occasions and there is no running water. Peo! ple live in adobe houses as they have for hundreds of years and farm the land as they always have. The only difference is now that you can visit the island, but in doing so, you stay with a family and they feed you your meals.

So upon arrival to the island, we were introduced to the lady we would stay with. We were taken to her house, shown our room, then given an hour to walk the island while she prepared lunch.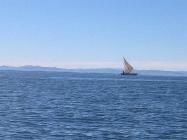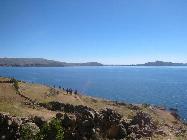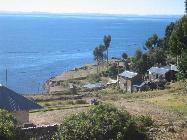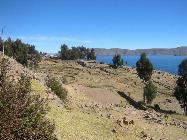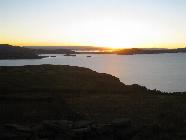 Walking the island was fun. More so even with Anubis, as the island supposedly has no dogs. Reactions from people ranged from curious to downright frightened. I really got a huge kick out of watching peoples reactions, although Sonja has become accustomed to it.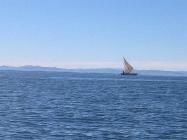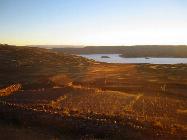 We returned to our house for lunch, then afterwards headed to the main part of the island to meet up with the rest of our tour group and walk to the highest point on the island to watch the sun set. The tour guide was neat to have, but it was just as fun exploring parts of the island on our own.

After dinner, we were taken to what was supposedly one of the big parties of the year on the island. It turned out that it was more of a put-on party for the tour groups, which was to be expected.

The next morning, before we left, we woke to the strangest giggling sounds. We looked out our window, and there were 3 men dressed in what appeared to be sheep outfits, making erratic giggling noises. Apparently as part of the island festival that is going on at this time of year, these people come around and exchange lucky black rocks in exchange for food or coins. It was very bizarre to watch.

On the way back to Puno the next day, the 3 hours on the boat seemed to drag on. I went on to the back deck of the boat where people were just finishing a card game. I took the deck and asked if they'd like to see a trick. My dad is a card magician by hobby, and has tought me a few of his tricks, which I pull out now and then. This was the first time I had ever tried doing one in Spanish, which wasnt as easy as I first thought. But in the end, I had the people on the boat convinced I was a shaman (their words, not mine).

Back in Puno, we checked in to a hotel and reveled in the luxury of an actual hot shower, then headed out for some chineese. Its neat to see what its like traveling with a dog. Some resturants have good reactions, others bad. Most everyone wants to know if its a dangerous dog, which he's not. He's quite relaxed and friendly. All the same, its funny to see people move to the other side of the street as he's coming, especially in a part of the world where stray dogs are everywhere.

We got up early this morning to head in to Bolivia. Traveling with a vehicle can sometimes cause problems at borders, so we wanted to leave extra time. Luckily, all went smooth, and we were in Bolivia by noon today.

We stopped in a couple little towns along the way looking for somewhere to eat breakfast. Even though we didnt find anywhere, it was so neat to stop. These are towns like Caracoto, that traveling by bus, you would just pass through. It really made me think how much more I'd rather be traveling by vehicle.

We spent the day checking out the little town of Copacabana which has a nice little feel to it. (Note: not to be confused with the world famous Copocabana in Brazil). Tomorrow, we're going to head out for the Isla del Sol, and spend the night there before heading to the capital of La Paz.

(internet went down the other day - above journal was saved on June 8, below written today on the 10th)

So we did make it to the Isla del Sol as planned. Isla del Sol is home to some amazign trails, interesting Inca ruins, and what the Incas believed to be the birthplace of the sun. We had the boat drop us off at the south side of the island, then we walked the 21 kms to the north side of the island. The walk was well worth the trip to the island alone. Amazing scenery of Lake Titicaca from every view imaginable. There were also plenty of sheep for Anubis to chase, as well as pigs, llamas and bulls for him to play with. Some of the animals like to play back, others dont. The sheep definitely dont like it.

We made it to the north side, to a little town where our boat was supposed to pick us up at tomorrow. The town looked rather bleak, so we decided to go the extra 30 minutes to the next town to spend the night there. On our way there, we passed a lady who looked to be about 102 years old walking her donkeys home. Well we passed her, but as we tried to pass the donkeys, they got frightened by the dog and wouldnt let us pass. The donkeys would speed up, Anubis would speed up, we'd speed up. The old lady was unfortunately already at maximum velocity, and we and her donkeys were going quickly out of sight. I decided to step in and catch and hold the donkeys, and allow the dog to pass. Much, much easier said than done. Have you ever tried to catch an unhappy donkey? Well, I managed it, and was able to hold it for ! the lady as she came around the corner.

The next town was one of those places where as a traveler you dream about. There were no hotels, no resturants, and no one selling souviners. We found a lady who was willing to rent us a room in her house for $3 for the night. We sat out front until dark, talked to the locals, and watched everyone bring their sheep home along the beach. Most people there speak their indigenous language, and we needed a translator who spoke Spanish to arrange the renting of the room for us.

We caught our boat back today, which also stopped by the Isla del Luna, home of some more Inca ruins.