After the lake, I headed to Reno to meet up with the guys from the Latex camp, and get my gear all cleaned up. I found a car wash, hung all my chairs, sandals, and other items on my roof rack and powersprayed everything. It got out about 50% of the dust. Then I got a super huge hotel room for the bargain basement price of $29, and reveled in the luxuries of having a real bed and a hot shower.

Sept 5th
After having gotten nice and clean, I got in touch with Jerry and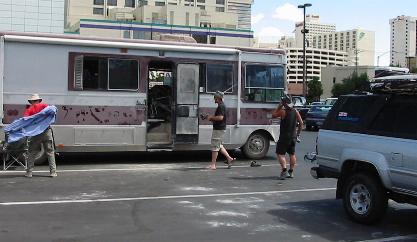 Gregorio and Thurston of camp latex. Jerry and Gregorio being in an industry that targets the adult market know just about every bar and strip club in CA and NV, and usually know someone who works at each one of them. We decided to go to one of their favorite strip clubs, whose name escapes me, but that doesn't really matter. There were about 30 patrons in there. We walked in, sat down, and pretty much right away, we had about half of the dancers were hanging out at our table. It stayed that way until last call, which surprised us as none of us were spending any money, which is usually why dancers would hang around your table. We'd even tell them that they should go elsewhere if they needed to find better customers, and they all insisted they were having more fun hanging out with us and were fine with it. Cool.
We left about 2am and headed to a casino bar where we stayed and drank until about 4am.
Sept 5th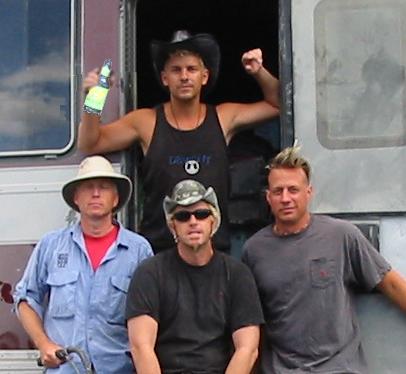 The next morning, the 4 of us, looking pretty tattered went to breakfast at a café. We looked like a strange lot, and the hostess asked us if we were musicians. I replied with the Blues Brothers line "No, ma'am, we're on a mission from God." She didn't get it.
We gambled a bit at the casinos, and I ended up turning my $15 that I had in my pocket in to $60. I have to remember to start betting bigger if I'm going to keep winning.
Jerry lives in San Jose, and Gregorio, like me, is on the move. Jerry's latex business is based in San Jose, and Gregorio is a photographer and just travels where business is. I asked them if they'd mind hanging out for a few days so I ended up traveling to San Jose with them. Some RV troubles with Gregorios RV set us back a day but we eventually made it to San Jose.
Sept 7th
San Jose was pretty much as I pictured it. Small houses, very California-esque streets. As soon as I got there, I called up the Goddess Patrol as they said they had some Saturday plans that we'd all be invited to. They were all headed to a peace rally in San Francisco. Jerry and Gregorio had some things to catch up on, so I went it alone.
I got to the Golden Gate Park and it was just as I expected. It was an authentic San Francisco Peace Rally, complete with people handing out flyers and flowers and dancing barefoot in the grass. Awesome.
Afterwards we all headed to Haight Asbury for a bite to eat, then headed out to Napa Valley where the Goddess Patrol lives to crash for the night.
Sept 8th
Napa Valley and Sebastopol were very cool. Very earth-friendly sort of place. It seemed like the entire community was sincerely concerned for doing what was best for the environment, which is rare to find these days, but it made for a very friendly feeling place.
In talking with Phoebe and John, it turns out they own a plot of land in Mexico just south of where I was planning on spending new years. What's more, I was planning on being there right about that time as well!! I am pretty sure we will be meeting up around that time.
Sept 10th
After spending a couple days in Napa, I decided to head back to San Jose.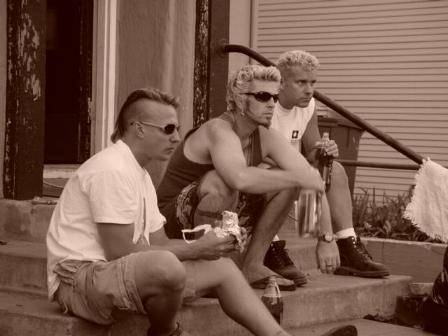 I hung out with Jerry and Gregorio for a couple days, making a little ritual of getting these awesome burritos from the burrito stand down the street. One day we got some 40's to go with them and ate and drank on Jerry's stoop as we watched traffic.
Sept 11th
I headed in to San Francisco to visit some friends of mine that now live there, who used to live in DC. I was nervous about crossing the Golden Gate on the anniversary of September 11th, as its been speculated to be the next target so many times. As it turned out, the people I planned to visit were holed up in their house with various broken limbs, and weren't up for having company until the next night. So I called up Carolina (pronounced with the Spanish influctuation [Car-oh-leen-ah]) whom I met at Burningman. I met her at a bar where she passed out in the mid-day sun. I woke her up and told her to not sleep in the sun and helped her move to somewhere with shade. Then I walked back to my camp. Little did I know that I'd randomly run in to her at the peace rally in the park. It was one of those rare chance meetings.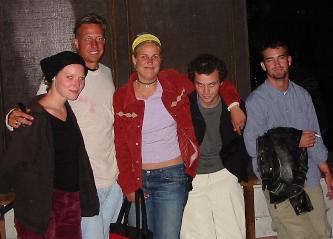 In any case, Carolina was at her local bar, Finnegan's wake, where we met up and played some pool and ping pong. I got to meet all of her friends, and we drank and had a good time all evening. We got bored with the bar and decided to head out to find somewhere else. One of her friends, George, and I headed to Haight street to see if we could find a cash machine. If you think there are strange people on Haight street in the daytime, you should see the crowd on a non-descript Wednesday at 1am. It was fun, but there were definitely some interesting characters out there.
We headed back to where everyone else was and found that the plan was to now buy beers and head to the park. We got a couple 12-packs and the 7 of us just hung out in the children's play area of San Francisco Golden Gate Park. I was amazed at this constant fog that seems to hang over the city. Carolina was fun to hang out with and she really impressed me. She had a lust for living life to its fullest that you don't often see. She was constantly singing, and had to be one of the happier people I've ever come across. Her friends were a great group of people to spend a night in San Francisco with.
Sept 12th
The next day I headed to Haight street to hit some of the thrift stores. I met up with Carolina again in the afternoon for a bit, but parted ways when she had to attend a speech and I went to go meet with my friends Eric and Michelle.
Eric mentioned to me that he and our mutual friend Marcus were headed to Lake Tahoe for the weekend and extended me the invite to join him. Sounded like fun, and I don't really have a job or anything to be at Monday, right? Sure, lets go.
Sept 13th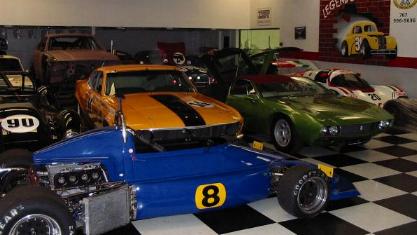 We headed to Tahoe and made a stop by the track where Eric stores his race car. Being a car guy, this was my Utopia. All sorts of very rare and completely restored cars. They had a couple of antique racing Ferraris, one valued at $2.5M, the other at $5M.
On the way up to Tahoe, we hit a lot of traffic. It could even rival that of my ever-so-hated DC traffic. One unique thing was the white-line motorcycle drivers. In CA its legal to drive a motorcycle between the lanes of traffic. That takes some getting used to seeing.
We got in to Tahoe at night at hit a really cool bar that had a reggae/funk band unlike what you might expect to find in Tahoe. I met the rest of the crew staying at the house and we headed out to the place.
The place we were staying belonged to a wealthy friend of Eric's racing partner who had invited us on this trip. The house owner needed a place to store his boats, so he built a 50 foot garage near his mansion, and then decided to build a 3-bedroom loft over it for his guests to stay in. Nice guy.
Sept 14th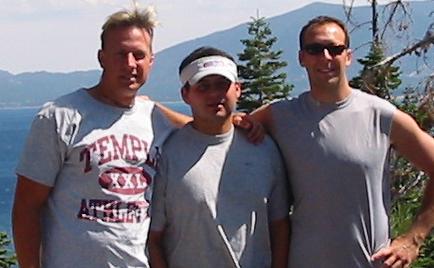 While Eric went motorcrossing (the point of the weekend for him and his partner), Marc and I rented mountain bikes and hit some of the trails around the area. Lake Tahoe had to have some of the best views I've seen on my trip. It was right about on par with the camping spot in Canada. We eventually rode the bikes to the Rubicon trail where the rest of the crew was motorcrossing. They convinced us it would be fun to take the mountain bikes on the Rubicon Trail (which is one of the most famous and challenging off-roading trails in the US). Marc and I got about 100 yards in to it and decided to call it quits. It just wasn't suited for non-motorized bikes and after a pretty heavy day of riding already, we just weren't up for it. However, we can now say that we rode the Rubicon on a mountain bike. We just don't have to mention it was only 100 yards of it.
Afterwards we went to our hosts' lake-side mansion, where he had graciously allowed us to use his hottub and jet ski despite the fact he was away for the weekend. Pretty stark contrast to deserts and hostels.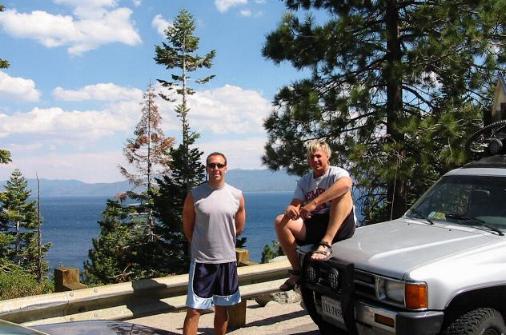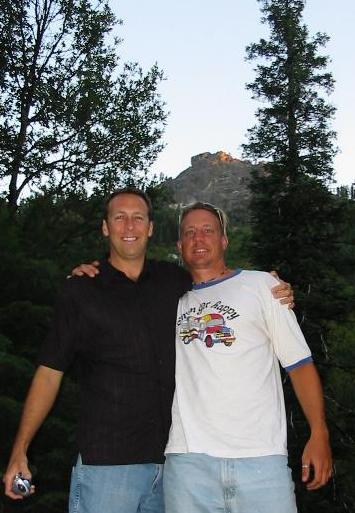 That night we decided to all head in to Tahoe City and eat and do some gambling. There was a slight miscommunication over where we were going to eat, which Eric's partner took a little overboard, and the end result was him telling us at 11pm that as far as he was concerned we could find somewhere else to sleep that night. None of us were really too bothered by it. We took a "so-be-it" attitude and kept on gambling. At the end of the night, I was up $100 even, and Marcus was up about $300 after having won a 40-to-1 $700 hand.
We split the casino about 2am, but because of lack of vacancies, didn't get in to a room until about 4am.
Sept 16th
I stayed at Marcus's place for a couple nights after Lake Tahoe, hitting a few of the bars and restaurants around his place. The area that he lived in was really awesome. While I was staying at his place, I got an email from a good friend of mine from DC who just moved to Sonoma. Well, its back to Napa Valley….