January 16th
Subject: The land of the stewed chicken
Current Location - San Ignacio, Belize
Trip Mileage - 19,000??
Local Currency - Dollar ($2BZE = $1US)
Language - English!?!?
Temperature - about 60
Song defining this leg of the trip - Starry Eyed Surprise - Paul Oakenfold

So I finally made it out of Mexico. After a quick day trip to Playa Del Carmen, and a quick trip back to Cancun to fetch some packages that unfortunately hadn't arrived yet, I headed out for Belize to meet up with Jay. Jay is a guy whom I met at the bottom of the Grand Canyon who I sold on the idea of travelling Central America and we agreed to meet up in Belize on the 14th.
I was reflecting on all the cool things I'd seen in Mexico that really struck me as unique. First, the bathrooms take some getting used to. You need to pay to use all public bathrooms (about 2 pesos), and the toilet paper goes on the floor or in the trash cans because the Mexican treatment plants are not designed to process paper. That was odd. Futhermore, only half the toilets seem to have seats. And then there are the ones that dont even have tanks, but rather they have a bucket which you are to fill with water to flush them manually. Yes, these things take some getting used to. But enough "banos" talk. A lot of the cars in Mexico are makeshift cars, as there doesn't appear to be any sort of annual auto inspection. So if you want to make a truck out of your sedan by chopping it to bits - feel free. Also, around Mexico, I had to introduce myself as Ricardo, as no local could pronounce or understand Rick. Lastly, I loved seeing all the little "collectivos", these VW vans with 4 rows of seats and 19 passengers packed in to them. We rode a couple, and it was usually just a peso or 2 to get to your destination.
But on to Belize (the land of the stewed chicken)....
Because of the delays looking for my packages, I only crossed the border in to Belize about 3pm. The last water taxi to the island of Caye Caulker (where Jay was) left Belize city at 5p, which I wouldnt make. I met a couple Canadian girls on the bus who were stopping in Corozol, right over the border, which the guidebooks depicted as a much less seedier place than Belize City, so I spent the night there instead. The hotel we stayed at was a super cool little place with tons of geckos running around. Waking up in the morning to the sound of the most amazing sounding exotic birds was awesome. I looked out the window to see them, but no luck.
I hopped the first bus to Belize City, which happened to be a local bus rather than express. Which means it stops at every single house along the road, and its packed with locals. It also means that I was the only non-local on the bus. At one point, a girl about 20, holding her baby on her lap, about 3 seats in front of me turned and stared at me. Usually, I'll break the stare when this happens, but I didnt. She was looking at me with more or less of a scowl, which made me a bit uneasy. I was wondering if she was resenting me for being on "her bus". ?? Just then, she broke in to the biggest beaming blushing smile I've ever seen. I sent the same smile back. It was one of those moments I'll never forget.
I made it to Belize city in time to catch the 3pm water taxi. It was raining, and the boat is only half-covered, which means that we people sitting in the rear had to cover ourselves with the tarp provided. I just thought this was cool, hudled under a tarp on this rickety old boat with a bunch of strangers.
I got in to Caye Caulker at 3:45 and instantly fell in love. The island is about 3 miles long by 400 meters wide. There are no cars, only golf carts and bikes. The island has a population of 800, and has a real family feel to it. (www.gocayecaulker.com) They also seem to enjoy playing "Informer" by Snow. The rest of the world forgot this song existed about a decade ago. I think Snow would be proud to know that its still popular somewhere.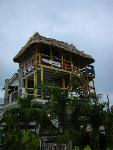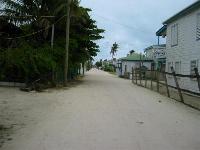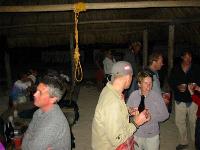 I went to the house where Jay was staying at, and the lady who was renting it to him told me he left on the 3pm taxi to head to Guatemala with the guys he was staying with!! Man, I was upset - I missed him by 45 minutes. He knew I was coming out here, and took off because I was a day late. I went to check my email, and there was nothing from him. By this time, I missed the last ferry back, so I had to stay the night on the island. I got a room and headed to the only bar open. I struck up a conversation with some really cool British people who invited me to a BBQ they were having on the beach. After the BBQ, we headed back to the bar. We were hanging out there about an hour or so, and I looked over at the far table, and there was Jay. I barely recognized him, but it was great to see him and know that I wasn't left. From what I knew of him, I knew it wasn't in his character, and it would have surprised if he had actually left.

Anyway, some people in Mexico told me of a large "full-moon party" on a volcanoe in south Guatemala (which happens on the 19th), so Jay and I are making tracks to get down there for it, and will back track to some of these areas that we're now speeding through. There are lots of cool places right around here in Belize.

Belize actually reminds me a lot of Jamaica. Its very colorful, and the people here are all very laid back and very nice. Rasta culture is very prevalent as well. Its definately somewhere I'd like to come back to after Guatemala.

All for now. Hope all is well. -rr
January 19th
Subject: Further adventures of Pepe and Ricardo
Current Location - Flores, Guatemala
Trip Mileage - 19,300??
Local Currency - Quetzales (7Q = $1US)
Language - Spanish
Temperature - about 70
Song defining this leg of the trip ?

Well, plans changed, and we decided not to make tracks to the party. Jay and I were in San Ignacio, when we ran in to some of our freinds from Caye Caulker who hads just done what they described as the most amazing hiking tour. We decieded to scrap the idea of the party and do the tour and then head to northern Guatemala before heading south. We convinced 3 girls from Seattle who we'd met to dot the tour as well. That night we headed out to the coolest little reggae bar with a band and a huge veranda that had swings everywhere. We called it an early night as we had to get up early for our hike.
Waking up in Belize is the most amazing sound. There is a symphony of birds unlike anything else I've ever heard. Caws, whistles, chirps, skwaks, and a melody of other sounds, but everytime I get up to try to see them, they are no where to be found.
The hiking tour we did was to Actun Tunichil Mukunal, which is a cave that was only discovered as recently as 1986, and only opened to the public in 1996. As of right now, only 2 tour goups in the country of Belize have gone through the necessary archeoligcal ceritification to be able to give tours. The tours include a 1 hour 4x4 ride through some rough terrain (3 vehicles got stuck on our trip), then a 45 minute hike with 3 river crossings, then you enter the cave by swimming the first 30 meters or so. After that, you crawl through the caves for about an hour until you come to the main cavern which is a massive space full of stalagtites and stalagmites. This main cavern was used by the Maya in the 900's. The pot and skeletal remains of the victims of the sacrifices are the THE EXACT SPOTS THEY WERE FOUND IN. It was so amazing to be walking through this with a guide who had to instruct you where to step as to not step on skulls or pottery. Most of it has been calcified which has helped preserve it. One of the neat things we encountered on the hike to the caves was a hive of termites. Our guide said you could eat them. Well, I'd had grasshoppers, what was a few termites???? They were actually pretty good. They tasted like carrots. :-)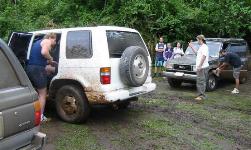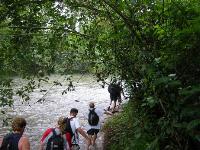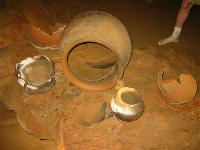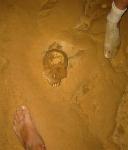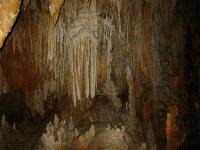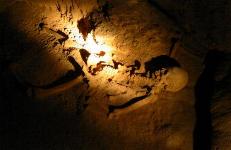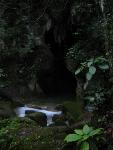 The next day we caught a taxi to the Guatemala border, where we then had to walk over the border, pass customs and get alternate transport. When our taxi arrived, we were chased down by a handful of locals, who actually startled me as I had no idea what they wanted. They wanted to change our currencies. But tourists are such targets, they all sprint for the taxis. Sheesh.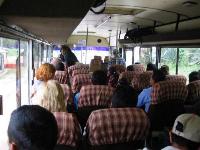 When we got in to Guatemala, instead of going to Flores, the nearest big town, we opted for El Remate, which was one of the coolest towns I've visted yet. It was this tiny little lake town that had no influences of tourism. It was clean, nice, and just all round a fantanstic place. Livestock running all over the place. It had the most authenic feel of any place I've visted, and thats probably because the town wasnt trying - it just was authentic. We rented a bungalow for $7 for the night, which had one wall, and 3 open half-walls. It was right on the lake with spectacular views. Jay and I rented mountain bikes for the huge sum of $.75 per hour and explored the town. In fact, we got accomodations, a good lunch, a fantastic dinner, and bikes all for less than $34 for the both of us. Wahoo. We met up with the Guys from Caye Caulker again and hung out with them for the night. One of them asked a local where a public phone was. The local took him to a girls house who had the only phone in town. It didnt work with the calling card.

Flores and El Remate are both springboards for people visiting the ruins at Tikal. Tikal is as amazing as any ruins I saw in Mexico, if not, more. The park of Tikal covers 16 square KM, but there are 576 square KM of ruins to be discovered. Amazing. The park is also set in lush jungle, which makes it amazing to walk around. We went early in the morning, as its the best time to see the wildlife. There were all these racoon-like animals whose name escapes me, but you can propably find pics of them here (http://mayaruins.com/tikal.html) or other Tikal websites. We also found a pack of Howler Monkeys. If you've ever heard one of these you know how eerie the sound is. It sounds like a cross between a gorilla and what dinosaurs are depicted to sound like in the movies. More like the dinosaurs. It is really one of the scarriest sounds ever. All this from an animal no larger than your average medium sized dog. Amazing.

Anyway, while we were inside Tikal, we met an Australian named Peter who told us about a trip to El Remate. El Remate is one of the latest discovered Mayan ruins. It is also the tallest ever discoverd. There is no road to it. It is a 2 day hike just to get there. Jay and I promtly came in to Flores to book the trip, as it leaves weekly and it was leaving tomorrow. So, I'll be hiking in the jungle for the next 6 days (2 in, 2 there, 2 out).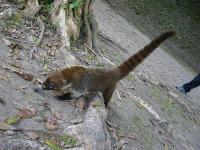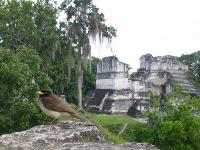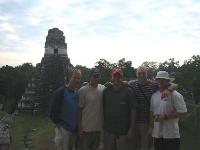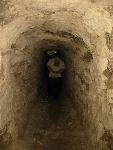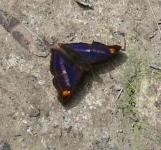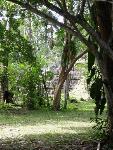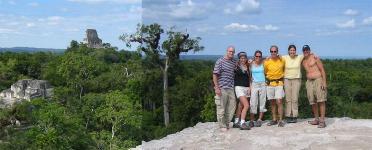 Internet cafe is closing. Gotta run. Hope all is well.....

-Ricardo

(PS No one understands how to pronounce Jay or Rick in spanish, so we have adopted our new names... )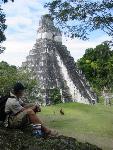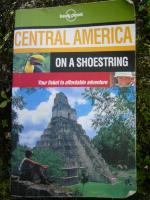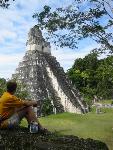 If anyone has a copy of Lonely Planets guide to Central America, this is the exact shot on the cover. Yes, we're cheesy.
(If you tried this, you need to reverse the photo, as the one on the cover is a mirror image)
January 26th
Subject: Beans, beans, the musical fruit....
Current Location - Antigua, Guatemala
Trip Mileage - 19,700??
Local Currency - Quetzales (7Q = $1US)
Language - Spanish
Temperature - about 75
Song defining this leg of the trip Objection (Tango) - Shakira (its played everywhere here)

[This email contains material suitable for mature (or immature, as this case may be) readers. If you're bothered by 3rd grade level playground humour, please skip on by. :) ]
While at the ruins of Tikal Jay and I ran in to a couple friends from Caye Caulker, and they introduced us to Peter, an Australian who told us about a 5 day trekking hike to the largest Mayan temple ever discovered. It was called El Mirador, and there are no other ways to get there except to hike in. No roads, no airstrip. Its 60km each way, which means a 120km round trip hike (about 75 total miles). I was hooked. We took a bus to El Remate, picked up our gear and headed to Flores to book our trip (as it left the next day, or we'd have to wait up to a week) which then left at 8am the next morning.
I went to go get the remainder of my balance from the ATM machine the next morning, and realized I had left my card in the machine the night before. This is anotrher story all together, but its not as fun as the trek, so I'll leave it as my own personal headache.
The trip to El Mirador starts in a town called Carmelita, which is about an hour drive from Flores. Its mostly dirt roads, and when you get to Carmelita, there is no electricity, and most houses are made from sticks collected in the woods nearby, with thatch roofs. The government has built a nice brick school, and the store has a generator to keep some items cold.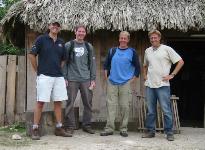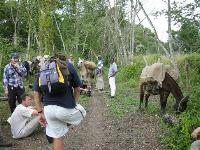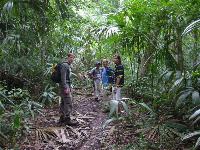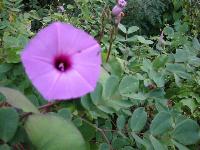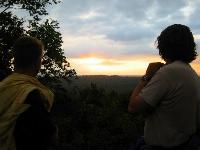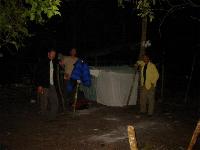 Carmelita is where we met our guides and loaded up the mules with 5 days worth of food and water, and our small day-packs and the hammocks they provided. It was Jay and I, along with Peter, and another traveller named Ofer. We started at 11:30 (late because I was dealing with cancelling my ATM), and stopped for lunch at about 1:30. Meals are included in this trip, but no one ever bothered to ask what they were. Our guide laid out a couple loafs of bread, some packs of cheese slices and some cans of cold refried beans. Lots of beans. We all figured that this would be the standard fare for every meal. Peter was the first to say it, "this is going to be one noisy trip... 4 guys eating beans for 5 days." And that it was, about an hour in to the walk, the music began. The funny thing was, that someone said "Frijoles!!", (pronounces "free-ho-lays", spanish for beans) at the first occurance, and it just became the norm. Every time someone tooted for the next 5 days, we'd all exclaim in unison "Frijoles!!" and then roar with laughter. No matter how old you get, its still funny. Our guide, Umberto, who spoke no english other than "lessgo" when rest time was over, joined in and also lauged. I guess its funny in any language. :)

We walked about 24km the first day, and camped at about 4pm. Dinner was actually great - chicken soup, and of course, frijoles. The rest of the meals were equally great, and most included frijoles. The area where we camped was right near Mayan ruins that were also not excavated yet, called Tintal. We went up to the top, over the canopy of trees, and watched the sun set. While talking up there, Ofer mentioned he had heard of tourists that were killed in this area hiking some time ago. He didnt have details like if they had a guide or not. It wasnt what we needed to hear. Umberto assured us it was safe. We all went back down and went to bed.

At about 1am, we heard a bunch of screaming at our campsite. It was all in spanish. Umberto sounded scared, and defensive, and all of our spanish was good enough to make out that the other person wanted to know if there were tourists camping here, and then asking how many. We all began to panic, until Umberto recognized the guy. It turned out 2 Belgian guys, Martin and David, wanted to take the trek, but didnt want to wait a week, so they left at night and hiked through the night to arrive at our site at 1am. Their guide simply wanted to know if he had the right group - he was simply looking for 4 tourists.

Right after they arrived, we hear Peter say "What they heck is this..... theres a mule walking next to my hammock with a flashlight taped to its head????" We wondered what on earth could be going through a mules head when after a long day trekking out of the jungle, it is suddenly reloaded and turned around and then has a light taped to its head. We could only imagine its disbelief. We could only imagine the person who taped it there. Wacky.

The next morning, we woke early and started trekking again, at the same feverish pace. We were really booking along. From time to time, we'd see monkeys swinging overhead or semi-exotic looking birds and we'd stop or slow down. We really couldnt all agree if it was jungle, rainforest, or just forest. 3 sources gave it 3 different descriptions. It was nice and lush, and rather thick. We all walked single file, as the trail was only that wide, and you usually had branches/leaves/etc on brushing on both arms as you walked. There was about an 85% canopy, so your only light is a few spots of sun that break through. The terrain was level, but with uneven footing most of the time, making for sore ankles the next day. Every now and then, we'd hit a steep area, and note that there were a lot of rocks in the dirt, where as most of the hike was just dirt. These were all temples, yet to be excavated. The whole guatemalan countryside is littered with them. Its estimated there are 4000 or more.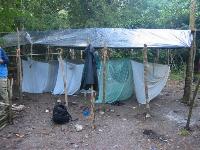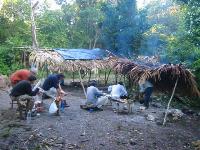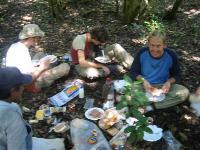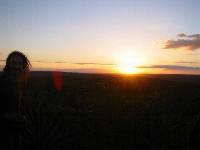 We arrived at El Mirador base camp about 3pm. Theres not much there. An outhouse, a tool shed built of rocks and mud, and a room built of sticks for the guards to sleep in. There are some sticks for us to hang our hammocks from, with a tarp over it. From this camp, you can summit both of the temples of El Mirador. One is 15 minutes, the other 45. The tallest one is El Tigre, and is actually lower in elevation, as the other one (Dante) was built on a rise in the land. We summited El Tigre in time to watch the sun go down, then went back later on to see the stars. Out here, you can see every single star with such brightness and clarity, and having a 360 degree view of them was even more amazing. All this while sitting atop the largest Mayan temple ever built, which has been around since 200BC, high above the jungle.

El Mirador is currently unexcavated. It is covered with earth and trees, but you can make out the shape very easily. Each temple has a base, which has several temples on top, all clearly seeable. In some places, a tree has fallen over because of the slope of the temple, and taken the earth with it, and you can clearly see the walls. There is a team of 100 people coming in next month to begin the excavation process, and there should be a road in by 2007. The great thing about visiting now, is you can see it in its unexcavated form. You can climb to the top, sit atop, fall asleep, and enjoy the views all to yourself. There were only 3 other hikers there while we were there. The rest of the place was all ours for the day and a half we had to explore. I'm looking forward to seeing it excavated (a process that is projected to take 50 years, or more), but am extremely grateful for the chance to enjoy it in such serenity. While we were atop Dante we must have seen 7 different types of butterflies in the span of about 20 minutes.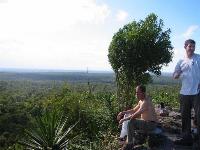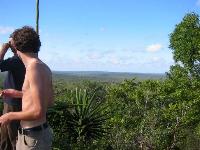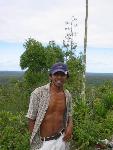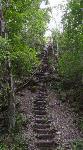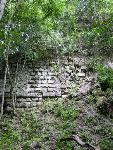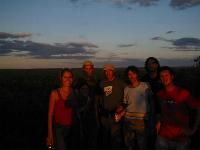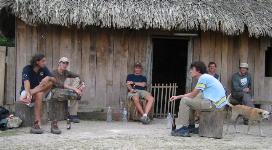 For more info on Elmirador, check out: Photo and Website.

The hike out was tiring, but fun. We had such a great group. Everyone seemed to have a sharp wit, and we'd never be able to go a few minutes without someone making a funny remark. Our guide, Umberto, was also awesome. I didnt talk to him too much as my spanish still isnt what it should be, but I am understanding more each day.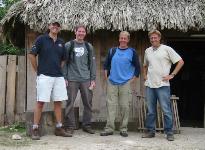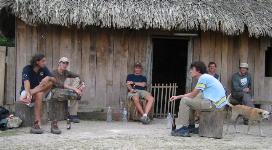 Before and after 120kms and 5 days w/o a shower.
After returning to Flores, beat and tired, we hung out for a day to do laundry, and I spent 9 hours on my computer building my journal pages, so there will finally be photos to go with these stories. I hope to get them uploaded tonight. Jay, Peter and I left Flores on a night bus last night for Antigua, which is really such an amazingly beautiful city. It seems to attract the budget traveller and the high-end travellers alike. It feels like we're living in the lap of luxury right now. I'm writing this email on a tiled veranda looking at a heavily flowered courtyard with a giant fountain in the center. Feels great after sleeping in the jungle for 4 days and getting blisters from walking. :) I love that stuff anyway. :)