December 17th
Subject: A most excellent adventure
Current Location - Creel, Mexico - home of the slowest internet connection in the world.
Trip Mileage - 14,800
Local Currency - Peso (10pesos = $1)
Temperature - about 50
Song defining this leg of the trip - Take is Easy- Eagles

Well, the happy fun bus has left port and it is on its way south....
I've been on the Green Tortoise bus for a few days now, and its been incredible. Theres 23 of us on the bus, including our 2 drivers, and in all of that group, only 6 people that are travelling in pairs - the rest are solo travellers, which makes for a nice mix. Its also a great group of people. All ages and backgrounds and probably about 6 or 7 countries represented. There's one guy, Jason, who has my identical twisted and corny sense of humor, and together we've been tormenting the rest of the bus. We've already been nicknamed the Bill and Ted of the group, which we thought was only too fitting as it is the beginning of a most excellent adventure.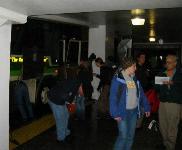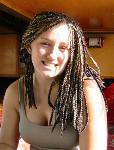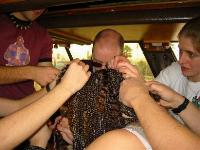 The bus itself is rather cool. Theres a pic of it below. Basically, theres 2 benches up front, two 4-seater tables behind them, then one big huge mattress in the back which spans half the length of the entire bus. Normally, the center section of the mattress in the back comes out to make an aisle during the daytime, leaving benches on each side, but the bus is equipped to sleep 35, so the fact we have only 23 makes it possible for us to keep it one big bed all the time, which is awesome for travelling. We can jump back there and read, snooze, hang, etc. At night most of us sleep on the big mattress in a line facing head-toe-head-toe-etc. Enough about the bus... :-)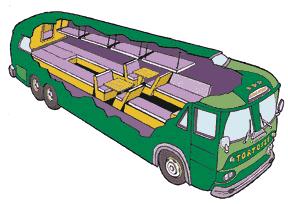 Wanna know what a smiley looks like if you type normal smiley keys on a Mexican keyboard? Ñ¿) Anywho.
After leaving San Francisco, we headed south and crossed the border in Tijuana. We were all able to get our personal paperwork easily, but the line for the papers needed for the bus was about 500+ people long. Thats a couple days wait. We decided to head to Tecate, another border town to try our chances there (you can drive within 22 miles of the Mex border before needing vehicle papers.)
Tecate turned out to be a better bet, as it only took about 7 hours to get all the necessary paperwork. Meanwhile, while the drivers did that, we hit a few resturants. In the city square they were having their christmas festival, complete with booths selling crafts, foods, and a huge night-time parade, with floats pulled by beer trucks (Tecate is where they make Tecate beer, and is the towns main source of income.) We felt lucky to happen on this city on the day of their big festival.
We left Tecate at night and headed to San Carlos, driving through the night. We stopped for breakfast on the side of the road, using all the Tortoise cooking gear, as we've been doing for most of our meals. Everyone pitches in cooking, everyone pitches in cleaning.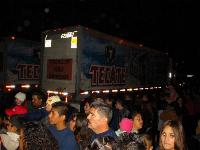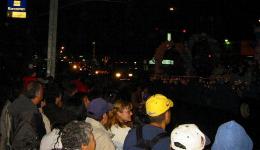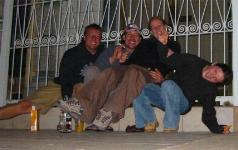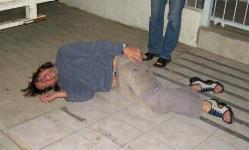 We drove through that day as well, and arrived in the beach town of San Carlos just after the sun went down. A few of us went and put our feet in the water, and as it was warm, decided to jump right in. No suits needed at night. Make that twice for nude swimming now. :-) There were these phosphorous plankton-like specs in the water that lit up and glowed purple as you swam and ran your hands through the water. Thats one of the neater things I've seen. Later, we gathered up some firewood and had a bonfire on the beach until the early hours of the night, and then fell asleep on the beach under the stars.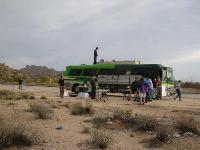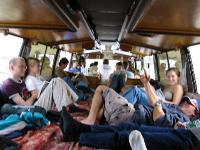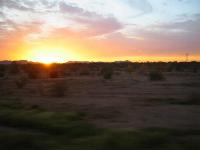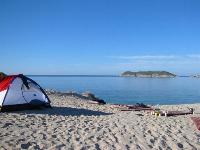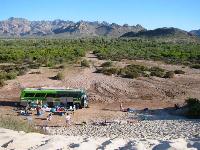 Panoramic of the bus interior

The next day we went exploring a little bit, and I found an incredible snorkeling spot with some of the most vibrant fish and amazing reef life I've seen. I must have seen at least 5-6 different kinds of starfish alone and even a couple lobster. As I was swimming back, I noticed a couple of people from the bus near the shore, walking away. I was eager to get their attention for them to come back and have a look, and in my haste getting out of the water, I stepped on a sea urchin. My foot swelled significantly, but with the help of an intensive care therapist who is on the trip, we dug most of the spines out, leaving just a couple which are too deep to dig out, which aren't so bad.

Then we drove through the night again to the town of El Fuerte. I was half asleep when I heard Josh, our driver, ask for directions from someone on the street. Figuring we might be lost, I got up to keep him company and help look for signs. It turns out the person he asked directions turned out to be the town drunk, so he was of no help. We were driving on a two-lane road headed who knows where. We decided to turn the bus around, which meant that I, as the only awake person, had to get out and guide this 7-point turn off a two-lane Mexican road going on to some grassy fields. Welcome to the Tortoise. Its called adventure travel for this reason. We may get lost, you may have to direct, you may have to grab a shovel and dig the bus out of the mud if it comes to that. Enjoy. :-)

Anyway, we made it to the train station at El Fuerte in time to catch the morning train to Creel in the mountains, where we are now. Its a bit chilly - I'm wearing the jacket still, but an interesting little town. All the small Mexican towns we've been going through/to have been fairly interesting in their own unique way. None of them have many ammenities, and all are dirty in the way that usually only the main street is paved, the rest are dirt roads.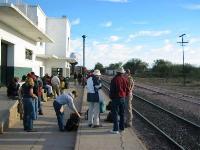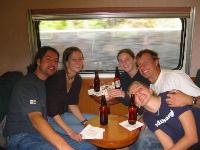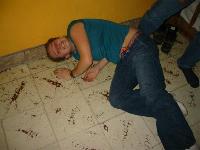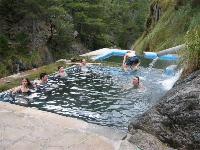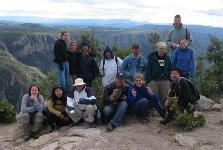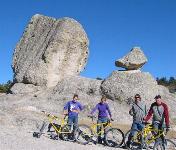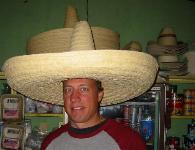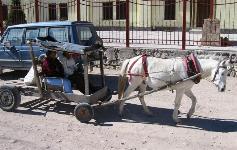 December 22nd
Subject: Off-roading in a big green bus.
Current Location - Santa Cruz (Outside of San Blas), Mexico
Trip Mileage - 15,300
Local Currency - Peso (10pesos = $1)
Temperature - about 85
Song defining this leg of the trip - Road to Nowhere - Talking Heads

This is the first internet cafe I've ever been to made partially of bamboo. Fast connection, but the keyboards are a bit old and beat up, making it hard to type. Dont worry, I'll still find a way to be wordy. ;-)
After I sent my last message, I had a surprise I wasnt expecting the next day. Snow. Creel is about 6000 feet elevation, making it quite cold. It still didnt stop us from trekking down about 2000 feet to some hotsprings in Copper Canyon about 30 minutes outside of the town of Creel. The hotsprings are amazing, and the indians who own the land have cemented pools to catch the hot water. Getting in is amazing, getting out is near impossible when its freezing outside. The trip back up the canyon was pretty strenuous, but the worst part were those urchin spikes still in my foot. :( (I finally dug them out using fingernail clippers to chop up my feet a couple days later)
That night all of the people from the Tortoise went out for drinks at the local bar. One of the people on the tour, an Australian named Sarah, asked if I would do a tequila shot with her "mad dog style". I agreed before knowing what it was. When she told me, I had to ask another Aussie in the bar if she was telling me the truth or just trying to get me to do something really stupid. She was telling the truth, so we did one. Here goes.... put the salt up your nose, drink the tequila, and squirt the lime in your eye. Yeah, thats those crazy Aussies for ya. I can say I did it, and that will likely be the last time for that. :-)
The next day, we checked out of our hostel ($7us, by the way, which included a huge breakfast and dinner), and a few of us took off on a bike ride around some of the nearby indian lands. Fun ride, although we got a little lost as we only had a photocopy of a handdrawn map.
After a train ride and a night bus drive we arrived, here in Santa Cruz. The bus is parked in an RV park, which looks like the set of Gilligans Island. Palm trees all around, and the bus is backed up 20 feet from the water. We spent our first day just swimming and meeting the locals who are all interested in getting to know our story. We met 3 locals who spoke about as much English as we did Spanish. Even though we had no money,they insisted that 3 of us who were walking along the beach join them for beers in the bar. Through a lot of charades, we were able to talk for a couple hours and watch the sun set. Really nice people around here.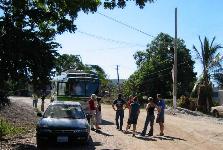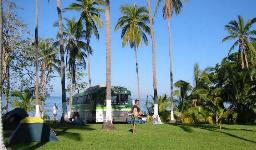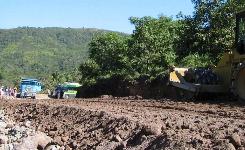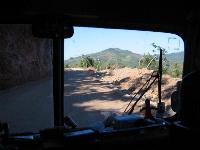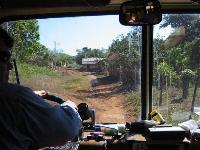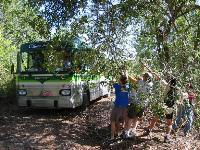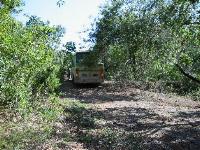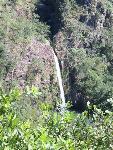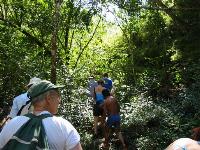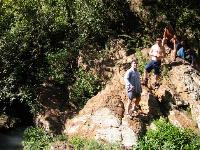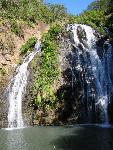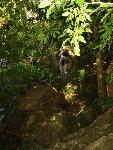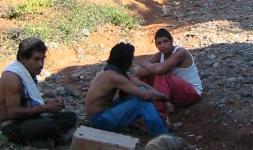 That night, we heard that the biggest party of the year was happening in the small town of Santa Cruz. Its basically a party for people that work all year. Sort of a labor day celebration, I guess. It was nice. It was much like any small town fair. Games for the kids and music for the adults. We definitely stick out like "touristas" in this town, as we were as much of an attraction as anything else at the fair.

The next day, we decided to try to find a waterfall that our driver, Josh, tried unsuccessfully to find last year. This year, we had a bit better directions. We headed out of town, and about 15 miles out, headed off the road, down a dirt path. With a bus. A big green bus. About 5 miles down the road, we came to a bunch of construction trucks, building out a section of this dirt road. We had to wait about 15 minutes for them to smooth it out so we could drive over it. About 10 miles beyond that, we hit a small village that is not on any map of Mexico. They barely have road leading to it. They most certainly had never seen a large green bus in their village before. We asked one of the people if he knew where the waterfall was. He got real excited and said he'd show us personally, but first he wanted to run inside and grab his beer. His name was Carlos and he comes back with a case and begins to pass them around. Alrighty. He leads us down another dirt path, which I'd be hesitant to take any 4x4 down. At this point, we're well in to lush jungle-ish landscape now. At one point, we pass a guy loading up a mule with wood, and around the next turn, we come to a point that is too narrow for the bus to pass. Carlos tells us to wait a minute and runs back to the guy with the mule, borrows his machete and begins to widen the path. Path widened, we continue. This road was probably about 8 to 10 miles of this, and I must hand it to Josh, it was some of the most impressive bus driving I've ever seen, right on par with the skills of the best I've ever seen - a Jamaican bus driver I once knew named David.

There was a small "T" on the path where we could turn around, and then park and walk to the falls. There is no trail down to where the falls are. Theres just kind of a "way". Without the help of Carlos, and some friends of his we picked up, we never would have made it down. We all took bags down with clothes and towels, and Carlos and his friends wanted to carry them. They were so eager to do as much as they could for us, but we told them we'd be fine carrying our own bags.

Once at the bottom, you see this magnificent 80 foot waterfall which goes in to a massive pool. We all pretty much just jumped right in. A few of us jumped off the surrounding cliffs, and others climbed the rocks behind the falls. The water actually falls down several levels through the valley. We worked our way along the side of the water to get to a few more of the lower falls. It was such a change from the maintained paths of the Grand Canyon. This really was almost no path at all.

When we dropped Carlos and his friends back in his village, we offered him money, for his guiding or his beer, and he would have no part of it. He purley just wanted to show us his town, and did it for the joy of it. What amazingly nice people.

When we came back to our campsite, I walked in to town (10 minute walk) with one of the girls, Sam, to get birthday decorations for her friends birthday that night. I brought my polaroid I-Zone camera with me. This was a trick I learned from a friend who drove to Panama. Take a polaroid camera with you, take pictures of the kids and give it to them. Most of these kids have never seen a picture of themselves, much less had one given to them. So as we walked through town, I was taking pics and giving them out. One of the men in town stopped me to ask me about the camera. A we talked, he offered me some fish-tostadas (Cirviche?sp) in exchange for a photo for his sister. I was happy to do it for free, but it was fun to eat and talk with him and his family.

The birthday party was for a girl named Claudia, and it went off great. We bought a pinata, which is a tradition in many Spanish based countries on birthdays. It is a large paper-mache star (or other shape) filled with candy, which is then hit by the kids at the party in turn while blindfolded, until it breaks open and everyone scrambles for the candy. Fun night.

Wow, I was still able to ramble well. I think I'm going to head out for a run and then visit the bar next door to the RV park and see if I cant find our 3 locals and repay the favor with those 6 peso Coronas. :)

My spanish is getting better by the day, and I try to learn several new words each day. I also hope to find an internet cafe in the next town which will let me plug in so I can load up some photos.
December 24th
Subject: Happy Holidays....
....consider this your card. ;-)
Current Location - Guanajuato, Mexico
Trip Mileage - 15,750
Local Currency - Peso (10pesos = $1)
Temperature - about 70
Song defining this leg of the trip - Hundred Mile High City - Ocean Colour Scene (L, S, 2SB soundtrack)

Just a quick note to wish everyone a Merry Christmas!! I´ve been in Guanajuato for a couple days now, and we´ll leave tomorrow morning after having Christmas brunch. For anyone thinking about visiting a city in Mexico for a short trip, this place would be great. There is a lot to see in a small area, and just the layout of the city is magnificent - the whole city is built in to hillsides. Theres great food, and plenty of awesome hotels and bars, but yet not touristy at all. We went in to a cantina last night that was ¨men only¨, which is sort of common for this area. All these cantinas have saloon style doors, and no bathroom, just a trough in the corner a few feet from the bar. Interesting, yes. Sanitary, probably not.
Anyhoot - happy holidays everyone! :)
December 29th
Subject: I am a dork
Current Location - Oaxaca, Mexico (Pronounced Wahaca, for you gringos)
Trip Mileage - 16,800
Local Currency - Peso (10pesos = $1)
Temperature - about 80
Song defining this leg of the trip - Midnight Rider - Allman Brothers

Most of you on this list know of my dork status, but for those that dont, here´s proof. I bought a new watch. Have you ever seen those talking watches (usually sold at Radio Shack)? Well, I was at a market the other day and saw one. I asked the lady if it spoke "en Espanol"? She said yes, and I've been annoying/amusing people with it ever since. Son la quatro horas y tres minutos.
Anyway, leaving Santa Cruz was pretty hard for all of us. It was one of the nicest places most of us had been to in a long while. Heading back inland wasn't appealing at that moment. However, when we arrived in Guanajuato, all that changed. Guanajuato was a real neat little city, with roads made of stones and a lot of little alleyways. For more info on Guanajuato, check out http://www.geocities.com/SoHo/Museum/8028/huanax.html or http://www.mexconnect.com/MEX/mxc/gto.html
I have been asking for running partners on this trip since the start, and although a lot of people seemed eager, I was only able to find one taker, a girl on the trip named Sarah. We set off through the streets of Guanajuato, finding hills and alleyways and neat little crevases. I like running while I'm travelling. It lets you see parts of a city you wouldnt otherwise see walking. I also got a real kick out of running with Sarah. Shes blonde, fair-skinned, and tall - 3 traits people in these parts rarely (if ever) see. The attention she attracts is comical. Once, as she was running ahead of me, 4 boys about 8 years old sitting on the sides of the alley bent in towards the center of the alley as she ran past, oblivious to the fact that I was barreling behind, and nearly kicked all 4 of them in the head. Thats the way it is running with her - I'm invisible. :)
Our first night in Guanajuato, we were all looking for a place to go out, and wound up in a neat little cantina - which is pretty much a "mens bar". A place for the local guys to hang out to get away from the women, I guess. :) A few girls from our group came, and as they were tourists, it was OK. Neat little bar, and it had a trough right in the corner of the bar to use as a bathroom. What a great idea. You only had to go 7 or 8 feet from your barstool. :)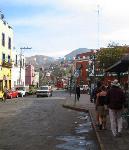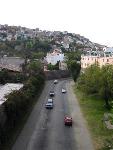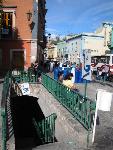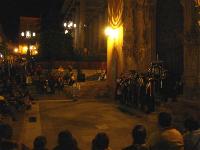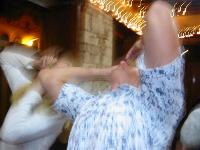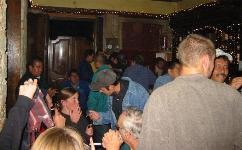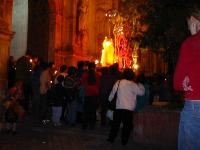 The next day in Guanajuato was spent shopping for presents for our "secret santa". Late night we walked around the town watching the celebrations (for Christmas) and I thought how lucky we were to be touring this country at this time, seeing as they celebrate Christmas with such awesome festivities. We've hit just about every town on the night of their big celebration. At midnight, a few of us went to midnight mass to see a Mexican mass.

The next morning was Christmas, and it was strange to be in shorts and a t-shirt. We exchanged gifts and began driving to Josh's (our driver) Christmas surprise. We arrived at the surprise about 2 hours later (during which drive we had a massive bus party - Jason and I bought each other half a bottle of Tequila), which was an amazing hotspring called La Gruta (find info here: http://www.rosensrides.com/springs.htm). It was an amazing place to spend Christmas. There were several different pools, which fed in to one another, so you could hop from pool to pool depending on how hot you wanted it. The main spring was down a 100-foot tunnel made of rocks off one of the main pools, and opened in to a 40ft diameter room with very hot water, and a ceiling which had a spout letting the water in on one side. Late at night, I went in to this room alone, and it was amazingly quiet and calm and pitch dark, and you could drag your hands across the waters surface and hear the echoes. Very cool. There was another tunnel off of one of the main pools, which Casey and I swam down. This was not a rocked tunnel, but rather, it was just dug in to the dirt, and there were roots hanging down from the top of the tunnel which would drag over your head as you swam. We swam through it until we couldnt see any light from the end of the tunnel. It was actually rather creepy. Then, about 150-200 feet in, we found a hole in the side of the tunnel, evidenced by a small circle of light under the water. I decided to swim through. A bit scarry, not knowing how long it was, or even if it was wide enough, but I figured I could probably back out if I was running out of air. It ended up being short, and came out in a well. Not terribly exciting, so I swam back through and out. Later, we learned that that particular tunnel was off limits - lucky we got to go through when we did.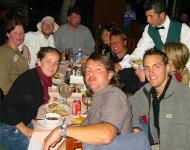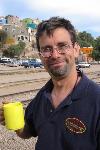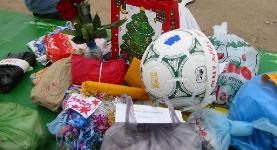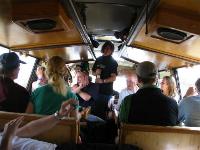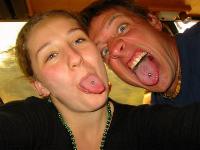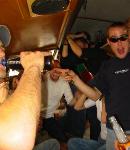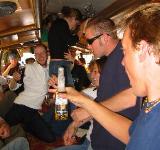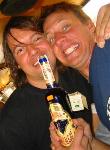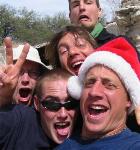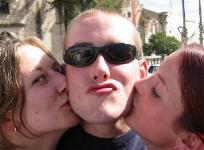 The next day, we went to San Miguel for the day. (http://www.sanmiguel.es/) Very neat little city, with a huge market and lots of crafts to buy. A group of us went out at night to a nice resturant which had a flamenco guitarist, and 2 flamenco dancers who put on a show just after dinner.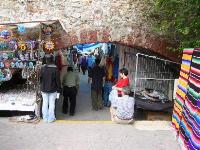 We then did a night drive, to arrive at Teotihuacan, an ancient site of ruins. Heres one of the great things about the Green Tortoise. You get to sleep all night, and when you wake, you're at your destination, often just in time for sunrise. It was incredibly amazing, waking up and watching the sun rise over the temple of the sun, which is a pyramid build between 250bc and 1ad. Truly amazing. Also great, was the fact that our early arrival afforded us the luxury of being the first people in the ruins, well before the throngs of tourists got in. Theres something that much more amazing about climbing to the top of a pyramid, and seeing the view in silence, with a morning mist hovering. (http://archaeology.la.asu.edu/teo/). We ended up also being the last people to leave, and there was enough to see to spend all day there. At about 2pm, Sarah, Mike, and I went for a run, creating a challenging course consisting of circling all major sites within the ruins, and running up both of the largest pyramids, and running all 4 levels on the temple of the sun. Woo Hoo.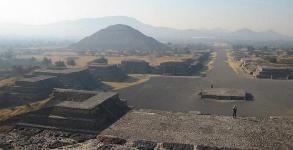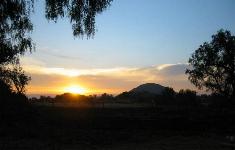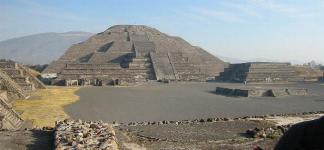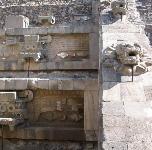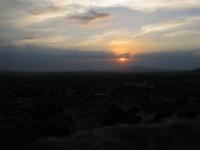 Another night drive brought us here, to Oaxaca. Very neat city. Much cleaner and nicer than the other cities we'd been to. Not that the others had a dirty feel, just that this one seems especially neat, and very in to its art. It is also a main manufacturing place of Mezcal. For those that dont know, Mezcal is a Tequila-like alcohol. One of the markets we went in to had a couple dozen places selling various types of Mezcal. Each place wanted you to try samples. They wanted you to try samples of each kind they sold, in fact, it was hard to not have it forced upon you. If you wanted to, you could certainly make the circuit of every vendor, and sample 4 to 6 types at each one, and be pretty looped up by the end of it all. For free. :)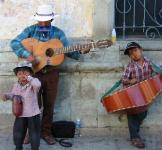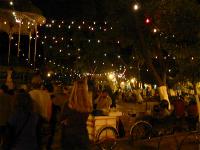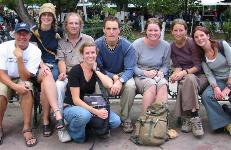 A group of us had gone out to eat lunch at a resturant around the square, and as I couldn't read the menu (and what I could read, I didn't know what it was anyway), I told the group I was going to order blind. Point to something and see what I get. I was going to be daring. Want to know what daring gets you? A big bowl o' grasshoppers. No, I'm not kidding. Well, they come with tortillas and guacamole, so you can make grasshopper burritos. Which I did. I managed to plow through about 1/3rd (4 tortillas worth) of the bowl before the crunching noise got to me. The taste wasnt that bad, just the noise. Oh, and picking little legs out of your teeth for a half hour afterwards, that was kind of weird, too.

Well, on that note, I should run. The big ol green bus leaves here at 5pm, and "son la quatro horas y quarente dos minutos."
January 3rd
Subject: Itchy, itchy, itchy
Current Location - San Cristobal, Mexico
Trip Mileage - 17,200
Local Currency - Peso (10pesos = $1)
Temperature - about 55
Song defining this leg of the trip - Can't you hear me knockin? - Rolling Stones

I am covered head to tow in mosquito bites. Killin me.
After leaving Oaxaca the other day, we headed for the beach where we would spend new years. The road there was a small 2 lane road that would wind up and down mountains, and at some points, would be down to one-lane, as the other lane had fallen off the side of the cliff. People assured us that these things happened in the wet season, and not to worry about it.
Anyway, without much trouble we arrived in Salina Cruz, which was an amazing beach spot. Nice sandy beach in a bay. So no waves, but nice all the same. Camping was free, and there was a beach club right next door, which was US$2.50 a day. Made you think that if you wanted to camp there, it would cost $70/month, and that would give you access to a bathroom, shower, pool, and tons of hammocks. Perhaps I'll have to try that someday.
Our first day at the beach, we set up a small soccer field, but had to call off the game by the time half of us were injured from stepping on rocks. I was one of the causalties, and decided as long as I was tending to my foot, it was time to take out the last urchin spike, which was still in there, and now making my foot swell considerably. Brian, who is a PT by trade, told me I should probably go to the doctor. I really wanted to just dig it out with a pocket knife, but deiceded he was probably right, and went. When I got to the hospital, I found a doctor that spoke minimal english, but enough. I explained what happened. He reached over to his shelf, and grabbed what must have been a 10-pound piece of cast-iron about the size of a ruler with a hole in one end, which looked like a piece of a building rather than a medical instrument. He then proceeded to explain to me how he beats the urchin spike out with it. I asked if that was the medically preferred way to do it. He replied "it is a problem unique to this area, and this is our unique solution". When I asked him if there was any other way, he replied "yes" and gets out a large socket wrench and says that he could beat it out with that instead. Fair enough, I'm a car guy - lets use the socket wrench and get on with it. I've never been worked on with an automotive tool before. I was so amused, I took a photo of my slightly beat up foot on the doctors table with a socket wrench lying next to it.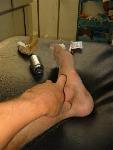 Amazingly, the foot felt fine enough to walk home on, and go for a run later on (I've actually been running everyday, or just about). On our run in Salina Cruz, we found a cool club which we ended up going to for new years. It was a bit pricey, but a very cool place. It was above a resturant, and completely open-air, with a huge stage and great DJs, and a balloon drop at midnight. About 15 of us from the bus went, and it was a fantastic new years. We left at about 2am, to find that about 60 locals had moved on to our beach, and had set up fires, tents, and elaborate candle decorations all over the beach. We hung out and sung (as best we could) with them for a while and then crashed out.
Sometime about 5am I woke up and looked out of my tent. The sky was turning orange from the sun about to come up, and in the orange glow was a sliver of moon. It was one of the most amazing things I've ever seen. I didn't even think about running to get my camera. I just enjoyed it. About 30-45 minutes later, I watched the first sunrise of 2003. Happy new year.
After enjoying a Club-Medish day at the beach club for the whopping sum of $2.50 each, we headed out for another night drive. This time we woke up in the state of Chiapas (forget the city??) to go for a boat ride through a canyon. It was a pretty amazing ride. At the office where you start out, there is a nice hand-drawn map on the wall, showing all the sights you'll see along the river, including crocodiles and monkeys. Then about 3 minutes in to yout boat ride, the driver tells you that you've paid for the baot ride, but if you want him to point out the crocs and monkeys, it'll be an extra buck. :) Nice. We talked them down to $.50 each and saw our animals. :)
Turtle races/release for charity on the beach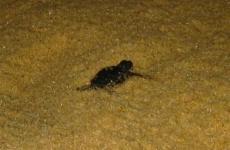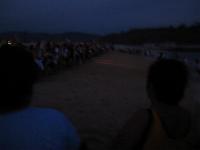 A short day drive then takes us here to San Cristobal. San Cristobal is a neat little town up in the mountains. We hit a real cool reggae club last night, and met a great bunch of locals that we danced and drank with all night. Today we took a horse ride through the mountains, which I'll probably be paying for later.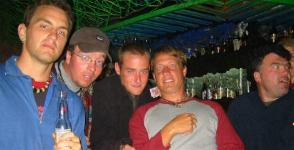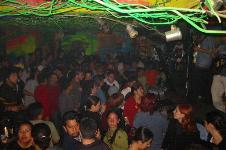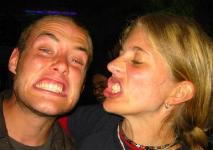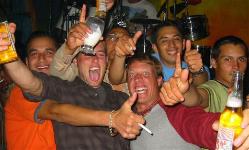 Right now I've got to run and get to my hydrocortizone cream, or there'll be nothing left of my legs.....

Photos of a boat tour we took.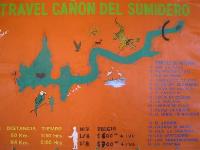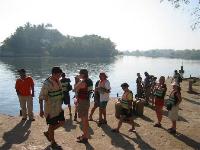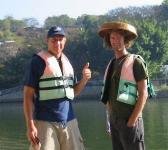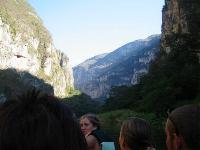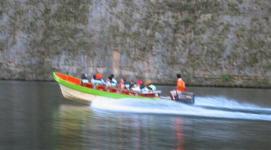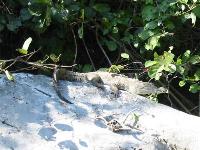 Click here to continue...