September 13th, 2003

Subject: WildOn!.....
.....Ibiza, Spain
Local Currency - Euro (us$1.15 = 1€)
Language - Spanish
Temperature - 80ish
Songs defining this leg of the trip - Random Techno
Pop Quiz: Lets say you're a (relatively) young male traveling around the world for a while, and happen to be spending the summer in Europe. Your plans are to go to Scandinavia and Russia for September. However, you were just invited by 3 beautiful women to spend a week in Ibiza, the European party paradise island off the coast of Spain for the end-of-the season blow-out parties. What do you do?
Russia's cold, go south my man.
My ladies are waiting at the beach, so no time to type right now.
New phone # in España: 0034 666 730 183
-Ricardo
September 24th, 2003

Subject: Travelfunk?
Current Location - Prague, Czech Republic
Local Currency - Kraun (us$1= 31kc)
Language - Czech
Temperature - 60ish
Songs defining this leg of the trip -
There has been a bit of a lapse in the ol' Journal. We'll get to that later.
Rewinding a couple of weeks back to the bitter cold of Norway. Its cheaper to fly around europe than train if you dont have a Eurorail pass. You have to be a bit flexible with dates, and to some degree willing to accept the outer rings of the bullseye in terms of your destination. But to be able to fly Oslo to Palma for about $120 nearly last minute, is a steal.
I flew on a Norwegian airline called Sterling. Norway is one of the more orderly places I have seen. The entire country reminds me slightly of an Ikea showroom. Everything just in its right superbly designed place. People wait for the green light to walk across the street despite no cars around for miles (although this is true for a lot of Europe, it seemed most strictly held in Norway). Norwegian planes are no different. Anyone who has taken a flight in the US in the past 50 years can tell you the routine. The stewardess tells everyone to remain seated until the plane has come to a stop and the fasten-seat-belts sign has come off. As soon as the rear wheels hit the ground, 70% of the people unbuckle, and begin to unload their bags, then rush to the front to be the first off and help the stewardess open the door. On my Sterling Air flight, all passengers remained seated with seat belts on. As the plane came to a stop, but the fasten-seat-belts light was still on, a lonesome click of an unbucking could be heard in the plane. Two people in the row across from me looked over with a dissaproving look as if to say "listen Yankee, cant you see the sign, we dont do it like that here." Oops. People then waited in their rows and exited as if they were a 3rd grade class facing detention for doing it any other way.
In any case, I got in to Palma on the 8th, with plans to take the ferry to Ibiza and meet my friends on the 9th when they were getting in. Palma (on the island of Mallorca) and Ibiza island both lie off the south eastern shore of Spain, about 80 miles from the coast and about 20 miles from each other. I really didnt have much of a desire to go out and see much in Palma. I walked around the docks for a little bit, checked out some of the extreme sailboats and power yachts owned by the incredibly rich, who come once a year to enjoy them. I headed out with a couple of the guys from my hostel at night, one of which was an interesting South African guy who came to Palma working on a sail boat, and was looking for another job doing the same to continue his travels. Thats something I've always dreamed of doing, and loved talking to him about it.

The next day I made it to Ibiza on the ferry and was picked up by Nicole. Nicole was the one person of the trio I would be staying with whom I didnt know. The other 2, Daniela and Martina, were friends of Sheila whom I'd met while traveling Germany. When Nicole picked me up, I threw my bag in the back of the rental car and noticed 2 bottles of champagne in the car. Our first order of business was to go by food for the apartment. When Nicole picked up some champagne, I told her that there was already some in the car. She told me that was for the girls to drink on the way back from the airport when she picked them up this afternoon. We then loaded up the shopping cart and bought more champagne than water. Actually, come to think of it, more than all the other beverages combined. And that was not the last time we would buy it in that quantity, and there would be none left at the end of the trip. I affectionately named my new little crew "The Champagne Girls".

The apartment we had was absolutely amazing. It was high up in the hills, so you could look out and see the city, see the beaches, see the hills and the sunrises. We were far enough away to have quiet, and close enough to be able to get to the parties easily.

The week I spent there with the Champagne Girls was awesome. Just the right amount of clubbing, sunning, swimming, driving, shopping and generally being lazy. The clubs there really do have some of the best DJs in the world, and are some of the most extravagant. However, on some level, it lacked an authenticity to it. It seemed like people were trying too hard to live up to an image they had of being the ultimate clubbing place. Now, I have dressed up in strage get-ups to go clubbing in the past. And I have been friends with people who have as well. It was something that we wanted to do, compelled by a desire to express ourselves by dressing like that. It seemed like the people in strage get-ups in Ibiza were doing it because thats what they thought they were supposed to be doing. Trying to look weird for the sake of looking weird. The clubbing seemed a lot about image, and in that, some of the fun was lost. Btu don't get me wrong. Amazing clubs, and hard not to have a fantastic time in them. I really enjozed it immensely, but wouldnt rank it the best clubbing spot in the world.

First night on the town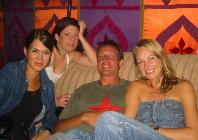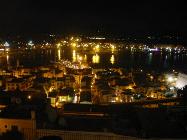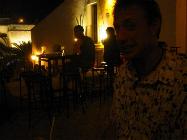 Dinnertime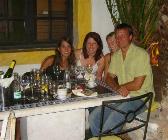 The girls all left after a week, and I stayed there in Ibiza. Ibiza. Land of amazing parties, great clubs, the worlds top DJs, beautiful people, white beaches, blue water and incredible weather. Strange place to get in to a travelfunk.

Travelfunk. I think thats the best word to describe it. Its sort of like homesickness when you dont have a home of your own to return to. I dont think it can really be classified as as depressed, as its hard to be depressed with few worries in the world and hanging in a sunny spot like that. But I would say that I hit some sort of a travelfunk for sure. Didn't really want to be where I was at right then, but really had no clue where to go. Part of it might be the lack of people. Hanging out with new friends all the time is a lot of fun, but then when they (or I) head a different way, sometimes the lonliness gets to you, and you lose the urge to go meet new people who you'll leave in a few days. And although Ibiza is a party town, but its a town visited more by tourists than travelers. People that come in groups for their week-in-the-sun, who arent all that interested in finding other people to go out with. I think if I had my heart in it, I could have wandered on to a beach somewhere and meet a friendly group of folks, but I really just wasnt up for it. I also wasnt much in a mood for writing, hence the lapse in journals.

I think it started back in Denmark. I went to the Burningman website (the festival in Nevada I went to the past 2 years) to see if I could find the live webcam that was supposed to be there this year. I looked at a couple of the photos and really wished I was there. It reminded me of my good friends that I knew were there, the people that reminded me of my life before my traveling. It really made me miss that. It made me miss my family. A lot. I think thats why when I got to Palma, I just didnt feel up for exploring. I think thats why I'm in an internet cafe right now instead of exploring. :)

I thought about searching out a hostel after my friends left, meeting some new people to hang out with, but decided instead on a hotel. I spent the next couple of days in that hotel, watching TV in German (German TV in Spain, yes I know, that makes sense).

I finally decided that as I wanted to go to Oktoberfest and needed to get back to that side of the continent, I'd book a ticket to Prague (somewhere I've always wanted to see) and make my way by train over to Munich.

Finally venturing to leave my hotel and walk around Ibiza, I came to the realization that the travelfunk wasnt without its positives. Part of the reason I wanted to take this wolrd trip in the first place is that I wanted to try to figure some things out. I wasn't unhappy living in DC, but it wasnt where I felt I belonged. I wasnt being who I thought I was. There was just a bunch of answers about myself that I was looking for, that I knew wouldnt come looking for me, so I set out to find them. Well, I think I have been having so much fun, that I havent really bothered looking for them. But when you finally reach a point where you start asking yourself what you're looking for?, why am I here?, where DO I want to end up?, you can really begin to analyze them with a clear mind.

Its been good. :)

In any case, my clear mind and I decided to head out for our last night in Ibiza and see one of our favorite DJs- Paul Van Dyk. I changed in to a hostel to save a few bucks, then headed out for the club at night. Normally I never like to go out to clubs alone, and I know very few people that do. I used to do it in DC, but that was at a time where my friends and I knew just about 90% of the people there on any given Friday, so going alone was never a problem. But it was actually a pretty good time, despite the fact that I spent the €100 that I brought within the first 30 minutes. €45 entrance fee, a pair of glowsticks, a drink and a beer. Not enough change to buy water. Which at €8 for an 8oz bottle, seemed a bit ridiculous anyway. Paul Van Dyks set was one that was fitting for the closing party of Amnesia, one of the best clubs on the island. His set was still going at 6:30 when I finally left so that I could return my rental car and make the ferry to Barcelona.

I had to go to Barcelona to get cheap airfare, which was no problem, as I have been there before and liked it a lot the last time I went . Having not slept, I locked my bag in storage, then hung my hammock up on a couple of the rails of the upper deck of the boat and passed out. Occasionally, I'd hear the patter of feet walking over to see who was cocooned inside this thing. I'd open my eyes, and someone would give me the thumbs up.

Arriving in Barcelona, I decided to stay in Kabul, the same hostel I stayed at last time. I was still in a bit of a funk, and decided not to be too social. However, walking outside to get something to eat for dinner, I noticed a sign on the door that said "Bar crawl tonight". Hmm. Havent been in to bar crawls for a while, but it might just be the thing to snap me out of this. So I went. It started on the roof of the hostel and was just as you'd expect it to be. A bunch of rowdy backpackers all a good 8 years younger than I, still heavily in party mode. I ended up meeting some good folk, including a couple american guys, Eric and Brent, who happened to be on my ferry and asked me if I saw that guy in his hammock. Uh, that was me. No way, we were jealous. I also met some other american students studying in England. When the announcement came that we'd be heading to the bars now, and it was time for everyone to file out, one of the students looked at me and said in a voice that was like an eerie cross between Jeff Spicoli and Pauly Shore "Ye-ah Bud-die, we're gonna do some serious drinkin now!". Then he put up his hand for me to high-5 it. I really wanted to say "excuse me, please dont do that again". But leaving someone hanging on the high-5 is a sign of disrespect like turning your back on Ceasar. So I high-5'ed and off we went to "do some serious drinkin". It was a fun night, but one I called early about half way through the crawl.


The next day I set out for a run, then headed to the park to read my book. Kabul is located on Plaza Las Ramblas, one of the most heavily pickpocketed streets, perhaps in the Universe. There are signs and warnings everywhere. Walking back, I saw Eric and Brent walking towards the hostel. I couldn't resist the opportunity to run up behind Brent with loud fast footsteps and reach my hand in his pocket. He grabbed my wrist with a flurry of curses, and luckily he recognized me moments before his fist connected to see my huge grin. We walked back to the hostel, me chuckling the whole way, him trembling with adrenaline.

I ended up hanging out with the 2 of them for the next couple days, going to the beaches and bars. Cool dudes.

Since visiting Palma, I've rekindled my fascination with boats, and spent a good couple hours in the internet cafe in Barcelona, looking at various boats for sale, and toying serously with the idea of getting one and using it as a mode of travel.

So I caught my flight to Prague the next day. EasyJet had the cheapest flights I could find. However, they dont sell tickets from one destination to another. They sell flight segments. Which means I fly Barcelona-London, pick up my bag, wait a few hours, re-checkin, then fly London-Prague.

My stopover in London was great. Its the first place I have been that is an English speaking country in about a year now. While its true that in Scandinavia and Germany, just about everyone speaks good English, all the signs and conversations around you are in the native language. I walked around smiling, just looking at all the signs in English, and eavesdropping on all sorts of conversations (did you know there is a guy who works at the airport who is having an affair with one of his co-workers, but he about to go on a 2-week holiday with his wife, and is upset about having to leave the mistress!! - thought you'd like to know).

In any case, I got in to Prague late at night. 10pm. One of my personal rules is to never get in to a town after dark. It just sucks. I had gotten an email from an American living in Prague about 6 months ago saying that if I ever made it here to email her. Well, turns out she is in the US right now, so she gave me directions to a hostel she thought would be good. I tried finding it, but got lost outside of the subway station trying to find the tram. Here I was, strange new city, in an area full of graffiit (I use graffiti to guage the safety of an area), uncertian where to go, unable to speak the language, and wearing a huge backpack that might as well be a neon sign saying "out of towner, just arrived". If it wasnt for the help of a girl in the train station pointing me to a hotel, I really don't know where I would have gone, as all the trains stopped at midnight.

Taking advantage of the daylight, I found a hostel this morning, and subsequently this internet cafe. I'll be here for a bit longer putting up photos, then exploring a bit.

Feel free to reply to these mails if you have the time. Theres about 240 people on this list, very few of whom are random signups, but the rest of you are friends I know, and I usually get about 3 or 4 responses to each mail. I try to write personal emails from time to time, but dont always have time. Its always nice to hear about how things are going back home, so if you have a chance, drop a line. Hope everything is well.

-Rick