February 24th
Subject: Cant seem to leave Guatemala
Current Location - Livingston, Guatemala
Local Currency - Quetzales (7Q = $1US)
Language - Spanish/English/Creole/Spanglish
Temperature - 90ish
Song defining this leg of the trip The Load-Out / Stay - Jackson Browne

Ok, perhaps my first mistake was booking a ticket on a shuttle that was leaving at 4am. Getting up early has never been a strong point of mine. I just kind of figured 4am was going to be just as tough as 7am, so what does it matter. The shuttle driver came to our hotel and I even heard him banging on the front door to the courtyard and as I pulled the pillow over my head, I thought to myself "Who is this moron who forgot his key, and why doesnt he just go away", thinking it was another guest, not the guy we had paid to come get us. Oops.
Anyway, we went to the travel agency in the morning and asked when the next bus to Honduras was. Same time tomorrow, unless we wanted to take a chicken bus which was 18 hours as opposed to 7 hours. Hmm, no. What else you got? We've got Rio Dulce, Guatemala at 12:30p today. Thats a little closer to Honduras. Great, see you then.
The bus to Rio Dulce was standard for Guatemala. Same slow service stopping everywhere along the way. There were only a few other tourists on the bus. We all bought a few things here and there from the vendors who get on at every stop. Its a strange ritual. The bus stops for 5 minutes or so, and 20 vendors each take turns walking down the aisle, selling magazines, ice cream, bread, candy and whatnot. The few items we bought and ate, then tucked our trash in the overhead racks with our bags so we could take the trash with us as we exited. The ticket collector was nice enough to walk down the aisle of the bus collecting all this trash from the racks as he walked towards the front of the bus. A couple cans, some ice cream wrappers and plastic bags. He promptly threw it all out the front window when he made it to the front of the bus. I just shake my head. I dont have the language skills to explain why this is bad, nor do I think it would do any good.
Rio Dulce is a cool little town, but much different than the rest of Guatemala. The lake is connected to the Carribean, and is quite deep, so it attracts a large yachting crowd. Not so much the rich yachting crowd you might find in the US, but still a different crowd than backpackers. The town is also separated by the river, and although there is a bridge (a great source of pride for Guatemala - similar to our Golden Gate) connecting the two sides, its easier to take a "launcha", these little power boats which will zip you anywhere in the city for 5Q ($.75). The other neat thing about Rio Dulce is that most places dont use phones, they use VHF radios. You get used to working these radios (usually behind the counter in stores or bars) to call for hotels, boat trips, and launcha service.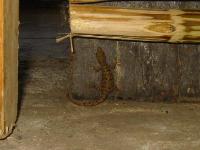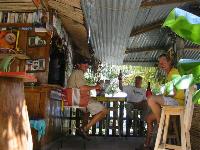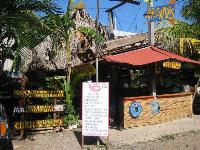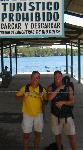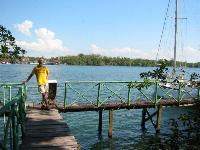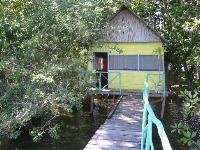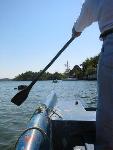 Our first day there, we found a bar called the Crow Bar, whos owner Jose claimed to have the coldest beer in all of Guatemala. He wasnt kidding. Jose was an El Salvadorian who lived in Hells Kitchen, NYC for 38 years before giving it all up to come back to Central America. He once slipped in to a bar when he was 18 to get out of the rain and some unknown guy named Bob Dylan was playing guitar and Jose has been hooked on folk and blues ever since and the music at his bar shows it. That and the coldest beers in Guatemala made it for a great place to hang out. We spent days there talking about the philosophy of life with guys in their sixties who had lived most of their lives on the water, and been sailing all around the world. Great conversations until late night when the cold beers took over, and the words of wisdom seemed to turn more to BS. :-)

One of the neat daytime conversations though, was on the justice system in Guatemala. Many towns here live on tourism. Many theifs thrive on tourists. A town with thief problems has no tourists. One town near Rio Dulce had such problems and had a government that was corrupt, who wouldnt do anything about it. The townspeople made a list of the 10 worst offenders, and took up a collection and hired a hitman to come in and take care of the problem. By the time the 4th one was taken care of the other 6 had fled and there are no more problems today. A bit primitive, but it seems to work. There is currently a $100 bounty on the head of a man in Rio Dulce who is a sex offender, and there are plans by some to execute him publicly to collect the bounty. Corruption is so common that most murderers can get out of jail in a matter of days for about $800us, so the bounty system seems to work better.

Jose from the Crow Bar turned us on to a great place to stay our second night, as we were just in the first hotel we had found the first night. It was these little bungalows "just over there". Well, Jose neglected to mention that "just over there" meant a boat ride, as it was on an island in the middle of the river. It was a really cool place- this little house on stilts over the water on the island of Xahala. But we realized the trouble we were in when we started telling people we were staying there and they'd all respond "You're staying at Xahala!?!? How are you planning on getting home!?!?". All the launcha drivers go home about 10pm. Luckily we found a yachtie to buzz us over there in his skiff after we told him we planned to swim, which we really did plan to do.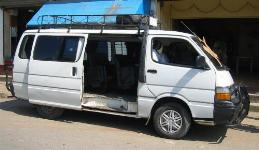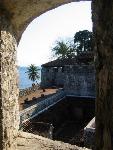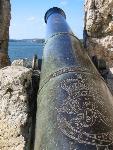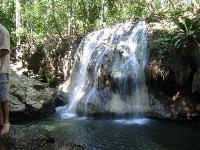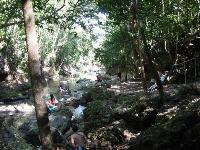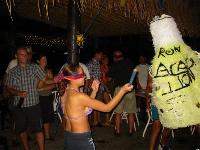 Our next day in Rio Dulce, we headed to the famous hot waterfalls. We took a small chicken bus for the 1-hour ride there. It was packed. When the guy came around to collect for the tickets, it was a pain to get my wallet out of my pocket it was so crowded. So I left it on my lap rather than putting it back in my pocket.

We arrived at the entrance to the waterfall park, and I walked up to buy my ticket and reached in my pocket. I fell to my knees and put my head in my hands as I watched the bus with my wallet inside crest the ridge as it drove. I just went through so much just to get my new bank card! Now it was all gone. My camera was in there too. As I looked up, I saw across the road there were a couple 4x4s and people milling about. Jay said it just as I was thinking it "you need to find someone to catch that bus". I ran over to the people in a frenzied panic, but they were headed the opposite way and couldnt care less about my plight. Just then an empty delivery truck pulls up on this mostly deserted road, and I pretty much jump in front of it. I explain to the guy what happened (in spanish, let me add) and he tells me to hop in the back. This guy put the pedal to the metal and in about 2 miles we caught the bus at a stop. My wallet was on the floor. No one had even noticed it was there. Whew.

I tried to give the truck driver some money, but he wouldnt take it. He was just that nice. As the bus and truck pulled away, I looked at the people who got off, looked around at all the nothingness and wondered why they'd get off a bus here, seemingly in the middle of nowhere. It seemed as they looked back at me almost as if to reply "Yeah pal, you're here too, where are YOU going to go???". I looked back with a look that said "Hey, I've got my wallet, I really dont care. I'll jog back from here". And that I did. I found out quickly Teva sandals are not meant for running. :-)

This waterfall in the middle of nowhere is fed by a hotspring that is so hot, it borders on scalding. No one that was there could stand under it for more than 30 seconds or so. Its that hot. The water it falls in to is a river fed from the mountains, so that water is cold. In order to get a good massage from the water, I had to hold my breath and hover about a foot under the cold water and feel the pummeling of the hot water after it cooled slightly. We spent a little more time checking out the nearby caves and then headed back.

That night we headed over to the Dim Sum resturant (the only other thing on the island of Xahala) for a bite to eat and forgot that it was also the location of a birthday party for someone we had met a couple nights earlier. It made for a festive atmosphere, but slow for getting food, as Dim Sum only has one cook. We left early enough to catch a launcha, as there was a party at the Backpackers Hostel where we were now staying.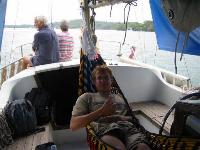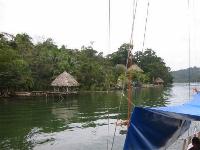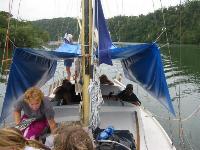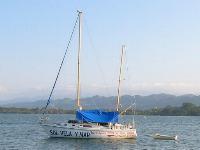 The next morning, we were up early to catch a sailboat here to Livingston. Boats to livingston are 75Q if you go by launcha (1.5 hours) or the same cost by sailboat (4.5 hours). There were about 8 of us that we had met that had no intention of seeing the lake in 1.5 hours with the drone of an outboard in our ears, so we got a ride with Paulo on his sailboat. Paulo is an Italian who has crossed the atlantic 5 times in his little 33 foot sailboat, and runs trips to Livingston whenever he needs supplies. His wife cooks up some awesome spaghetti for the passengers when they make the trip. All in all a great day of travelling, with a stop for some swimming in the lake, which brings us here to Livingston back on the Carribean again.

Livingston reminds me a bit of Belize. People are more of mediterranian decent, and the culture reminds me more of Jamaica than anything else. Everyone keeps telling us "Welcome to Livingston, its very safe here." It makes us wonder why everyone is telling us this??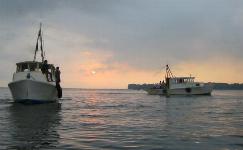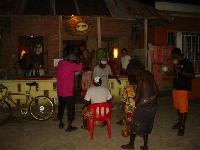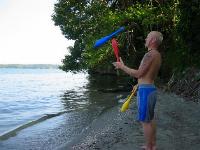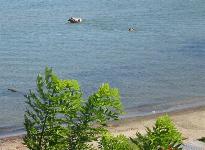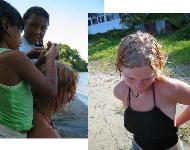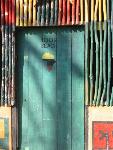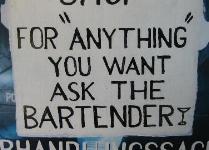 Theres now 6-8 of us that we're travelling with (all new crowd) and we're all headed for Utila in Honduras. We're trying to work out a way to get there by boat, but chances are we'll end up going by boat to the furthest town east in Guatemala on the Carribean, then crossing the border by bus, and bus through Honduras. But we'll see.
March 5th
Subject: Men with machine guns in search of my underwear
Current Location - Comayagua, Honduras
Local Currency - Lempira (17L = $1US)
Language - Spanish
Temperature - 85ish
Song defining this leg of the trip Out of nothing at all - Air Supply

Well, Livingston turned out to be a bit strange, so we left after a day and headed to Honduras. Getting there was an interesting day of travelling. First, we had to take a boat to the town closest to the border, Puerto Cortez. From there we were supposed to catch a small bus over the border. Well, due to a teachers strike, the borders were blockaded. Angry teachers had cut down trees and dragged them across the road, and lined up across the highway with machetes. Our driver stopped in the traffic jam and told us we´d have to walk across if we wanted to get to Honduras. Through the picket line. Nice. Well, we walked through without incident, caught a bus on the other side, who took us to a pickup truck, who then took us to the border where we caught yet another bus. We stopped for the night in the beach town of Amoa.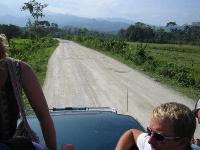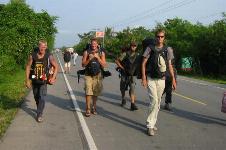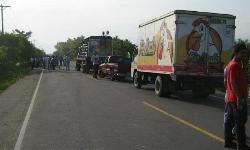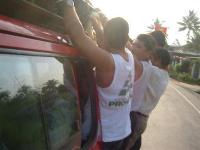 We headed the next day to the little beach town of Tela, which was pretty cool. One of the neat things to do in Tela was take a tour of the mangroves by kayak. Jay and I signed up along with a British couple, Shawn and Niki, who we were now travelling with. It was an incredible tour. Because there are no motorboats in the mangrove, all the wildlife is easy to see. We saw aligators from 1 foot to 5 feet, these amazing huge blue butterflies, jumping fish (one of which managed to jump in to the leg of my shorts), and a couple types of monkeys. We ended up seeing a family of white-faced monkeys that seemed to be as curious about us as we were about them. They´d run about their trees to get a better look at us, and then would sit there and stare. The mangrove was somewhere you would get lost in a second without a guide. Narrow waterways and vines hanging down which all look identical. You could go 100 feet in and never find your way out.

One our way back to town, our guide stopped in a Garifuna village for us to grab a bite to eat. The Garifuna people are decendents of a mix of Africans who fled from slavery in the 1700´s and the locals that saved them. Their cultures have remained unchanged for hundreds of years. Except for the Pepsi stand.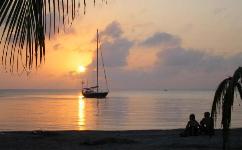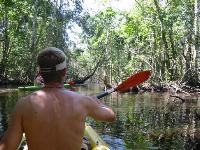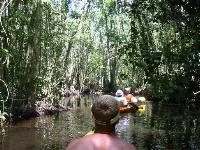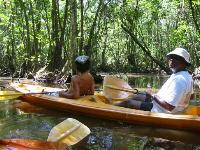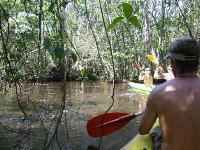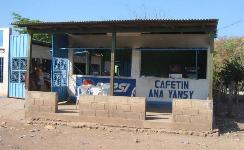 Pepsi and Coke have such a huge battle for market share down here, that if you have land suitable for a store, they will build one for you, and give you a Coke or Pepsi machine to sell their product in. They then paint their logo on every conceiveable spot on the outside of that store. These little shops are everywhere. Now, even in the Garifuna villages.

Tela is where Jay and I finally parted ways. I meet many people who say they´ll plan to meet up, but few do. It was great that it worked out and to travel with him for 2 months.

So the 3 of us left Tela and headed to La Cieba to catch the ferry to the Carribean Island of Utila. Utila is known for its good weather, its good diving, and its bad bug problem. We got to La Ceiba and a taxi driver asked us if we needed a ride to the ferry terminal. When we replied yes, he began to unload the items from his cab belonging to the elderly lady who was about to take the cab. He´d rather ditch a 10L fare in exchange for a 75L fare. What a slime. We walked off and caught the next cab.

Utila was a cool little island. Only one city on the island, and one road in the city. People there speak Creole, which is English, but cant be understood as its fast and sounds somewhat like Jive. However, they´ll speak slowly for tourists. There are only a handful of cars and a few mopeds and golf carts on the island. There is a huge generator which makes the power for the whole island, very loud and unsuitably situated in the middle of town. It goes off at midnight, and the whole town goes dark.

Utila is known as the cheapest place in the world to dive. I had no intentions of diving there, but did want to get a new ID card so I could dive elsewhere, as my card was in my truck when it was stolen. I went in to a dive shop and asked them about getting a new card and ended up signing up to do my advanced open water certification, just because it was so cheap, which also got me a new card. Also, this particular dive shop has their own house for the divers on a remote island about 20 muinutes away, which you can stay at for free. That sealed the deal.

The dive house was on a small key called Jewel Key, which combined with the adjacent Pidgeon Key and the bridge that joins them is only about 1/3 of a mile long. And about 4 to 6 houses wide. Several hundred people live there, and theres 3 shops, one school, 2 resturants, and a generator which goes off at 10pm. Most residents are fishermen. There are no phones on the island, which is nice even though I havent used a phone in a while anyway, its just neat to be so disconnected. There are also almost no bugs/mosquitos, as opposed to Utila.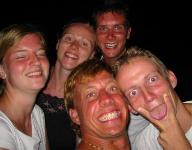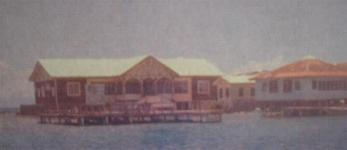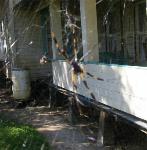 The diving around Utila is amazing. Diving anywhere is pretty amazing in fact. Its like getting a glimpse in to another planet you never knew existed, located just under the surface of the water. There is so much amazing reef life. Amazing coral and fish in every vibrant color of the rainbow, who are seemingly unaffected by the fact that a human is swimming by them. You pretty much swim with them, not just near them. Thats always amazed me.

As we drove from one dive spot to the next, we spotted jumping tuna which means that a whale shark is nearby. We circled the area for about 15 minutes until we found it. This thing was at least 18-20 feet long - as long as the boat. We all jumped in for a better look, but it decended before more than a couple people could see it. Whale sharks are large but harmless, and generally flee when divers enter the water.

We also saw flying fish while going from one spot to the next. Heres evolution at work if I´ve ever seen it. A fish with wings that can fly out of water for 20-25 seconds. Amazing.

My last of 3 days at the dive house, I decided to go running. Not an easy task on a sidewalk that is 1/3 of a mile long. But it had been a few days and I was itching to run. Well, when you live on such a small island, there is no where to hang out except the sidewalk. It was like running the final stretch of a marathon. People lined the path cheering, and kids running along with me for a minute at a time or so. Rather amusing.

My final dive for my certification was a night dive that night. If diving is fun, night diving is uber-fun. It was like being in a sci-fi movie. Everything is dark all around you, except where your beam of light is pointed.

I got back in time to enjoy a huge fish dinner my housemates had cooked up, as we geared up for a small party at the house. At 10pm, its amazing to watch the entire town go dark, which instantly seems to turn on all the stars 100 times brighter. Then at midnight, we all turned to watch Utila go dark some 10 miles in the distance. Then about 1am, we got the idea to jump in the water and swim around and light up the phosphorus. The water will glow purple as its agitated, such as when you swim. The dive house uses sea water in the toilets, and when you use them in the dark because theres no power, the toilet glows purple when you flush it too. Giggle.

It was neat to be on Jewel key for 3 days. We dove every day for the majority of the day, and being so cut off from the rest of the world, you felt like you were living underwater almost. But I needed to move on, as I have to meet my brother in Costa Rica soon. A girl from the dive house, Kerry, is on a similar schedule heading south, so we decided to head together.

We caught the ferry to La Ceiba, and after some fustrating and humorous conversations trying to get some of my insurance documents notarized, we went to catch the bus to Comayagua. We got on the bus, and 5 minutes later, the bus was boarded by policemen in fatigues carrying machine guns ordering everyone off. As we got up, one of the men informed Kerry only men needed to exit. Why only men, I never found out. As I got off, all the men were lined up facing the bus, hands on the side, legs spread and being searched. Not necessarily gentle searches - quite thourough ones. I too placed my palms on the side of the bus facing it, and waited. Once everyone was searched, they opened the luggage bay, and had people remove their bags for searching. There were only 3 people with bags and I was the last searched.

I hate to unpack and pack my bag as it is, but I wasnt looking forward to doing it here. My bag is a top-loader, which means that to get to (or see) the stuff in the bottom, the stuff in the top needs to come out. So there I was, taking out everything I owned, I had to put my clothes on the dirty bus parking lot with a crowd of about 50 people looking on, and a guy with a machine gun inspecting everything. I have small nylon bag which I keep my underwear and socks in, and as I pulled it out of my backpack I threw it on my pile and said "ropa", meaning clothes. He grabbed the bag and opened it and found a tightly packed small black plastic bag, which I guess from what you see in the movies could look like a pound ro two of drugs of some sort. Well, I simply use a plastic bag to keep the dirties separate from the cleans. My machine gun toting friend was sure he found something. He held it up, looked somewhat proud, somewhat triumphant, and somewhat inquisitive, as to say "what have we here??". Trying not to laugh, I looked at him and in plain english said "I have no idea how to tell you in spanish that you´re holding my dirty socks and undies, but rock on with your bad self and open it up." He opened it and handed it back to me, and I just said "uh, yeah." He didnt smile. We all got back on the bus and that was that.

We just missed the connecting bus to Comayagua by minutes and had to spend the night in San Pedro Sula, which is a bit of a rat-hole of a town. Even the guide books say theres not much worth seeing, and its dangerous. We spent the night watching people from the balcony of the hotel.

Comayagua seems pretty cool, although we just got here, and are using it more as a stopping point on the way to Nicaragua, where we should be in a couple days.