April 4th, 2004
Subject: 5-star Hotels, Broken Cameras, Rice Terraces, Gifted Healers and MUCH more!
Current Location - Manila, Philippines
Local Currency - Peso (P55 = $1)
Language - Tagalog, but English widely spoken
Temperature - 90+
Songs defining this leg of the trip - Where is the love? - Black Eyed Peas

Puerto Princessa rocked. It really did. It had a bit of everything. Great people, beaches, nightlife, all without being too big of a city, but just big enough that you could find anything you needed. Well, except a frisbee. I was looking all over town and couldnt find a frisbee.
But frisbee woes aside, we really did love that city. On our last night there, Dave had his last jam session with the band we had met. It was at the CocoHut, and they were hosting a birthday bash for someone there as well, so the place was packed. The birthday gang ordered up a bowl of local worms at one point in the evening. Its these long slimy worms that live in the mangrove trees. Add another thing to the list of weird foods I've eaten on my trip.
After the jam session, a few of us headed out to the beach to watch the sun come up, and keep the night going after the bars had shut down.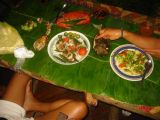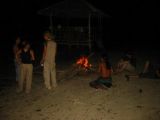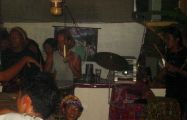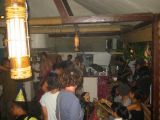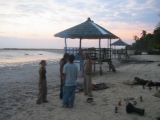 The next day, Dave and I were in the airport fighting to stay awake long enough to catch our $30 cheapo flight to Manila.

We arrived in Manila about 10am, beat, tired, hungover and generally not feeling too hot. We checked in to the Pension Natividad. I had stayed here a while back by myself and it wasnt too bad. The room wasnt too nice, but I wasnt in it much - I was usually out and about. But with 2 people, it was way more cramped. And it seemed to be dingier than before. And being as we just wanted to sleep, it wasnt that appealing of a place to spend hours unwinding. Then we get this silly idea. I really dont know how it all came about. Dave said something to the effect that for once in his trip he'd like to stay in a 5-star hotel, and I mentioned that there was one across the street. The next thing you know our tattered and grubby bodies are in the lobby of the Manila Diamond hotel asking for rates. The rates for one night exceeded what we spent for a week in Puerto in food, hotel, and drinks. Where do we sign? http://www.diamondhotel.com/

So we checked out of the backpackers hostel and waltzed in to one of the most exclusive hotels in all of Manila. Marble waterfalls around, polished brass everywhere, people who call you sir as they hold the door for you. Right on.

So now let me describe to you the day of pampering we had the following day. Woke late, sleeping in the worlds most comfortable bed. Wandered down to the all-you-can-eat included breakfast buffet. Ate enough food to last me until September. Went back for thirds to the fluffy-omlette guy. Went back to the room, chilled, watched cable, took an incredibly hot shower (a rareity for backpackers), then wandered down to the gym and had a nice workout. Afterwards, went to the pool, swam, and let the powerful waterfall poolside massage my muscles. Laid out in the sun to dry off. Got a haircut, then back to the hotel, then out to a fancy korean dinner at a resturant where they cook the food at your table. All of this costing way more than we'd usually spend on anything, but we were in the mindframe of the incredibly rich and spendy, so we just kept going with it. After dinner, walking back to the hotel, we see a massage spa. This was the first non-seedy massage place I'd seen, and in fact it was called a "spa", making me pretty sure that this wasnt the kind of place that does more than massage. See, this is one of my fears. Sometimes it would just be nice to get a massage, but what if the place thinks that my intentions are more than a massage. Sure, it'd be easy to walk out and say no thanks, but I still think it could be potentially a little embarassing for both sides. Anyhoot, we found a cool place that had an awesome back massage/foot massage special, so we went for it. Afterwards, went back to the room and fell alseep watching the the movie that required the least amount of brain power in the world to watch - The Fast and the Furious. A day of complete and utter pampering. I really needed that. People dont realize how hard it is being me sometimes. ;-)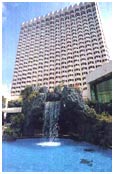 Well, two days at the Diamond sufficiently blew the budget right out of the water. We decided to head north for the mountains of Banaue, to get away from the city for a bit, and back to the nature.

The day before we left to head north, I was walking around town on an a wild goose chase looking for something for my backpack. Everywhere I went, someome told me it was somewhere else. But the one thing I sucessfully found was a lot of smog and Jeepneys belching pollutants in to the air. Overcrowded streets with no sidewalk, so people have to walk among the traffic. You see about half the people carrying around little cloths to cover their mouths from the fumes. I figured if I lived here, I might do the same, but if I am only here for a few days, no harm, right?

Wrong. After this day, I started to develop a bit of a cough. Then we get straight on to the bus to Banaue that night. Of course, its an air-conditioned bus, which means that inside its cold enough to kill a polar bear, with no way to regulate the temperature, or so the driver says. Add to this, the standard woes of asian-world bus travel which I have detailed before. Standard stuff, like the 4-foot-2 asian lady in front of me who needs to recline her seat fully for the whole ride, when I can clearly see that shes not attempting to sleep. This I see, of course, becuase I am awake, unable to sleep with her chair slowly becoming ingrown to my knees. Hey lady, as long as you're comfy, thats the main thing.

So I arrived in Banaue in not the best of conditions or moods. I slept for the next 16 hours, waking up in feverish sweats most of the time. You know, you can look at maps and globes all you like, but you never realize how far away mom is until you get sick. I didnt even have an appetite. My back was hurting, but I wasnt sure if it was the 9-hour ride in the uncomfortable seat, or the fact that I was in a cold climate sleeping with no shirt on, sweating all the heat our of my back muscles. Whatever it was, it hurt.

Banaue is an amazing mountain city. Very beautiful, and it has some really nice mountain rice terraces. Rice needs a perfectly flat area to grow, as the plain is flooded with water. Mountains, as you may have seen in photos or in real life, are sloped. 3000 years ago, the answer to this dilemma was to make hundreds of terraces out of the mountainsides. Dig up all the dirt, take out the stones to build a wall, fill the dirt back in, and you've got a fertile terrace.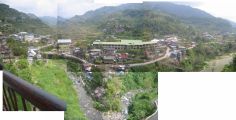 The most amazing terraces are actually in Batad, which was 2-3 hours away. It was always our plan to head to Batad the day after arriving in Banaue. But feeling the way I did, I had my doubts if I'd make it. Then I thought about it. We only had 5 or 6 days up here. It may be 4 more days before I am better. Might as well make the trip now and recover in Batad. No difference really. The only thing was that the only road in to Batad is so steep that the moto-trikes cant take you up there. After the 1.5 hour moto-trike ride, you need to walk uphill one hour, then down another 30-40 minutes. Unless you get lucky enough to catch the Jeepney that goes up the hill a few times a day. It doesnt have a schedule. Sometimes it comes, sometimes it doesnt. When it comes is one of lifes mysteries.

So we catch a moto-trike to the hill we must climb. No Jeepney there. Darn. We wait all of about 1 minute and figure there is no use in waiting, we could be here until tomorrow. So we hike. We hike this mega-steep hill with 35+ pounds of gear on our backs. Yeah, I'm so glad I brought just about my entire pack, rather than leaving more stuff in Manila. An hour later, we are just about at the top, and up comes the Jeepney. You have got to be kidding me! A load of tourists who were fortunate enough to catch it up the hill jump out all fresh and begin thier hike in to the mountains with zest and vigor. Dave and I are collapsing, paying ridiculous prices for Gatorate the sellers know they can charge to fools like us.

We got to Batad and the views were all worth it. We checked in to the Hillside Inn, which at P50 per night had to be the cheapest hotel on earth. Thats right folks, 10-10-220 eat your heart out, heres something else you can get for under a buck. A nights accomodation at the Hillside Inn. For what we paid for 2 days at the Diamond, would have gotten us just a few days shy of a year at the hillside. And I have to say, the rooms were pretty nice. Few cockaroaches living in there, but its an open-air hotel in the mountains - what else can you expect. But they're nice cockaroaches. They seem to cohabitate with the guests nicely. We have a nice arrangement: they dont crawl on my leg in the middle of the night, I dont smack 'em with a shoe. Everybody wins.

Theres a few other things that the Hillside offers that the Diamond doesnt, which are worth noting.

&nbsp &nbsp 1. Transformer sheets. Not sheets that transform in to anything, but rather bed sheets that feature some of the stars from this great cartoon from the 80s. I seemed to get this option, yet Dave sadly did not.
&nbsp &nbsp 2. A view of the Batad Rice Terraces from our window. Granted, it would take a construction miracle to make this possible from a hotel in Manila, but its worth noting all the same.
&nbsp &nbsp 3. Cool little handicraft needlepoint signs on the walls. You wont find that in the Diamond.
&nbsp &nbsp 4. High standards to the point that shoe removal upon entering is required. Not like the low-class Diamond where shoed people go walking willy-nilly all over the place.

That night, we just stayed around the area of our hotel and talked to the other travelers. We met a French guy who was showing us a map of his trip so far. 2+ year trip all around Asia and the Middle East. As we were looking at it, an older tribal man came up to us. I cant really describe him any better. Barefoot, wearing shorts, and carrying a spear. Yeah, the dude looked tribal. He looked at the map and asked if it was a map of the world. We said it was. Then with a voice that was eerily calm, he turned to face the valley behind him and said with an air of certainty "I dont need a map to see the world. Its right here. See." I went over to where he was standing. Sure enough, there it was, the world. I think he's the first person I have ever met who has seen the entire world. Not because he has traveled extensively, but just because he has a better point of view.

Despite the mega-cool sheets on my bed, it did not improve my sleep that night. I still had the feverish sweats, and it kept waking me up. The next morning my back was worse. All the same, I decided to hike with Dave down to the waterfall, about an hour away. I lost count of how many stairs there were about a half of the way down to the village. At that point, it was 356. So, I estimate 700 stairs to get to the village center of Batad, then another 500+ to get to the waterfall. You may now add sore calf muscles to my list of aches. But the waterfall was worth it. Beautiful to behold, but a little too cold for a person with a flu to go in for a dip. And the walk there was equally amazing. Basically, the walls of the terraces are built out of stone. The tops of the walls also act as pathways, one person wide. Its like a maze/labrinth that you need to navigate to get to where you need to go. From every angle, the terraces look different. If you're at the bottom looking up, all you see are brown stone walls. If you're at the top looking down, all you see is green fields. The houses in the village are about 70% traditional, meaning built out of logs and thatch roofs. The other 30% ar steel structures. We were talking to Gladys who works in the Hillside, and she said that as of about 5 years ago, all the houses in the village were traditional. She was sort of sad to see the change taking place.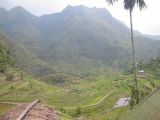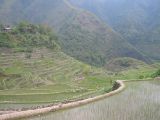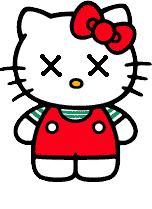 I have some sad news to report which happened during this walk. The passing of a faithful freind to my trip happened. The death of Hello Kitty. For those who are on this list who have traveled with me, you know this camera. For the rest, here is the deal. I wanted to get a polaroid camera to take photos of the kids I met on my trip, which I could give to them as gifts. A regular polariod camera was too big, so I went to go buy the i-Zone, a cool mini-version of the regular polaroid camera. Backpack sized you could say. Well, I went to my local Wal-Mart to purchase this handy item, and found it to be priced at $20 with a 3-pack of film retailing for $15. Lo and behold, right next to the regular i-Zones were these little pink Hello Kitty i-Zone cameras that were just 10 bucks and included a free roll of film. What gives? You think you'd have to pay a premium for the Hello Kitty package, but no! So, I'm standing there weighing my machoism versus my irresistable conviction to finding bargains. I finally decided that I was secure enough in my masculinity to travel with a pink Hello Kitty camera.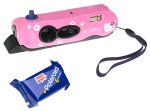 Thus a bond was born. You cant be a self-respecting male traveling with a Hello Kitty camera and not expect to get reactions. Reactions from which you need to defend yourself, and defend your camera. You dont go through these kinds of experiences with an object, and not become attached to it. Through countries, continents, and across oceans, I have defended this camera and watched it bring joy to literally hundreds of kids. I estimate I have taken and given away about 200 photos with this thing. Every single one got a smile. Every single one made me glad that I had packed this camera. In fact, you could say its one of my favorite things I am (was) traveling with. Things began to take a turn for the worse a month ago. Trying to take a picture with the flash, it wouldnt flash. Then the next time I tried, a few fizzing noises, some bad burning smells, and tiny sparks shooting out of kitty where the flash bulb used to be. No problem, from now on I move my subjects in to direct sunlight and all is well. Until this fateful day in Batad. I had 3 photos left. Of all the rolls I started my trip with, just 3 photos remained. I had 2 willing subjects. First one -snap - success. Second one, the rollers freeze, the photo snaps in half, ooze comes out. I was about as devastated as the kid who didnt get a picture after his freind got one.

I just dedicated 30 minutes to writing about a broken camera. Sorry.

The next day, I decided to take it easy. No real excercise or much movement at all for that matter. Just hung about the Hillside and talked with the people working there, and some of our friends from Puerto who had shown up by completely random co-incidence.

A couple observations from this day of relaxation. First, I have always thought that I shall never live to see anything quite as unattractive as people chewing tabacco. What could be less appealing than someone with a nice wad of chaw tucked in their lip, spitting out brown goo all over the place. Well, I finally found it. The beetlenut. The beetlenut is an orange nut found in the hills, and when its chewed up with lyme will give a bit of a euphoric feeling. Aparently, it makes your lips go numb too, because people chewing it seem to have a bit of a problem keeping it inside their mouths. Besides the obvious spitting of the beetlenut juice, there is usually some dribbling over the lips of the person chewing. Mmm. It must also make the chewer rather out-of-it, as I have never heard a coherent sentence come out of someone chewing it. Usually, they just open their mouths and blabber and spittle and flash a mouth full of orange teeth. Yes, tabacco chewers, you have been outdone. But I asked Gladys if she was turned off by guys who chewed it. She said no. Its just their custom, and she'd gladly date a guy who chewed.

The other thing I'd like to address at this point are the bucket showers. Most places I have visited recently do not have good water pressure. For this reason, they have the bucket shower. The bucket shower, as its name implies, is a shower stall, with a large bucket under the faucet, with a small kitchen-pot-sized scooper inside it. Rather than having a showerhead, you simply scoop and pour. The first few times I ran in to one of these, I was not a happy camper. For starters, the water is never, ever, ever warm. Just goes without saying. So, you're pouring buckets of cold water on yourself. But after a while, you get used to the bucket shower. You even definately prefer it to a sorry attempt at a regular shower with no pressure. Give me the bucket shower over that anyday. But in the mountains of Batad, where the air is cold, the showers are more or less open-air, and the bucket is filled from the spring in the morning so the water has had ample time to chill, the only word to describe it is 'refreshing'.

By the time nightfall came around, I was pretty sore. My back was now in constant pain. It probably wasnt the best idea to hike up the mountain the other day with my heavy pack when my back was sore to begin with. I had asked Gladys if there was anyone in the village who could give a massage. She said that there was, and instructed me to where it was. I walked down all 700 steps, found the massage lady, who gave me one of the worst massages of my life. Well, I think I've had maybe 5 or 6 in my life, but this was pretty bad. I'm pretty sure a massuse shouldnt have nails, right? If I was married, I'd have some pretty suspicious looking scratches to explain. I was forewarned that she wasnt qualified, just a lady willing to give massages. It was worth a shot, but didnt do a darned thing. My back was still in pain.

The next day was the elementary school graduation in Batad. I dont remember my 6th grade graduation, but I think it involved a handshake and directions to 7th grade, and that was about it. But this is graduation time in the Philippines, and people make a real big deal out of it, which is actually kind of cool. We saw a kindergarden graduation in Puerto that lasted more than 6 hours. We kept driving by and it was still going. This elementary school graduation was no different. Our friends from Puerto were traveling with juggling pins, and had asked if they could perform for the kids at the graduation along with Daves drumming. No problem, they were scheduled inbetween performer 16 and 17 on the schedule. Think I'm kidding? No. So, the whole town is at this graduation, which really did last over 3 hours. I kept going back to the hotel to lay down becuase my back was so out-of-wack at this point, it hurt to sit in any position.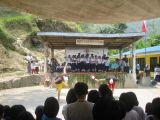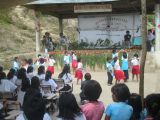 Lunch time came and I ordered a corned beef pizza at the Hillside. Gladys brought it to the table near where I stood and I informed her I was going to eat it standing. I explained it was due to my back. Yesterday, she had thought I just wanted a massage, but didnt realize it was because I was in a lot of pain. She said she knew someone better to massage my back, and that we could go there later.

30 minutes later, we head down in to the village. 700 stairs again. We go to the house of a lady who is a gifted healer, whatever that means. The words kind of go in and out of my head without much thought. My back hurts - if she wants to massage it - fine, I'm not too concerned with what she calls herself. She tells me to sit and take off my shirt. Sitting hurts, so I'm reluctant, but I do it. She asks where it hurts and I tell her. She takes her thumbs and with almost no pressure at all, starts rubbing my spine. This is not going to do a darned thing. No pressure, no technique, nothing. As I am sitting there, Gladys is apologizing for not taking me here yesterday. She said that she was sorry that the other lady ripped me off, and that the other lady was not a gifted healer. Only the lady currently rubbing my back and her brothers and sisters have the gift. What gift? Slowly I'm beginning to pay attention to the conversation. 20 minutes later, she is done. I've been sitting the whole time and my back didnt hurt. In fact, it doesnt hurt at all anymore. In fact, I feel just great. The lady looks at me and rather than asking if I feel better, she tells me "better." Um, yeah, better. Wow. Thats kind of weird. The pain went away and stayed away. Interesting. Very interesting.

That night, we sat on the back deck of the Hillside and listened to the hudreds of cicadias and watched the hundreds of dragonflies swarm around us as we praised them - surely they have something to do with the fact we werent getting any mosquito bites. Once it got dark, we could look over to our left, and see the area with the hundreds of fireflies. Yes, we were in insect heaven.

The next morning we made a snap decision to leave a day early, and I cant really remember why. Something about wanting to not be rushing around. Whatever the reason, we had spent 4 days in a town where most visitors only spend one, and really enjoyed all of our time here.

We decided to hike out a different way than we came in, as it was rumoured to be flatter, but longer. It really wasnt all that much flatter, but it was nice to get a change of scenery. Beautiful single pathway winding through the hills. After about 2 hours of hiking, we arrived at the road just before 11am. We were told that the 11am Jeepney had arrived early today and we had already missed it and it was the last one for the day. Which means we were on our own for finding a way back to Banaue. We hiked up to the next little town, and found there were two Jeepneys sitting there. We got the owner of the store to help us find the owner of the Jeepney and struck up a deal with him to take us for P500. The moto-trike ride to get here was P200, so we were balking at the price a bit, but we didnt have a lot of options at that point. We could walk up to the junction - 8kms ahead, and hope that another tourist was coming to Batad and we could take their trike back. Too risky and too much walking.

We made it back to Banaue just fine and spent the next day heading to some hot springs and then caught the bus back to Manila the next afternoon. We almost missed the bus, as we were drviing back from the hotsprings to find the road blocked with a ton or rock and dirt. We left our trike driver, climbed over the dirt and found a driver on the other side to take us back to Banaue.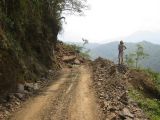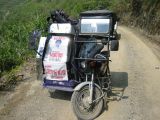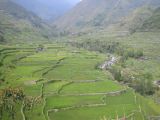 We decided to have a bit of a blowout here to celebrate our leaving the Philippines (our flight to Singapore is on the 6th). We've been going out to the bars and clubs and having a time of it. We got to meet up with some friends I met when I was here last time, and some other people we met while we were in Puerto.

Last night was the kicker. We had gone to Makati, which is the more upscale area of Manila. We wandered in to a bar called Absynth, named for the drink of the same name, a drink so potent its illegal in many countries, including the US. We decided one was all we would need, and at the prices, all we could afford. We made a point of telling the bartender that we thought his bar had the best music of any bar in the Philippines - and it did. Romel was his name, and it turns out he was the manager, and was rather flattered by the comment. He bought us some shots. Then some more. Then some pitchers of frozen cocktails. Then he sat us at a table with his girlfriend while he tended to business. He came over and asked us what we wanted to eat. When we said we were too full, he just ordered something for us. Dave tried to repay the favor by buying a round of shots, but Romel instructed the bartender not to take the money. This went on for the rest of the evening. And what an evening it was. Man, I really love this place.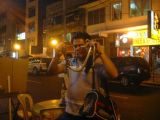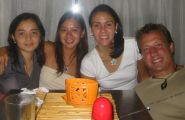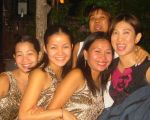 Hope all is well,

-Rick