Mardi Gras 2000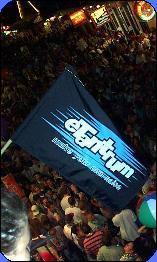 This certainly was different than the 2 previous times that I had gone down to Mardi Gras. I had done the Mardi Gras thing in 97' and 98'. I missed 99 due to another trip that I took taking up my vacation time. In 97' I did Mardi Gras for a record low of $270. That was airfare, hotel, eats and enough drinks to keep me well plastered for 3 days straight. Yep, thats right $270. We got a discount fare in to Mobile, Alabama for $99, then split a car rental 6-ways for $20 each, then put 14 people in a hotel room, which came to $30 each for 3 days, and I had exactly $120 to spend. Hurricanes for $3, Huge Ass Beers for $1, and McDonalds right across the street for vaule meals. It was too perfect, and a great Mardi Gras. But enough about 97'.
For Mardi Gras 2000, it was a different story. The company that I now work for, eTantrum, decided that it would be a good idea to have our promotional launch down at Mardi Gras rather than a stuffy club in NYC. The idea was masterminded when our CEO and another employee were in New Orleans around New Years and saw a banner stating that there were balconies for rent. We decided to get one and do it up right. We ordered thousands of dollars worth of promotional items including cups, lighters, these little 'glow buttons' and t-shirts, and stuff like that. We also got beads, lots of beads. :-) Mardi Gras becomes a whole other ball park when you're on the balcony and off the streets. Its a different view and a different world, especially when you've got Perfect10 and Playboy models with you. Through some freinds, we arranged to have 3 models come party with us for 4 days so they could help us promote our company while promoting the magazine they worked for as well. They got the benefit of us having the balcony all set up, we got the attention from the crowds they drew, and everyone got to have a great time. The girls were all awesome, and each loved their first MardiGras experience. Along with them, the 6 eTantrum employees and a handful of friends that we had with us, it was by far the best Mardi Gras I've had yet.
This webpage is actually one that I had made for my company to showcase our trip. The text here is the only thing that I've changed for my own site.
Take a minute to check out the photo gallery. You never know, you just might be in some of them.