London

I arrived in London about 6am or so. A friend of mine had said that there were a lot of hostels in the Earls Court area of London, so thatís where I headed.

The London underground was easy to figure out once you were familiar with it, but not clearly marked for the newcomer. Later on in my trip I would really appreciate my decision to start my travels in an English speaking country. As hard as it was to figure out where the heck to go, I had the fact that I spoke English and could read all signs on my side. I could read the signs that said "exit", or "to trains" or "cash machine". Later, I would realize how helpful this was.
I made my way to Earls Court, and looked on a local map in the station to find the nearest hostel. It turned out to be the most expensive one in Earls Court, and incidentally the most expensive one on my trip at 18pounds ($27) a night.

After I was there one day, and called up Grant (photo-left), a guy who I had met when he stayed here in the states visiting a friend of mine. He invited me over to go out with them that night. During earlier conversations, Grant and his brother had let me know that I would not be able to stay with them as they had 9 people (photo-right) in a 2 bedroom apartment.

This was fine with me, I was just interested in finding people to hang out with.
The first night we went to a cool 80's club. It was an old theatre that they had turned in to a dance club. Pretty neat place with a good vibe. There was a cheesy band that would intermittently break in to song between the DJ's tracks. Actually, cheesy would be a compliment to this band. It was still a very fun night.
The next night, I had told Craig and Grant that I was interested in checking out a club called "Ministry of Sound" as it was quite famous and well known back home. They were up for going, but they let me know that "Ministry of Sound" was a place where people would go more to be seen and not to party. If I wanted a good taste of London clubbing, that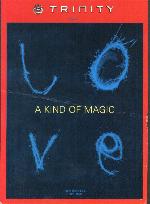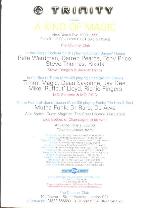 "Trinity" (flyers pictured) would be the right type of place. And it was. We got there about 10pm, and began to dance around 10:30. One of the neatest things about this club was the fact that they had a bongo player that played along with the house beats. Anyone who is familiar with Techno will tell you that for anyone (much less a bongo player) to keep up with a techno-house beat is a feat. It was neat to see. Anyway, we all began to dance, and after about an hour, everyone became so sweaty, that clothes pretty much came off. Guys had shirts off, and girls were down to their bras. It wasnít a naked thing, by any means, it was just very hot in there. So much so, that the condensation actually rained inside. One thing you'll notice about London clubbers, is that they are there for one purpose and one purpose only, and that is to DANCE. For 7 hours straight, they all danced. Occasionally, I would shout to Grant or Craig over the music "hey, I'm going to the bar, wanna come". Grant and/or Craig would reply "no, but if you're going, can you fill up the water bottle". Basically, do anything to not leave the dance floor. Just about the entire club stayed until 5am, when the club shut down. Then we went back to the flat, and relaxed in the hot tub. Giddyup.
The next day, Grant was kind enough to offer to take me around and do some sightseeing. This was the maiden voyage of "Grants tours and landscaping emporium". Basically, Grant used his truck from his landscaping job to take me on a tour of London. Pretty cool.
London Bridge at about 4pm.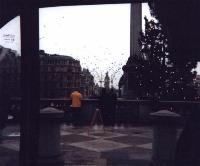 Trafalgar Square (Big Ben in the Background).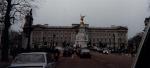 Buckingham Palace (The Queen lives here).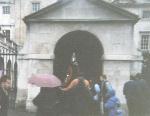 The guards that wont budge.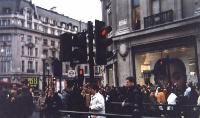 A Croweded London street.

On the last night I was there, Chantal, one of Grant/Craigs flatmates, (pictured on the left) invited me out along with her friend Manda to go to a local bar and taste a Snakebite.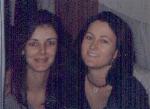 A Snakebite is half cider, half beer, with a shot of raspberry liqueur on top. Real good, and illegal in some places, due to the fact they get you very drunk and make many people very belligerent. We had a few. Or you could even say, a few too many. Throughout the course of the night, Manda mentioned that she would be in Florence, Italy for new years, as she had many friends going down there, and people to meet there. I told her that I had planned on being in Rome, due to the fact that my flight left from Rome at 2:30p on the 2nd. As Florence was close by, I told her that I could be there and meet up with her, as she offered, and still have time to make my flight. A nice offer for someone she had only known a total of 4 hours. Manda had to leave early, and Chantal, Grant and I caught a Mercedes Benz E-class Taxi home. Hey, I'm a car guy, I remember these things.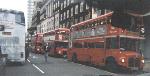 Of the coolest things I remember of London, a few are: The fact that since they are backwards drivers, they have painted on the road "LOOK LEFT" or "LOOK RIGHT", so that you do not get hit. Didnít work, I still had close calls. The double decker busses. The cabs all look like they're from the 1930s. (Except for private cabs, which can be YUGOs, or a Mercedes). And, in order to drive one of these "real cabs", you have to ride year-round on a moped for 3 years learning the streets, and then take a test. And these moped guys are everywhere.
While in London, Chantal had a book called "Mr. Nice". It was an autobiography about a guy by the name of Howard Marks. He was Britans most wanted man for 20 years. An Oxford graduate who had fallen in to dope smuggling. He had 43 aliases (false identities), 89 phone lines, and 25 legit businesses as fronts. He worked for the MI6 (British secret service) and the FBI as they were looking for him, and had ties to the Mafia. It looked like a neat book, so I bought a copy before I left London.
Next I took a bus (aboard a ferry) to.....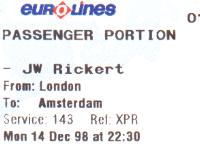 (Click the ticket to go to the next city)