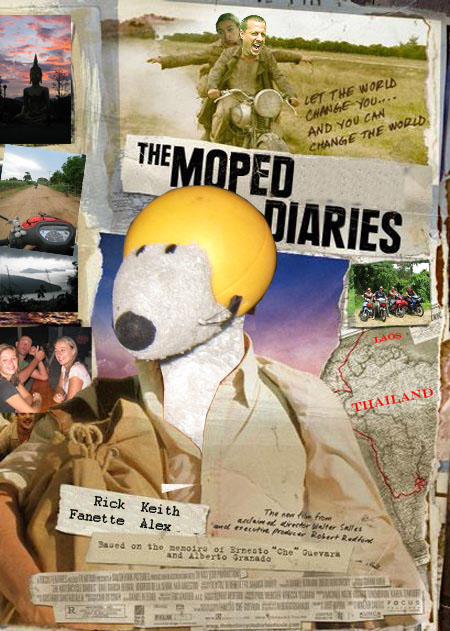 I've always been addicted to things with wheels. Mostly cars, but when I moved to Koh Tao, a tiny island without cars in Thailand, my fascination turned to motorcycles. Dealing with what was on hand, I owned mostly dirt bikes from 200cc-250cc, some mid-size bikes about 125cc, and a bunch of these little Honda Dream 100cc's.
Now, we need to put things in perspective. In the US (and probably in Europe as well) a "big" motorcycle is 1200cc (for reference for the non-bike person, the average 6cyl family car in the US is probably about 3000cc, more commonly referred to as a 3.0L), a mid-sized bike would be 600cc, and 250cc to 400cc would be a "small" bike. However, here in Asia, the 100cc (or 0.1L) is the most popular bike ever sold. A few 125cc and 150cc bikes are called "mid-sized", but anything bigger is referred to as "big bike". In the US, a 100cc bike would be referred to as a moped or scooter, too small to even be called a motorcycle.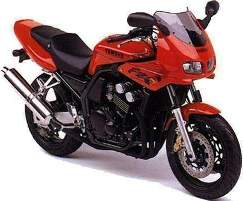 So when I moved off my little island to Khao Lak (on the mainland) for 6 months, a place with real roads, the first thing I did was buy a "big bike". A Yamaha FZ400, a 400cc. By Thai standards, it was a huge bike. I bought it for morning rides around the Khao Sok rainforest (I didn't start work until 11am), but also with big plans to make a month-long tour of the North of Thailand with Fanette and I on it at the end of that 6-month season.
But something occurred to me throughout that season. There are literally millions of these 100cc bikes and only a handful of big bikes in Thailand. The number of corresponding mechanics reflects that. With a big bike, if you have a problem, you need to find a big bike mechanic and in most parts of Thailand, thatís impossible to do. Small garages won't touch big bikes. However, with the small bikes, you can get them fixed anywhere. Every single village in this country, no matter how small, has a little garage with spare parts for a Honda Dream and a guy that knows how to fix it. A typical repair, regardless of how severe, seems to run you about $5. Honda dreams have no fancy electrics. Just a motor/trans combo that the average person could lift with one hand, a piston about 1/3rd the size of a coke can, a seat for 2, and a semi-automatic transmission that makes you change gears, but not clutch to do it. Yep, simple and easy to fix.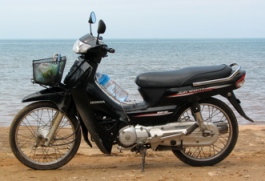 Yes, the more I thought about it, the more I thought the Honda Dream would be the way to travel, despite the fact I'd already bought the FZ. Furthermore, trying to put 2 people AND all our gear on the FZ was going to be a stretch. However, 2 people, on 2 smaller bikes, would be no problem. Lastly, the FZ went in the shop near the end of the season and something went wrong in the reassembly process and it would be another month before it'd be done, so that sealed the idea.
I'd mentioned this idea to Keith, a friend of mine who I'd got to know while working in Khao Lak. He thought it sounded like a great plan, and put together the idea that he, his girlfriend Alex, Fanette and I should all make a big tour out of it. Sounded like a great plan. The more the merrier.
Keith actually went and did pretty much all of the research for the trip. Using a road map and a Lonely Planet guide book, he mapped out a route that would take us 150-200kms per day, stay off highways as much as possible, and see as many parks and landmarks on the way as possible. It seemed like a grand plan. Initially, I thought I'd be taking the FZ, so our plan was to make it to the north of Thailand in 2 days, spend about 3 weeks meandering around, then zip back down in 2 days. Well, the Honda Dream doesn't 'zip' quite as well, so we planned to make it to the north in 2 slow weeks, and back in 2 slow weeks, covering these 150-200kms per day.
Getting together wasnít as easy as planned. Alex left breifly for England at the end of the season, Fanette and I went back to Koh Tao to sort out our house and cats, and Keith stayed in Khao Lak. We decided we'd all meet up on May 7th, spend the day planning, and leave on May the 8th.
May 7th
So we arrived in Khao Lak with the intention of planning out everything: how we'd pack the bikes, what we were taking, who was taking what, etc. Instead, we put everything in one pile, thought it looked like it should all fit on 4 bikes, and took off for a BBQ. We spent the night having drinks with a lot of our Khao Lak friends, many of whom were headed for other parts of the world in a few days and we didn't know when we'd see each other next, if ever.
May 8th
Fanette and I went to the internet cafe to check the weather for Thailand as it was currently raining and we were willing to change our route based on wherever there was the least rain. Well, there was rain over the entire country for thenext 5 days, which was as long as the forecast went for. There was no point waiting, we just had to go and get wet. Just before we left, I shaved my hair short - nearly off. I felt it would be more comfortable under the helmet. It hasn't been this short since I was 11 years old.
We packed up the bikes and just as we thought, it all fit nicely. I made some modifications to my bike to be able to hold a spare bottle of water and spare bottle of gas, and took off the front basket so I could strap abag directly to the rack underneath. All told, we had two 2-man tents, 2 giant double sleeping bags, cooking gear, a cooler, pots, pans, plates, cups and a big backpack each full of our own personal stuff. Keith picked up pretty much all of the camping gear while we were all doing our other stuff.
We got underway at 2pm, my odometer reading 62145kms. We stopped at a street fair to grab a bike to eat and Keith had a few of the grilled meat sticks. For most people this is no big deal, but he'd been a vegetarian for 10 years to the day and decided he'd give meat a try again. I think we thought the moment was a bit more monumental than he did.
My thoughts on the bike that day were mostly about how a Honda Dream could be better modified for a long trip like this. It would be a topic that would come up over and over again at nights when we'd stop riding.
The road we spent the day on was whatís called an auxiliary road. Itís not a main road, but itís not a back road. While it's the biggest road joining Ranong and Phuket and could be considered a highway, and the trucks on the road reflect this, itís also the local road. People live along this road with their driveways going to it, there are little roadside stalls along it, bus stops along it. Thereís always a lot going on to see.
We arrived at Lam Som beach that night and Keith and Alex camped in the tent, while Fanette and I rented a bungalow. We'd decided we'd camp if we were in parks, but if a reasonably priced bungalow was available, we'd take it.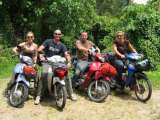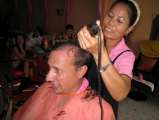 May 9th
Fanette and I got up early and went for a run on the beach. It was nice to run with short hair again. Afterwards, we met up with Keith and Alex and had a great breakfast on the beach and talked about how nice it was not to work. All 4 of us had spent the last 6 months in the busy season of Khao Lak, where there were hardly any days off, and most working days were 12 hours. Yeah, no one was in a rush to get going.
On the road, we decided to make it to Ranong where there'd be a Tesco department store. We'd made a short list of things we'd need for the trip and Tesco was our best bet for finding any of it.
One thing about doing a trip like this in Thailand is that we canít read 99% of the signs. We had no idea how far Tesco was when we got hit with a downpour. The skies just opened and it came flooding down. I looked for the nearest cover, which happened to be a garage. We pulled in, but then 30 seconds later, a delivery truck full of bags of concrete came for the same house. Now this is one of those cases where Thailand is really cool. We pulled up in a random personís garage, and moments later he arrives and needs the garage. Yet he lets us stay inside and works around having us and our 4 motorbikes in there. After a few minutes it was obvious the rain wasnít going to let up, so we asked the guy as best we could (the 4 of us speak the most basic of Thai) if we could make coffee in his garage with our cooking stove. He agreed, so there we were drinking coffee in a random garage while workers carried bags of cement past our motorbikes.
It turned out Tesco was just 1km down the road, but we were glad to have had our odd encounter in the garage anyway. We got the stuff we needed and took off for our next stop.
Along the way we saw signs for the "Thai-Burma Border Viewpoint". We were curious so we headed up. The single-lane road lead all the way to a mountain top where we had 360 degree views of the area. Oddly enough, the day looked more black and white than it did color.
Unfortunately, the rain came hard again and we took the first hotel we could find. Again, without English signs, travelling off the beaten track, just finding a hotel is sometimes very difficult. We found a place, checked in, and then it stopped raining. Go figure. However, it was the nicest 200b ($6) place I've ever stayed in. It even had satellite TV. With better channels than our 1500b Bangkok hotel we'd stayed in earlier.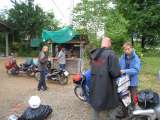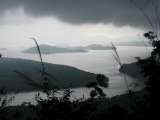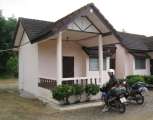 May 10th
Again we woke up and went running. I like running in a new place. You see things you don't normally spot just riding by. Also, locals give you very funny looks. We ran down side streets and I don't think they get many foreigners (if ever any before) down those roads.
We drove up to Chumphon so I could meet a guy who was interested in buying my jeep. In the end he didnít buy it, but that did put us on the main road north, the A4. The A4 was as awful of a road as we could have hoped for. This was more of a Thai highway. Still nothing like a US highway, in that people still live right on it, and you still have 100cc bikes all over on the shoulder, but thereís a lot more truck traffic and its moving a lot faster. We vowed to look at our route and modify it as much as possible to avoid as much of the A4 as we could.
We made it to the beach of Ban Bang Boet that night and went for a swim in the ocean. There was not another foreigner in sight. Something that would be a recurring theme throughout our whole trip. Thailand has become such a tourist destination that finding a place without tourists is hard to do these days.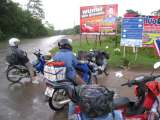 May 11th
An easy day of riding, staying off the A4 for most of the day. We arrived at a Navy base which had a campground right next to the beach, so we all decided to camp. We took a short trip to the aquarium nearby, which was actually quite impressive. It even had one of those walk-through tunnels. Later, we headed back to the campsite and stayed up late playing cards and drinking whiskey.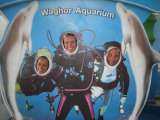 May 12th
The worst night of sleep in my life. First it was hard sand we'd camped on, not soft beachy sand. Next, some big generator near the campsite fired up at 4am for about 20 minutes. Next, the navy went marching by chanting and running at 5am, then the Thai announcement at 7am. For those who have never had the joy, hereís what the Thai announcement is. All across the country, you'll find these giant megaphone-like speakers on the telephone poles. Twice a day at about 7am and 6pm they come on with the dayís news along with some music. Todays music sounded like kittens being beaten with violins. Even if it was a song you knew, you'd never know it because there is so much distortion you can't make out at single thing. To ensure that this distortion doesn't affect your ability to get the message, they turn the volume to the highest possible setting. We had one of these speakers above our tents. I'd have rather been kicked awake.
As long as we were up, we took a walk on the beach, then promptly packed and got on the road. Again, we had to stop a couple times to get out of the rain, but eventually we made it to Hua Hin, a relatively big city, by lunch. After filling ourselves at one of the touristy restaurants, we pressed on to Hat Chao Samran, another beach town. The drive up from Hua Hin was right along the shoreline the whole way, a really nice drive without rain. What struck me most about this drive was the lack of roadside trash. Unfortunately for Thailand, most locals have no clue about not throwing trash out the windows, so unless there is a push by the residents to clean up, most roadsides have a lot of plastic litter.
We wanted to find a nice little bungalow in town as we planned to stay 2 nights here, just to relax a bit. Unfortunately, the bungalows were all overpriced, and we found a hotel, which was comfortable and clean, but didnít have much charm. They did however, let us park the bikes in the lobby overnight.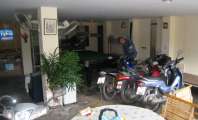 May 13th
We took a day to sleep in and be lazy. In the afternoon we headed to the big town of Petchaburi nearby to get some things to cook for dinner. On our way out of town, we decided to have a look around and found a temple on top of a hill. There was a cable car going to the top of it which we could take up, but it was stopped running at 4pm, and it was already 3:30. The staff said we could always take the path down, and pointed to a path which started at the top of the cable car. We spent some time at the temple walking around and watching the hundreds of monkeys which lived there. Afterwards we walked down the path only to find that although the path starts at the top of the cable car, it does not end at the bottom of the cable car where we started. Rather, it ends on the other side of the mountain!! So at that point, exhausted from the hike down, we had to walk about an hour around this mountain to get back to the bikes.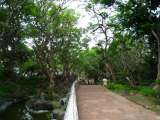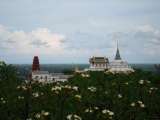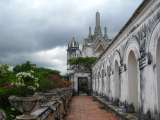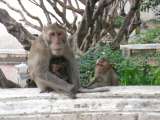 May 14th
For some reason, today seemed to be a day full of near misses on the bikes. We passed through a lot of little towns with a lot of cross traffic. One odd thing about driving in Thailand is that itís perfectly acceptable for someone to pull out on to a busy road without looking or slowing down. Traffic on the busy road is expected to go around the person pulling out, at whatever cost. However, you just never get used to this. You're driving along at 50mph, and someone just pulls out from a side street at 15mph right in front of you. This is just normal. It happens all the time, everyday. Most people donít even signal. Many pull over and stop suddenly for no apparent reason, and sometimes they don't even pull over - they just stop in the road. Maybe they're looking for something and they see it, so they stop in the middle of the road to best decide how to turn off. Also, sometimes when people want to turn right (remember they drive on the left here, so a right turn is across traffic) they will put on their right signal then move slowly to the left, park on the side to wait for traffic to go by, then make their turn. But if I see a right signal, I think I should pass the person on the left. Then I get run over. Most days we seemed to keep these things in check, but for the first half of the day, we seemed to be having far too many close calls.
Mid-day we stopped at a cave which had a Buddhist worship area inside. An interesting thing about the Buddhists, if they want to pray for something, they will leave a small model of it on the altar when praying. Often you see stacks of play money, or maybe models of cars or houses. Apparently someone in construction prays inside this cave as there was a mound of plastic construction trucks high enough to make any little kid drool.
We all decided to take the afternoon drive much slower as it seemed like traffic was a bit unusual today. The road to Kanchanburi was one of the nicest we'd been on so far. It was a gently winding road lined with huge trees that ran alongside the River Kwai.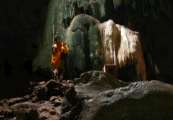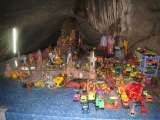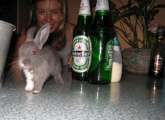 May 15th
We decided there was enough to see in Kanchanburi that we'd spend a day there was well. We checked out the bridge over the River Kwai and the museum that detailed the building of the railroad that went over it. It was an amazing story and once again taught me how little I know of the history of the area I currently live in. The rest of the day was spent at the pool and going back two more times to eat at the Daily Cafe, some of the best food we'd had on the trip.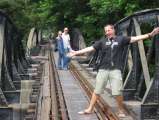 May 16th
We got an early start to the day and made a lunchtime stop at a dam along our route. We decided to try to stop at some hotsprings for the night which were shown on our map, but strangely had no roads shown leading to it. The few roads that were on our map didnít seem to exist, and every turn we took lead us to a sign that contradicted the last one we'd seen. We dubbed this area the Bermuda triangle of Thailand. Eventually we accidentally found the hotsprings, and it was perfect. They let us pitch our tents by the lakeside, and we were able to rent private hot baths for 20b (60cents) per person. We got 2 hot rooms, one for each couple. The baths were an enclosed little concrete hut with a bathtub the size of a jacuzzi in it. We filled it up with water from the spring and it was too hot to even get in without adding equal parts cold water.
There was a little restaurant attached to the hotsprings which we ate at. A guy named Ken who maybe ran the place, maybe didn't, came over and started talking to us and asked if we needed help ordering, then he sat and ate and drank with us. At the end of the meal we had eaten so much and such good food and had several bottles of beer, all for 470b ($13) for the four of us.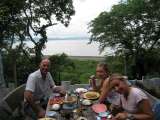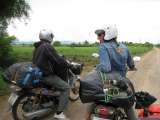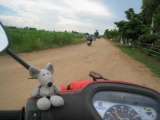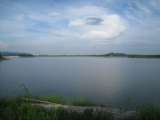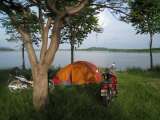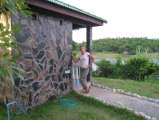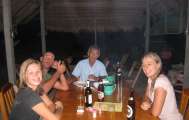 May 17th
I opened my eyes to the sight of the sun over the lake. We left the door on the tent open, but the screen closed, so I didnít even have to sit up to enjoy the sunrise. What an awesome way to wake up.
As we were leaving, we realized we didnít know where the map was. No one could remember who had it last. Our best guess was that it blew away in the seemingly windless night, or was taken by one of the 5 dogs in the campsite. All the same, it added a bit of adventure to the already difficult route.
Along the road, we sometimes stop at random places mostly to give our butts a rest. One of the random buildings we saw and stopped at was something that none of us could really explain. It looked like a shopping mall for rich monks. It was a large ornate warehouse filled with expensive looking religious artifacts. A lady showed us around, but we weren't sure if she was just being nice or if it was really open to the public. We tried to ask what it was, but we couldn't translate her answer.
That night we made it to the Klong Lan waterfall, but stopped just outside of the park entrance. We found a neat little place to stay, and checked in to a small house with 2 bedrooms when out of curiosity I asked how much the giant one next door was. It was just 1400b - $46, or about $12 each. We decided to splurge. It had room for 16 people to sleep, a giant balcony over the river nearby, 2 bathrooms, and a giant living room. It looked just like an alpine lodge. Maybe one of the coolest little places I've ever stayed for that kind of money.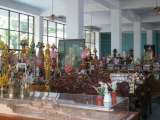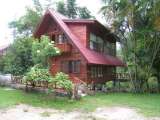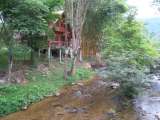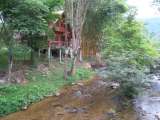 May 18th
We prepared breakfast for ourselves in the morning, only to find that a breakfast was included and delivered to our room. We ended up having way too much food. Before leaving, I went and asked some of the construction guys if they could chop me a couple small pieces of bamboo, which they did. Using this bamboo and some old bits of rubber inner tube I made a new rack for the back of my bike. It gained me at least another 4-5 inches of seat room, which is amazing!!
We left our little chalet and headed to Kampeng Phet, an ancient city about 1300 years old. We walked around the museum and ruins, then headed to Sukhothai, the ancient capital of Thailand. The ancient temples here were very cool.
We spent the night in Sukhothai, and decided to split up from Keith and Alex the next morning. When Keith showed me his plan of two-weeks up and two-weeks down, my first comment was that it looked fun, but that I'd like to find some more time to relax. The daily packing and unpacking felt a bit too much like work, so Fanette and I were going to slow down the pace (maybe less than 100kms a day), find a place to chill for a week (similar to the chalet) and then put the bikes on the train back down south. Keith read about a lot of places while planning the route that he now really wanted to see, so he still wanted to go up and back on the bikes, so we decided that two groups of two would be better.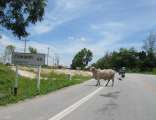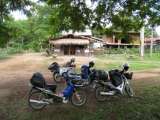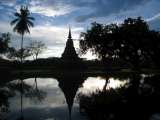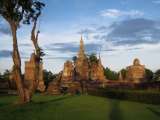 May 19th
Fanette and I were now navigating for the first time. Keith has a great sense of direction and had planned the route, so he was in the lead most days. We'd found new maps, so we could navigate ourselves, but now we had to. Fanette and I decided to take the most back roads we could possibly find. This proved to take us on an amazing route, but didnít let us minimize our mileage for the day. We passed and stopped in so many random little villages. In some villages we'd point out the province markings on our license plates (similar to state markings in the USA) and the locals would see how far we'd come on these little short-range bikes. They'd laugh and talk amongst themselves and we'd be happy knowing we'd given them something new and strange to talk about for the next few hours or weeks. In one of these places, we stopped and got food at what might have been a restaurant, it might not. There were no signs indicating it was a restaurant. There were people eating and we asked if we could buy some food. They maybe just sold us some of their own food. There were no tables, just people sitting on big wooden platforms. We took a seat next to them and ate off our laps.
As we drove on out, we could see rain ahead, but knew that it was unavoidable. At one point the rain got very hard very fast, and there really was no house, garage or building to hide in. Eventually we were able to stop at a grass roof thingy on the side of the road. I call it a thingy as it wasnít a shed, but it wasnít just a roof. It was a grass roof with an elevated wood floor, maybe 2m x 2m, which wasnít even tall enough to stand in. The rain was getting to us and at one point we'd all said how disappointing it was. However, for me, at that moment, I took that little road side stop as one of the things I'd probably remember for the rest of my life. Just the image of us sitting under the thingy, miles from anywhere or anything, with a couple of tiny bikes parked next to it.
The road out of there was a windy mountain road - the kind that makes you wish you had a little more than 100cc under your seat.
We found a national park that night, hoping to find some cool bungalows nearby like our chalet. No luck, no bungalows at all. There wasnít even really a campground, but the nice lady in the park said we could set our tent anywhere. She suggested inside the gazebo as it might rain. In the end it didnít rain, but we set up next to the gazebo just in case. The power was out for most of the night, so we sat drinking beers in the absolute pitch dark, talking and listening to all the different frogs and insects.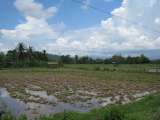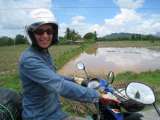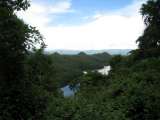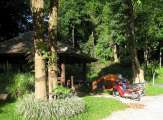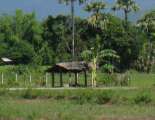 May 20th
I woke up at 5:30, only to hear that the frog outside our tent was still "ribbit"ing, apparently not tired since going straight since 7pm the night before. At one point about 10pm, Fanette and I chased him away with a stick, not wanting to kill it. But he came back to his little spot outside our tent, and resumed his mating call just a few minutes later. At 6am, he finally got lucky or got tired.
Today was one of our best days of driving. The roads were just simply nice. Everything was perfect and the weather was even nice. At one point we'd gone the wrong way and had to turn around and we both commented that we were happy to have made that mistake, just for the scenery.
We ended our day at Doi Intanon park, home of the highest peak in Thailand. We paid to get in to the park, and the camping was free. In this park, there was a campsite, but it wasnít anything special. Our biggest complaint was lack of a shelter to hang out in if it rained. There was a shelter, but it had no tables or chairs or anything.
After setting up the tent, we decided to make the 16km trip to the top of the mountain. In Thai style, thereís a road leading to the top - no climbing necessary. We took Fanettes bike, as itís a 125cc. The roads were steep and the air was thin, something that puts extra strain on a non-electronic-fuel-injection engine. As the hills would get steeper, the bike would go slower. At one point, it would not go any faster than 23kms (14mph) and we feared we might have to push the bike up.
In the end, we make it to the top, for a fantastic view of..... clouds. Yep, we went too high.
Back down near the campsite we found a great little local restaurant in the village by our campsite. We couldnít figure out if the village was inside the park, or if the campground was just outside the park, but in the village. Anyway, it was a little mountain town with hilltribe people, as they're called. These are people that still wear their traditional clothing which has been worn for hundreds of years and stick mainly to their traditions. As the western world starts to creep in to every corner of the planet, theses people become fewer and fewer as the younger generations opt for video games and jeans. Same in every remote place I've visited. Often times you'll find tour companies that will "take you to see the hilltribe people" which are actually descendants of the real hilltribe people, but who hang up their jeans when they arrive at work in the morning and put on the traditional costumes like any other work uniform and sell the tourists "handmade" gifts and pose for pictures for $5. Sometimes you get to a little village like the one we ate in and you smile, knowing that you found the real deal, but get sad knowing that the "authentic tour" will be the only option in 20 years. I didnít see anyone under 60 years old wearing the traditional outfits.
It did rain that night and we did pull our tent under the covered area, despite having no where to comfortably sit inside. The only nice thing about this campsite was that it oddly had a nice hot shower. Hot showers are typically luxury reserved for only the nicest hotels in Asia. In a part of the world where it's always tropical, hot showers are not a necessity.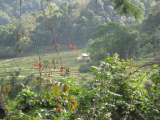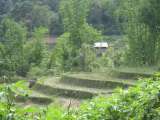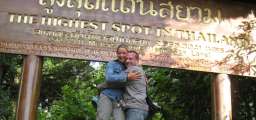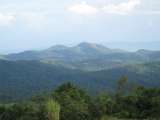 May 21
The light through the trees in the morning reminded us how incredible of a place we'd found. It was hard to see it through the rain at night.
After a breakfast at our same little restaurant, we rolled downhill almost all the way to Chaing Mai. Chaing Mai is a big tourist hub for the north. With an airport and train station, itís the way in and out of the north for most people traveling. We looked in to getting tickets for us and the bikes back south, and found it was easier and cheaper than anticipated. How often does that happen? So we booked ourselves tickets, and planned out our next week.
We read that Chaing Rai (nearby Chiang Mai) was "a nice laid-back town". Neither of us had been there, so the idea was to go, look at all the accommodation, find the most relaxing place, and stay for a week. It was 180kms away, easily do-able in a day.
We met up with Keith and Alex for dinner as their path had taken them through Chaing Mai as well. Their planned route took them north west, and ours north east. So again in the morning, we'd be going opposite directions.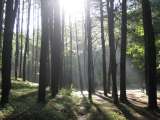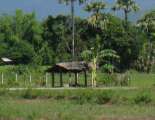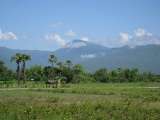 May 22
Heading out of Chaing Mai, the scenery turned mountainous and beautiful. We instantly knew we made the right choice. Living on an island, itís nice to find a place in the mountains to relax. Yep, we were pretty excited about Chaing Rai.
Unfortunately, by the time we got there, it wasnít at all what we expected or had read. It was actually quite a congested city with a lot of concrete. The streets were poorly marked and our 2 maps of the city seemed completely different to each other. This about put me at the end of my rope. All I wanted was a quiet mountain town and here I was in a city I didnít want to be in, not able to find my way around it or even out of it.
Eventually, we got a room in what was a decent little place. It even had a pool which we enjoyed quite a bit. We'd have stayed if it wasnít smack in the middle of a concrete neighborhood. We asked a Brit who'd been living there for 9 years where'd he'd recommend to find a little mountain town, and he said Doi Mae Salong. Fine. We'd leave tomorrow.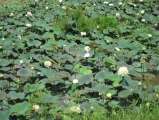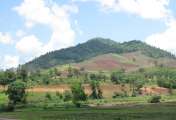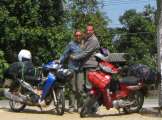 May 23rd
Doi Mae Salong was only 60kms, so we figured it would take an hour, maybe just a little more. Heading out of Chaing Rai, the first 30kms was mostly highway. Lots of traffic lights which slowed us down. Once we got off the highway, it was again beautiful countryside, and even a lot of signs for resorts and hotels. Now we were really sure we were going in the right direction.
Unfortunately, it took a lot longer to get to Doi Mae Salong than expected, as it was very steep, very winding roads. In the end, we got there about mid-day, and again found nothing. Maybe we were being a little too critical, maybe we were just looking for something too much like that cool chalet from a week ago. What we wanted was a relaxing room we could spend a week in. The two nicest rooms we found in Doi Mae Salong had the same problem - nearly no windows. It felt prison-like. And the chairs on the balcony were the plastic kind that are comfortable for 30 minutes max. We were both so disappointed.
It was early in the day, so we decided to drive back along the road we came in on and see what we could find. Everything else we found was equally as dismal, or just way overpriced. We found one nice place in the middle of nowhere, completely empty, charging 2000b (about 4x what other places were). It was exactly what we wanted, but not at that price. We offered the lady 1000b per night and said we'd stay 6 nights. Despite the fact she had 10 rooms, all empty, and seemingly no prospects of customers, she said no. It confused the heck out of us.
Also, its apparently low season here. So a lot of places are shut. Sometimes we'd find the perfect place, and there was no one there. It didn't look closed, but it didnít look open. Sometimes there'd be a sign saying "resort this way" with an arrow, and you'd get to the end of the road and find a patch of dirt.
Mind you, all of this is off-road, up and down rocky dirt roads on a fully laden moped with street tires. I was so pissed off at the time, I didn't take pictures of these roads, but I should have. These were roads which would have been a challenge on motorcross bikes. It wasnít until later that day when reflecting on it, I realized how challenging of a drive it was. To Fanette's credit, she had a lot of experience driving one of these 100cc bikes on some similar roads in Koh Tao, and handled the bike amazingly well in some pretty rough conditions.
We kept going down every road that said it had a resort at the end. My final straw came when a sign said "Resort 5kms" and we took it. It was a dirt road, not as rocky or as steep as the others, but still not easy to travel. When we reached the end, there was an empty pier, a lake, and a boat and hotel on the other side of the lake and next to us a farmer lady who was wondering what we were doing there. Apparently this one was closed too. We got back to the main road, I drove to a point where there wasnít anything for miles around, took off my helmet and just screamed at the top of my lungs. I hurt my throat.
Fanette rightly pointed out that in our quest to get "off the beaten track" we'd actually gone too far off, and found ourselves in the land of nothing.
It was now nearing 5pm, we hadn't eaten and had a day of disappointments. We could either A) take the best place we'd seen and stay there a week despite the fact we both found it to be just ok, or B) stay there one night and look again tomorrow, possibly facing a similar day. Part of what we were after was just not packing and unpacking everyday. If we chose A, we'd have that no matter where we were. But it was the equivalent of staying in a roadside motel. Well, to be fair, it was nicer than a roadside motel, but it didnít have that certain quality it was we were looking for, which by now we couldnít really remember what that was. The place we ended up staying in was on a hilltop, which gave nice views of all the mountains around. It was run by a real nice lady who spoke good English and had 3 nice dogs named StickyRice, SteamedRice and Tofu. It was actually a cute place, and its a pity we didnt take any photos, but it still didn't have that relaxing quality we were looking for.
So that night we formed a plan. We'd head north to make a visa run (every foreigner living in Thailand has to leave the country every 15 to 90 days, depending on your type of visa - ours was nearly up), then go to Ta Thon which sounded nice. We'd take the best thing we'd find in Ta Thon, no matter what it was, and we'd stay for 5 days.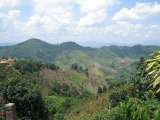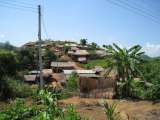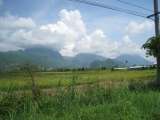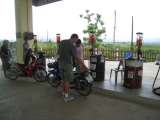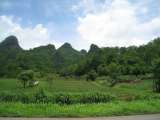 May 24th
The visa run went just fine. We walked in to Burma, got our stamps and walked out again. We stood at the northern most point of Thailand for a moment to let it soak in, and then started back. We'd come as far north as we'd go on our trip, and technically, we were headed home.
Ta Thon was easy to find, but annoyingly it was very close to Doi Mae Salong. We could have come here yesterday. The first place we stopped at was 3000b per night. Out of the question. The second place was one of the most amazing placed we'd seen. Better than what we'd hoped to find, but at 1400b per night, still over our 1000b limit, but it made us hopeful that we'd find someplace nice in town. Everything else in town was unexciting, so we decided to blast the budget and spend 5 nights in total luxury. The rooms were immaculate and big, the mattress was comfy, the balcony was huge with plenty of relaxing chairs to sit and read in, it has a nice pool, lots of shady trees and ponds, great views of the mountains, and right next to the quaint little town of Ta Thon. Perfect.
The place turned out to be even nicer than expected. The owners are a French-Thai couple. The woman Nid, sporadically brings us fruit shakes made fresh from the trees in her back yard. We're also allowed to go pick what we want when we want. Thereís a mini-bar in the room, and anything inside is free. Drink it out of beer and it will be full tomorrow. How cool is that? They also offered to do all of our laundry for free, which at that point, was everything we'd brought. We offered to pay, but they insisted it was free.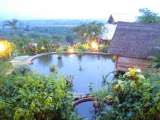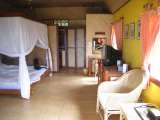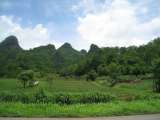 May 25th - 28th
Our days here have been pretty lazy. A lot of sitting around and reading. Going in the pool with a nice rum and coke, playing cards at night. We even got to go hiking and caving one day. Nothing strenuous, mind you. :) But it was the first time I think I went caving without a guide. Paulo gave us directions and flashlights. We went in one way, followed the arrows painted on the cave walls by the local monks, and 20 minutes later you come out the other end. We had a masseuse come to the room and give us a Thai massage. I just had mine, Fanette is getting hers as I type this.
May 29th
As much as we hated to leave Ta Thon, we had to get back to Chaing Mai to catch our train home. We left somewhat early, around 9am, so that in the event we had any sort of break down we'd have time to get it fixed and make our train. Not only were there no breakdowns, Fanette and I didn't have a sinlge problem with either bike, not even a flat tire, through 3000kms.
We spent most of the day driving. The roads and the scenery up here are just so amazing. Makes me wish we had spent more time in this part of the country. The original plan, if the big bike was running would have been to ride that up here in a couple of days, then spend time just going around these parts. Seeing the scenery around here made me really want to do that someday.
In the end we made it with plenty of time to spare, enough that we could go get some McDonalds, which Fanette was craving. Usually, I am the fast food junkie out of the two of us, but after eating nothing but Thai food for 3 weeks, I mentioned that I could go for a McDonalds burger and the mention of it set Fanettes mind on getting one.
During our whole trip, we ate nothing but Thai food. And not Thai food like you find in Bangkok or Koh Tao. Thai food from resturants that usually serve just one thing a day. You dont walk in and ask for the menu, you walk in and ask what they made that day. Then you either eat it or you dont. Often times we'd find noodle soup restaurants, which were always a safe bet. It's never too spicy, and it's hard to make bad noodle soup. We were also confined to eating what we could order. A lot of the restaurants we'd go to would have no menu, but would have no meal-of-the-day either. So we'd have to ask for something and they don't speak english. So we were limited to eating the foods we knew how to say.
In any case, we got the bikes on the train without much problem, and borded our sleeper train for Bangkok.
May 30th
We planned a stop in Bangkok, mostly for Fanette to go to the allergy center and find out what she has been allergic to these past few months (cockaroaches, dogs, and weeds apparently) and do do some shopping. Rick bought an iTouch (an iPhone without the phone part) and Fanette got her sushi fix. Oddly, we made the whole trip with no accidents up until this point when our taxi got hit by a bus. Sounds awful, but we were both going 10mph, so no one was hurt, but the side of the car was smashed in a good bit, and we had to get another taxi. We didn't feel too bad for the driver as he was quite rude to us when we got in his cab. Usually you tell someone where you want to go, and there is some sort of acknowledgement, maybe a nod of the head, or a simple "ok", something that lets you know he knows the destination. We got none of this, despite asking him in English and in Thai if he knew the place we were headed to. Then BAM, he gets hit by a bus. Later that day, we had a waitress who was similarly rude to us. We cautioned her that people who treat us like this have a tendency to get hit by busses, so she ought to watch it.
Back on the train that night for another sleeper to Chumphon.
May 31st
Once we were in Chumphon we parked my red bike as Chumphon is the nearest port to Koh Tao, our eventual destination, and both of us got on the blue bike to return it to the agent in Khao Lak, 370kms away. Luckily, as we didnt need all of our stuff for this short trip, we left most of it in Chumphon with the red bike and took just the bare essentials.
370kms was the most we'd ever done in a day. In fact, 220kms was the most we'd ever done in a day up to this point. This was nearly double. We set off at 6am, and pretty much drove straight without stopping. We cruised at 80kph most of the way, qute a speed for a 125cc bike with 2 passengers and some gear. We only stopped really to refuel (twice) and rest our sore butts. And they were sore! We made it to Khao Lak by noon. There was nothing particularly nice to see along the way with the route we took, so we just tried to get there as fast as we could.
I headed over to the shop where my big bike was at and picked it up. It had been finished 4 days in to our trip. But it made no sense to go get it at the time.
June 1st
We returned Fanettes bike to the rental shop prepared to answer and defend questions about the unusually high mileage we'd put on, but they didn't even look. We even had receipts for oil changes to give them and no one asked. No one cared.
Fanette got on the bus bound for Chumphon just so she could take all of our dive gear, which we had left in Khao Lak weeks ago. I got on the FZ and decided to take the long windy road back to Chumphon, about 400kms. I made it in 3:45, which I still cant figure out as my speed was about 110kph all the way. It shouldn't be so much faster than the 6-hour ride at 80kph. I figured it was due to having better acceleration so as to not take so long to reach cruising speed, as well as not getting slowed down by hills.
Once I got to Chumphon, I met up with another guy who was looking to buy my truck, and he did thankfully. I didn't want to take it back to Koh Tao and try to sell it there. Fanette arrived a couple hours later and we loaded up the FZ and my red 100cc bike on the night boat and headed for home.
So all told, it was about 3000kms in 3 weeks, but only driving about 15 days or so. It really was such a great experience. Such a neat way to see a part of Thailand that most people never get to see. We're taking applications now for the Dream Tour 2010....