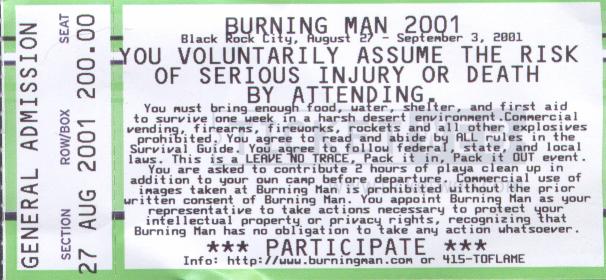 To try and describe Burning Man would be an exercise in futility. It truly is the most indescribable experience in the world. The best that you can hope for is to be able to describe why it is indescribable. For those who have been, they know what I mean, for those that have not, you will never understand until you go.
I think it is a combination of the terrain, setting, weather, people, attitude, imagination, and over abundance of oddity that makes it what it is. Imagine every weird dream you have ever had, come to life and multiplied by 100. It is like living in a Dr Seuss book about Mardi Gras, with the cast of Mad Max, but only weirder.
Burning Man is held in Black Rock City, which is in fact, a desert in the middle of Nevada which is transformed once a year in to a town of 25,000 people, only to be completely removed a week later without a single trace. It is made up of camps, roads, tents, trailers, sculptures, exhibits, and friends. By day, it is a circular maze of streets and people walking around meeting and entertaining each other. Many walk around naked; all walk around being friendly. The daytime is time to catch up and do what ever you want to do for yourself. Work on building your camp, drink, talk, socialize, and eat. Whatever.
Once the sun goes down, Black Rock City takes on a life of its own. Everyone participates in the ritual of making the city come alive. Nearly everyone is dressed in a costume, but not a "costume" as we might know it in the Halloween sense of the word. They dress as something from their own imagination. A creature or being that they envision, each one being odder than the next. Combine this with the bizarre rituals being performed, the fact that everyone and everything has some form of neon, glowsubstance, or lights attached, affixed, wired through it or them, and that everything is making its own noise and motions. Then imagine every type of vehicle that you never knew existed. There are mushrooms on wobbly wheels, white cloth dragons which flow like angles through the desert, busses full of revelers, vehicles from science fiction books, large metal dragons 50 feet in length, bicycles and carts of all shapes, sizes, genders, nationalities. Can a bike have a gender or race? – in black rock city, absolutely,. All of this moving across a vast expanse of desert at racing speeds of 5mph, over a surface of "playa" which could just as well be the surface of the moon, with the exception that violent wind storms whip up dust for minutes on end making everything invisible. In every direction you look, there is something stranger than where you looked before. 360 degrees of insanity. And this will continue to get weirder and weirder until dawn.
This is just my perspective of Burning Man. Each person will have an entirely different perspective. All the pictures and video in the world still couldn't illustrate what Burning Man is. It is an experience that must be felt to be understood. Go.