Koh Tao

I made this page in about 2005 when I'd been living on Koh Tao for a year and a half and wanted to give my friends and family and idea of where I lived. It actually forgot about it for about 5 years and recently found it. Rather than update it, I'm leaving it as-is. Photos are dated, but still give a great idea of the island.

Maps
A few maps to help you see exactly where I'm at.

World map for those with no idea where on the planet Thailand is.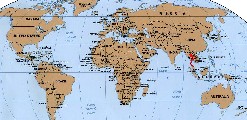 Koh Tao is on the east coast of the country in the south, here in the Gulf of Thailand.


and finally a map of the island. I live in Mae Haad and work in Sairee


Island Photos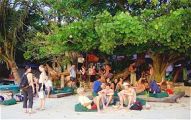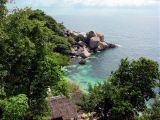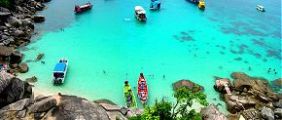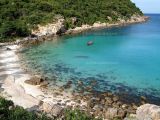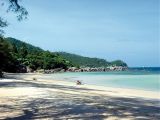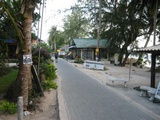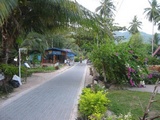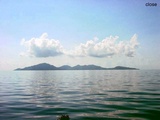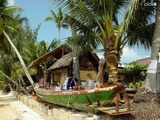 Nightlife
Koh Tao has the best nightlife of anywhere I've found in the world. All the beach bars have seating right on the sand and open up just before sunset. People sit there and have cocktails and beers with chillout lounge music playing while watching firedancers. Its quite chilled out and I love it. Often times we fancy a swim and just jump in clothes and all. At about midnight, all the beach bars close and everyone from the entire island heads to whichever of the 3 clubs is open that night. The clubs stay open until about sunrise, and we all stumble home along the beach. Almost all the clubs and bars have candles buried in the sand, and most of the clubs have some sort of light display out in the water.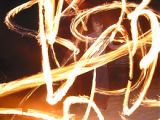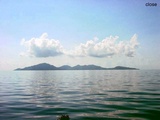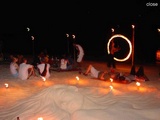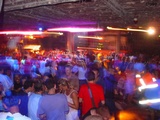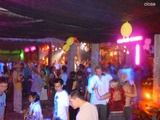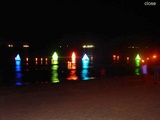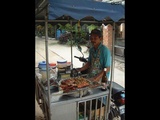 Deck Bar
This is the bar attached to my dive shop. It used to be called the Deck Bar, but it recently came up for rent and my friend Al and I have taken it over. We decided to get a 6 month contract on it and try our hand at running it. We renamed it the blue bar and those photos are down in another section on this page.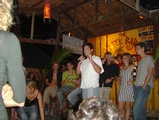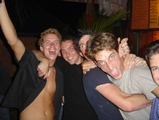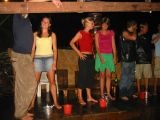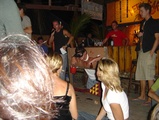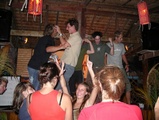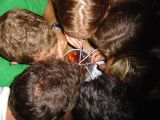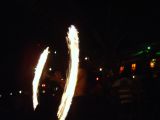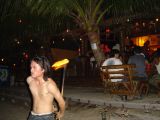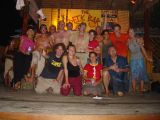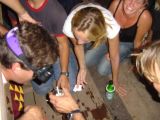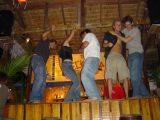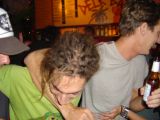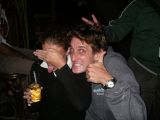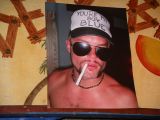 The Blue Bar
This is the bar that I own along with Al, and our Thai partner, Apple. Some photos were taken pre-opening night before we had the sign up or the bar completed.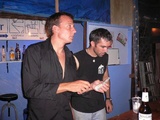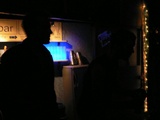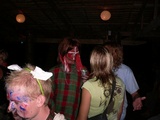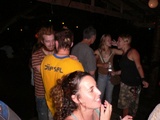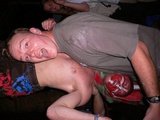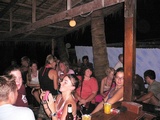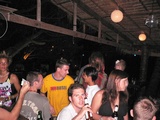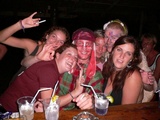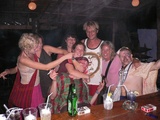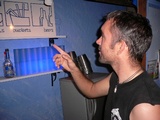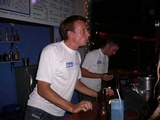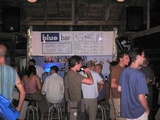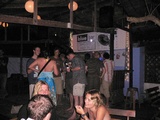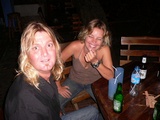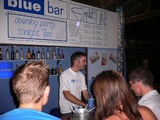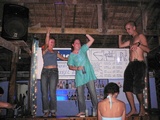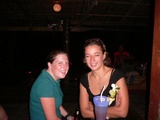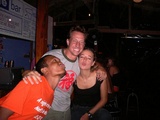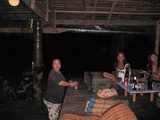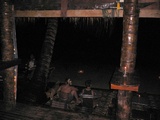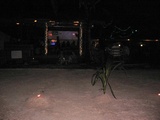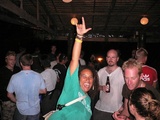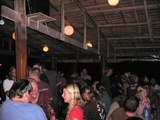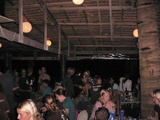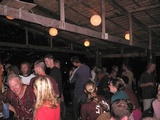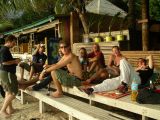 Thai Boxing
The boxing ring near my house let people fight their friends after the matches, so my firend and I did it one night.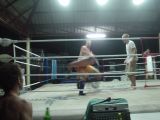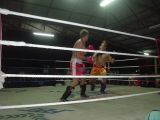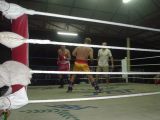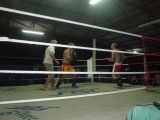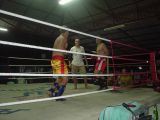 Diving
The second to last photo is of me. I am facing the divers I am leading, but posing for the shot the last guy was taking.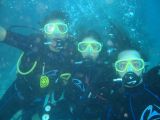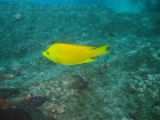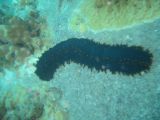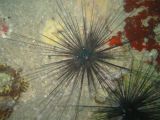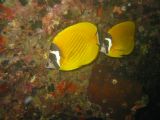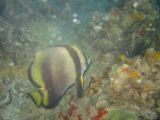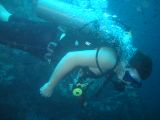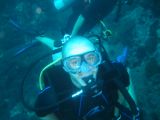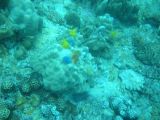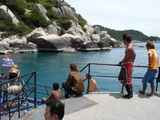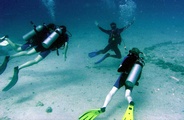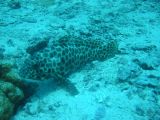 Simple Life Dive School
This is where I trained to become a DiveMaster. Simple Life has been around for ages and is a Koh Tao institution.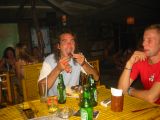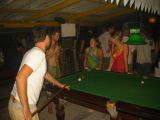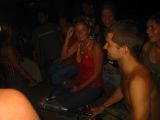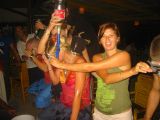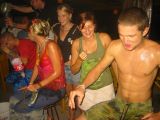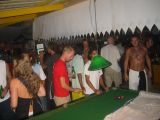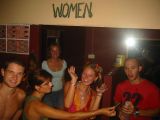 House Party for Josh passing DiveMaster course
This was one of the only house parties we had the camera out for. This is the house I used to live in for a year, before I moved to the beach. It was made almost entirely out of Golden Teak. It was built 80 years ago before the logging of Teak became illegal. The house was actually built in Bangkok and movd to Koh Tao piece by piece when it a highway was zoned through where it was sitting.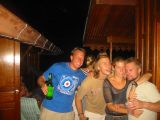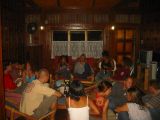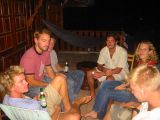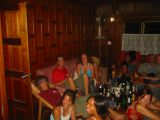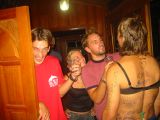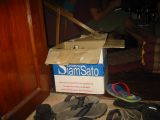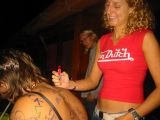 Big Blue Diving
This is where I work as a DiveMaster. Its located right on Sairee beach, with nice sunsets. These pictures are of the beach, the diveshop, and the resturant.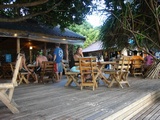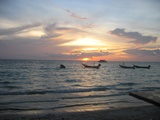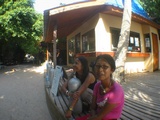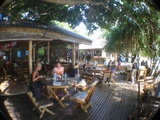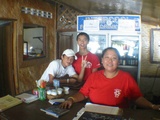 House and Bike and Land
I rent a house on the beach. It costs me $175/mo which includes all my utilities. Its more or less a studio apartment, with a bathroom and no kitchen. I have the red dirt bike you see in the photo, which is my main mode of transportation. Not pictured is my sportbike (1998 Honda NSR150) and my moped which I plan to turn in to a chopper. The last 2 photos are of my plot of land that I own. Its about 2 acres, and these shots are of the view I have. I had many more photos of it, but Im not sure where they went.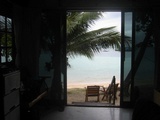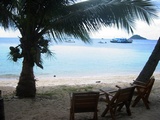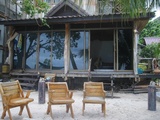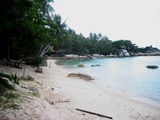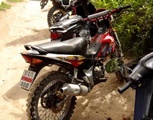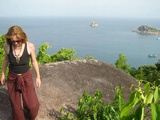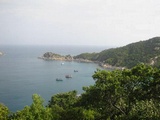 Accident
I got in a bit of a motorcycle wreck this year. For those who got the email about it, heres the corresponding photos. It happened near the Thai/Burma border and I had to travel across the country and take a plane to Bangkok to get to the nearest hospital who could operate. The nurses office I went to in the rural area just wrapped guaze around my foot which was propped against a piece of wood. In the end I had over 100 stitches and 4 metal rods in my foot. I was on crutches for 2 months, but still went to parties and out dancing. Yes, I invented crutch dancing.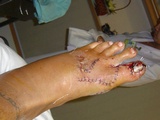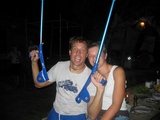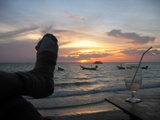 Misc Photos
There is a Thai rice wine called "Siam Sato". We used to get together every saturday at 7:11pm at the 7-11 for the "Siam Sato Saturday Social Soiree at 7:11 at Sairee 7-11". Good times. Also, the ONLY thing that ever gets stolen on Koh Tao are sandals. You can leave your key in your motorbike for years on end without theft, but expect to have a couple pairs of sandals stolen per year.