At Sound Solutions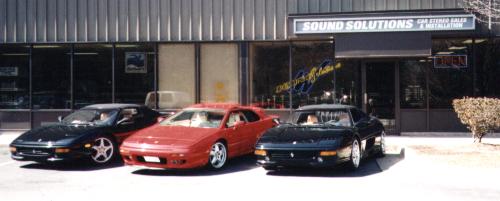 When I was looking for a place to buy components to do the stereo in my Esprit, I found a place called Sound Solutions in Chantilly, VA. The guys there were incredibly helpful with advice, and gave me a good deal on the package of equipment that I wanted.

I had to go back and pick up some more equipment, and they asked if I could come back while they had a couple of Ferrari F355's there so we could all get some photos. One was a 96, the other a 99 F1. They were both owned by the same guy, a player for the Washington Redskins. He was getting the sound system taken out of the old car, and in to the new one. Sound Solutions had done the original install as well.

Click on thumbnails for larger images (even on the one above).