Family Photos
March 1999 - Age 27
This was taken in March of 1999. When most people saw my cars at this point, they assumed I had a thing for red cars, especially if they knew that the Corvette that I sold in December of 1998 was red as well. The truth was that I hated red cars. The Mustang I painted red 7 years ago when I wanted to have a classic red Mustang convertable. Other than that red car, I've just always thought red sports cars were just a little too much. However, with the Vette, the Talon, and the Lotus, I bought each of those cars based on criteria other than color. I'll never buy (or not buy) a car due to its color if it is what I'm looking for. With the Lotus, I searched for 6 months for the right car, and when I found it, I wasnt going to pass it up because it was the wrong color.



Somewhere around August 1999 (Age 28), I had the RV and the 300ZX in addition to these 3. The 300ZX was undergoing a restoration and the RV was parked on a remote lot, so getting a photo of all 5 wasnt going to happen.


September 2000 - Age 29
This was a nice set to have. I've had the Audi to drive for nice occasions, the 88 4runner for running to the hardware store, the 93 4runner for getting around town, the motorcycle for nice days, the Sterling as a project car, and the Mustang, well, its just the Mustang, and was in the shop for this photo shoot as it so often was.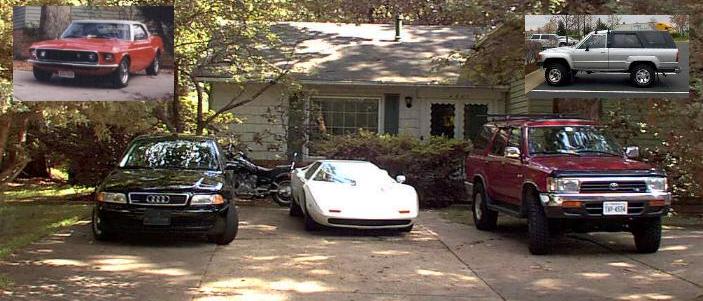 The 88 4Runner was out of the pic at the time because my dad was borrowing it.

January 2002 - Age 30
Back to the basics. A good reliable truck, a strong running muscle car that looks good again with a brand new white convertible top, a project car, and a sports car. Ok, so maybe having a Lotus can't be considered "basic", but as of this writing it had been sold, but not picked up yet. We had a 71 degree day in the middle of January making this one of the few pics you'll see that contain both a lowered convertable top and Christmas lights in the same photo.